In this newsletter you will find: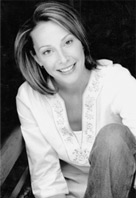 An exciting way to lose weight with Dr. Joey and Cityline
Articles on how to safely eat soy
A delicious low Nacholess nacho recipe!
A new and exciting weight loss supplement
Tasty wheat and dairy free recipes
Yummy muffin recipes
The perfect products for relaxation and skin repair
Welcome 2011! With the start of any New Year, we have the opportunity to check in with ourselves to see what area of our life needs a little "fine tuning". Do you crave more balance and time with your family? Do you want to finally (and I mean finally!) take off the weight that has been bugging you for months and/or years? Or…do you simply want to feel more energetic, livelier and a more active participant of life?
Whatever your goals may be, I encourage you to start by writing them down. Why? Because writing and visualizing what you want creates an unexplainable momentum for change that works each and every time. As Harold Whitman so eloquently once spoke, " Don't ask yourself what the world needs; ask yourself what makes you come alive. And then go and do that. Because what the world needs is people who have come alive."
I wish you a year filled with joy, laughter, health and feeling alive!
Wishing you best health,
Dr. Joey Shulman DC, RNCP
ARTICLES OF THE MONTH
So…what's the deal with soy?
Is this humble bean a healthy food option or can it be harmful to your health?
Click here to learn more.
Winter seems to be the hardest time to maintain our fitness and nutrition regimen.
What can we do to ensure we don't fall too far off track?
Read more.
DR. JOEY'S TOP PICKS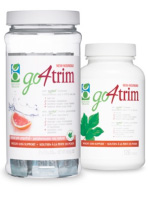 go4trim
I have had great success using this supplement in my clinic. There are 4 key ingredients –(glucomannan, svetol, 5-HTP and chromium). that help weight loss seekers feel full, balances blood sugar, breaks cravings and end the need to overeat.
Available in capsules, or in refreshing, convenient, easy-to-drink, natural pink grapefruit flavor stick packs.
For more information, please visit www.genuinehealth.com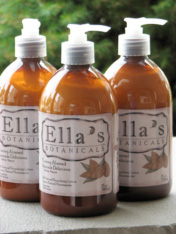 Ella's creams
As a "cream junkie", I love when I find a great new and natural cream.
My latest favorite is Ella's botanicals Lemon Meringue lotion – it is truly amazing! Proudly Canadian, Ella has been making natural, handmade products for over 10 years.
Ingredients are carefully chosen and blended, balancing therapeutic value with fun and enjoyment, always keeping in mind the impact we have on our planet.
For more information, please visit www.ellasbotanicals.com.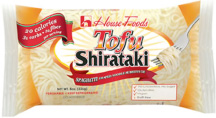 Tofu Shirataki
Looking for some low calorie faux pasta? Try Shirataki noodles! These low carbohydrate, translucent and gluten free Japanese noodles can be found in most grocery stores. Although they do not have much flavor on their own, they absorb other ingredients well such as tomatoes or soy sauce. Rinse well prior to use.
For more information, please visit www.house-foods.com.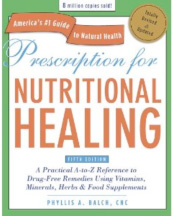 Prescription for Nutritional Healing
The fifth edition is here! If you are looking for one comprehensive book to be your nutrition "bible" than this book is it.
Prescriptions for nutritional healing is written by a medical doctor and a certified nutritional consultant and is a comprehensive guide to nutritional, herbal, and complementary therapies addressing over 300 health conditions. Arranged in alphabetical order, it's a useful ready-reference tool and is a "must have" for every household.
RECIPES OF THE MONTH
High fiber spelt blueberry muffins
Makes 1 Dozen Muffins
Ingredients:
2 tablespoons (1/2 stick) softened butter or canola oil
1/2 cup of organic raw cane sugar
½ cup unsweetened applesauce
2 omega 3 eggs
1/2 cup orange juice
2 teaspoons vanilla extract
2 cups spelt flour
2 teaspoons baking powder
¼ cup of ground flaxseeds
1/4 teaspoon salt
2 cups fresh blueberries
Preparation:
Preheat oven to 375°F. In a large bowl, butter or oil and sugar. Stir in applesauce, eggs, orange juice and vanilla.
In a second large bowl, whisk together flour, baking powder and salt. Stir flour mixture into butter-egg mixture until just combined. Gently stir in blueberries. Spoon batter into muffin cups and bake until a toothpick inserted in the center of a muffin comes out clean, about 30 minutes.
Nutrition Information
Per serving:
Calories 160
Total fat 5g
Carbohydrates 28 g
Protein 4g
Fiber 5g
Faux pasta with edamame, sundried tomato and goat's cheese
Preparation time: 25 minutes
Total time: 30 minutes
Serves 4
Ingredients:
1 tablespoon olive oil
2 teaspoons of minced garlic
1/4 cup of edamame
1 ½ cups of shirataki pasta noodles
1 cup sun-dried tomatoes (not oil-packed), thinly sliced
1/4 teaspoon red-pepper flakes (optional)
5 ounces soft goat cheese, crumbled, plus more for topping
1/2 cup chopped fresh dill
Coarse salt and ground pepper
Instructions:
Heat a small skillet over medium heat. Add oil, garlic, edamame and shirataki noodles and heat for 1-2 minutes. Add sun-dried tomatoes and red-pepper flakes (optional). Cook, stirring occasionally, until fragrant, 20 to 30 seconds. Remove from heat. Combine with goat's cheese and dill. Season with salt and pepper, stir to combine. Let stand to thicken approximately 5 minutes.
Please note: If shirataki noodles do not appeal to you, substitute with cooked kamut or spelt pasta. If wanting to go "low carb", peel zucchini into spirals, sautee and use as noodles.
Nutrition Information
Calories 180
Total Fat 11.5 g
Carbohydrates 6.5 g
Protein 8g
Fiber 2g
Low Carb Nachos
Serves 2 for dinner
In university, my "go to" appetizer was a big plate of nachos! Dipped with guacamole and enjoyed with a cold beer – there was truly nothing like it.
Unfortunately, most nacho platters are filled with saturated fats, calories and carbohydrates. So…in order to enjoy my favorite appetizer, I have come up with a low carb nacho dish that truly delivers the same taste.
Ingredients:
1 ½ cups of Iceberg lettuce, shredded
1/2 pound of ground chicken, cooked
½ cup of sliced black olives
½ cup of tomatoes, chopped
1/4 cup of chopped green onions, chopped
1 cup of low fat mozzarella cheese, shredded
Directions:
On a baking pan lined with tin foil, spread a fresh bed of shredded lettuce. Distribute meat, olives, chopped tomatoes, green onion and any additional toppings. Sprinkle with cheese. Heat oven to 350 and broil for 3 minutes or until cheese is bubbling. Remove immediately and serve.
Serve with guacamole or low fat cottage cheese if desired.
Nutrition Information
Calories 448
Total Fat 31g
Carbohydrates 7g
Protein 33g
Fiber 1g
SHULMAN WEIGHT LOSS: SUCCESS STORIES
Congratulations to Barb who lost 68 pounds at Shulman Weight Loss.
Bravo – you truly have transformed!
To book in for your free initial and FINALLY lose your weight for life, visit www.shulmanweightloss.com
Want to learn more about the Shulman Weight Loss team of nutritionists? Click here!