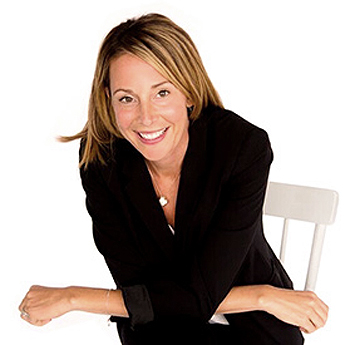 Are you ready to take the plunge? A health plunge that is! If you have a health goal you would like to hit (losing weight, feeling more energetic, improving mood or skin) – there is no time like the present.
In order to feel like your "best self" there are a few simple steps you can take such as:
Drink 8 glasses of H20 per day – herbal tea counts!
Stop eating grain by 2pm each day. You will wake up with a flatter tummy and more energy.
Stay far away from refined, white sugary foods. Naturally sweet foods such as fruit are just fine.
Sleep in a completely dark room for a minimum of 7 hours per night – see article below on how to sleep away the pounds!
Exercise a minimum of 3x per week
Remember…as nutritional pioneer Adele Davis once spoke, "We are indeed much more than we eat, but what we eat can help us become much more than whom we are". Enjoy the November newsletter as it is filled with recipes, products, articles and more to help you quickly become your best self.
If you have a question for me, I would love to hear from you! Simply e-mail me at inquiries@drjoey.com
Wishing you best health,
Dr. Joey Shulman DC, RNCP
ARTICLES OF THE MONTH
Sleeping away the pounds
In addition to a healthy and balanced diet and regular exercise, a restorative night's sleep can help with the battle of the bulge. According to recent studies published in the Journal of the American Medical Association and the Lancet, lack of sleep can slow down your metabolic function and make it harder to lose weight. Clickhere to read more.
5 Foods to improve your skin!
Your skin is the largest organ in your body and is often a reflection of inner health. In order to look your very best from the inside out, click hereto discover the top 5 anti-wrinkle foods that will help your skin look youthful and radiant. Trust me, it works!
DR. JOEY'S TOP PICKS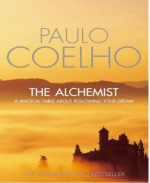 Book of the month
According to the book The Alchemist by Brazilian author Paulo Coelho, "When a person really desires something, all the universe conspires to help that person to realize his dream." If you have not already read The Alchemist it is truly a "life changer".
This beautifully written fable about a Sheppard boy dreaming of seeing the world offers compelling life lessons that will capture your heart and boost your spirit instantly.
David's teas

David's loose leaf tea is a must have around the house (and the perfect gift to give this holiday season!). If you are looking to curb a sweet tooth, try their forever nuts tea made with almonds, apples and cinnamon. David's teas are also available for on line purchase. Simply visit www.davidstea.com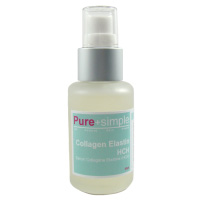 Pure + simple's collagen elastin
Pure + simple is a natural, organic line that offers anti-aging result options. The powerful hydrating collagen elastin serum helps to change your complexion almost instantly by reducing fine lines and giving your skin a healthy glow.
Although a little pricier than other skin care serums ($69.96 per bottle) – you will definitely by happy with the results! For more information, please visit www.pureandsimple.ca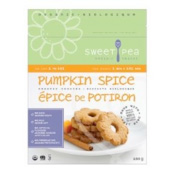 Sweetpea's Pumpkin Spice Cookies
Sweetpea's pumpkin spice cookies are made with 100% whole grain flour and are wholesome, healthy treats your children will love.
Dairy, salt and egg free, these cookies are the perfect option to send as school treats or to serve at parties. For more information, please visitwww.sweetpeababyfood.com
Two girls cooking
Two Girls Cooking is a Toronto based company, committed to producing raw, organic , gluten-free, vegan snack foods.
Their tasty vegetable based crisps and kale chips are handcrafted from live whole foods. This is a perfect alternative to a chip or high calorie snack food. For more information, please visit www.twogirlscooking.com
RECIPES OF THE MONTH
Low carb eggplant Parmesan
Ingredients:
1 large eggplant
2 tbsp of olive oil
1 cup of tomato sauce
½ cup of low fat mozzarella
½ cup of sliced mushrooms
Instructions:
Preheat oven to 375
Cut eggplant into ¼ inch thick round slices
Pour oil into non stick medium sized pan and sauté eggplant pieces over medium heat – 2 minutes per size.
Place tinfoil down on medium sized casserole dish and place eggplant pieces in pan
Pour tomato sauce over top
Cover with low fat mozzarella
Bake in over on 375 for approximately 20 minutes
In a separate pan, sauté mushrooms over medium heat for 4-6 minutes
Remove eggplant from oven, top with sautéed mushrooms and enjoy with side salad for dinner!
Serves: 4
Calories: 170
Carbohydrates: 12 grams
Protein: 10 grams
Total fat: 10 grams
Total saturated fat: 2 grams
Oatmeal Egg White Pancake
(1 serving)
Ingredients:
1 pouch of PC Blue Menu whole grain oatmeal with inulin
3 large egg whites
3/4 cup of water (temperature unimportant)
Instructions:
Cook oatmeal in microwave with water
Add 3 uncooked egg whites mixed into cooked oatmeal and stir with a fork.
In omelet-size non-stick pan, pour mixture and cook at medium-high.
When golden brown and bubbling on top, carefully flip.
When other side is done, sprinkle with small amount of brown sugar and/or cinnamon and enjoy!
Serves: 1
Calories: 240
Total fat: 2g
Saturated fat: 0g
Protein: 17g
Carbohydrates: 37 g
Fiber: 6g
Courtesy of www.shulmanweightloss.com and www.drjoey.com
Flourless brownies
Nutritionist Jamie Langlois gave me this recipe and we made it for Tracy Moore on Cityline! It is absolutely delicious and perfect for your kids! Thanks to Jamie for sharing
http://jamiesnourishingbites.blogspot.com
No one will ever guess the secret ingredient in this recipe: black beans!
Ingredients:
1 (15-ounce) can no-salt-added black beans, drained and rinsed
3 large eggs
1/3 cup "better butter", more for the baking dish
1/4 cup cocoa powder
1/8 teaspoon salt
2 teaspoon gluten-free vanilla extract
1/2 cup cane sugar or dark brown sugar
1/2 cup semi-sweet chocolate chips (best option = 70% cacao content)
1/3 cup finely chopped walnuts (optional)
Directions:
Preheat oven to 350°F.
Butter an 8-inch baking pan. Place the black beans, eggs, better butter, cocoa powder, salt, vanilla, and sugar in the bowl of a food processor and blend until smooth. Remove the blade and carefully stir in the chocolate chips and walnuts. Transfer mixture to the prepared pan. Bake the brownies for 30 to 35 minutes, or until just set in the center. Cool before cutting into squares.
Yield: 30-35 brownies
Serving size: 1
Calories 84
Protein 4 grams
Carbohydrates 12 grams
Total Fat 3 grams
Better Butter
Makes About 2 Cups
Ingredients:
1 lb or 4 sticks of butter (go organic when possible)
1 c olive oil
1/3 cup "better butter", more for the baking dish
1/4 cup cocoa powder
1/8 teaspoon salt
2 teaspoon gluten-free vanilla extract
1/2 cup cane sugar or dark brown sugar
1/2 cup semi-sweet chocolate chips (best option = 70% cacao content)
1/3 cup finely chopped walnuts (optional)
Directions:
Cut butter into pieces and put into food processor. Blend slowly streaming in the oil, until smooth. Move to air tight container and store in refrigerator. Now you'll have spreadable butter whenever you need it!
SHULMAN WEIGHT LOSS: SUCCESS STORIES
Alex
Meet Alex - lost 50 pounds!
WHAT ARE PEOPLE SAYING?
Joan – Age 58
After being on cholesterol lowering medication for over 3 years with no change in my cholesterol levels, I felt very frustrated. After losing weight with Dr. Joey on Shulman Weight Loss, I am down over 20 pounds and my cholesterol levels are now within normal range! Thank you, thank you, thank you!
Bianca Age 54 – Lost 30 ½ pounds!
n addition to my weight loss, I no longer feel bloated or have stomach discomfort. I have much more energy and my cravings are gone! What a feeling of accomplishment this is.
For your free initial at Shulman Weight Loss, please visit www.shulmanweightloss.com