Dr. Joey's Newsletter - June 2016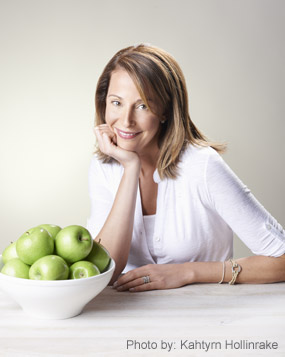 June is a special month for me. Summer hits and the Canadian landscape explodes with beauty and fresh clean, warm air. Life seems to be busier than ever with clinics bustling, kids finishing school, packing for camp and most of all... Fathers Day!
To all the dads, granddads, uncles and father figures - this is your special day and your turn to be celebrated. Thank you for all you do...the jokes, words of wisdom, ball games, and laughter. I have filled this newsletter with great gift ideas, recipes and books I hope your dad or husband will love. And to my dad - thank you for teaching us to listen to our gut and believing in us when we didn't. You truly are the best and the 3 of us couldn't love you more.

Dr. Joey Shulman DC, RNCP
SHULMAN WEIGHT LOSS -
FOR MEN AND WOMEN!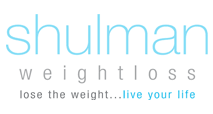 I am often asked if we see men as clients at Shulman Weight loss. In fact, we have hundreds of male clients who lose weight and re-claim their health. Check out some of our success stories below!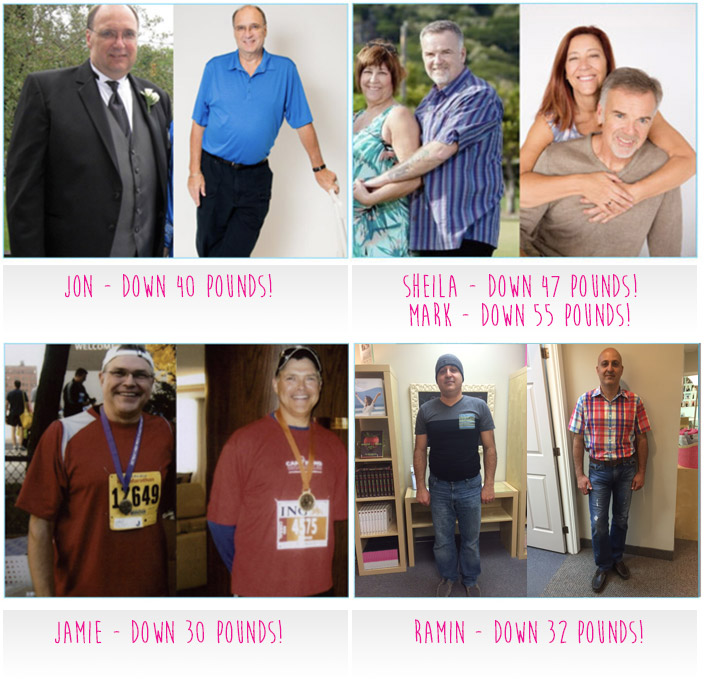 To book, please contact 1 of our 3 clinics below.
Thornhill:
inquiries@shulmanweightloss.com or 905.889. LEAN (5326)
Toronto:
toronto@shulmanweightloss.com or 416. 962. LEAN (5326)
London:
london@shulmanweightloss.com or 519. 642.7800
GIFTS WE LOVE FOR DAD!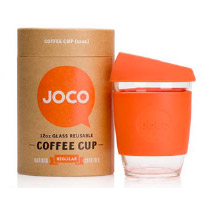 JOCO coffee cup
This reusable coffee cup make the perfect eco friendly gift for your dad. With an anti-splash lid and a silicone sleeve perfect for the car, all cups are made from a high quality, non-porous glass that is dishwasher safe and BPA free.
Available in a variety of different sizes and colours (8 oz, 12 oz and 16 oz) and colours.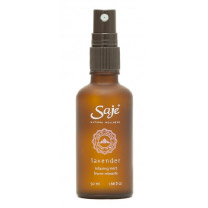 Saje men's skincare kit
This 100% natural men's skin care kit by Saje is a slam -dunk gift for any dad. The kit includes a soap bar for cleansing and exfoliating, an aftershave toner that clears clogged pores, a soothing facial lotion that nourishes freshly shaved skin, and a natural mineral deodorant.
All products are blended with essential oils.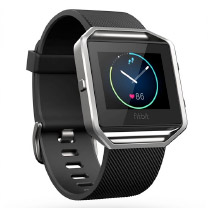 Fitbit Blaze
Help make your dad stylish and fit with the new Fitbit Blaze - the ultimate fitness watch that helps your man maximize every workout, ever day.
This revolutionary device is built to track your physical activity and monitor your performance stats, all while gauging your progress on a colour, touch screen display. With interchangeable bands available, the look can also change with your moods.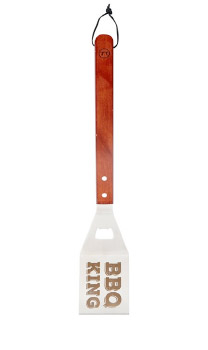 BBQ King Spatula by Outset Etched
BBQ season is here so get your dad ready with this etched, stainless steel spatula. The long wood handle will keep dad's hands safe from heat and the wide spatula makes flipping easy.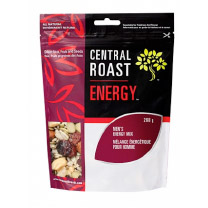 Men's energy mix by Central Roast
This delicious energy mix by Central Roast has been specially formulated to provide men with an optimal boost of energy and nutrients.
Filled with a nutritious mixture of pumpkin seeds, sunflower seeds, papaya, almonds, cranberries, organic pineapple and walnuts - this mix is sure to provide your guy with essential nutrients such as zinc and iron. Perfect to toss in the car or a gym bag!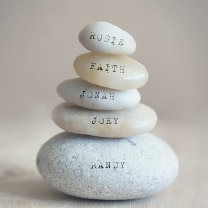 Personalized Stones by Art & Design Studio
Shhhh... this is what we bought my husband for Father's Day (and yes, the kids made me put the dogs name on it as well). This beautiful, personalized stone art by Art and Design Studios is based on the belief that simplistic imagery with words can be uplifting and inspiring.
You can engrave names, quotes, photography, or song lyrics, customizing it to a keepsake your dad will cherish forever! Check out their website for other great gift ideas at
SUMMERTIME RECIPES
Mint cocoa smoothie
Ingredients:
1 frozen banana, diced
1 cup packed organic spinach leaves
1 cup unsweetened almond milk
1 tablespoons chia seeds
1 scoops of vanilla protein powder (sprouted is best)
5 mint leaves OR 1/4 teaspoon mint or peppermint extract
1 tablespoons unsweetened cocoa powder
Directions:
Place all ingredients besides cocoa nibs in a blender and blend on high until ingredients are smooth and well combined.
Add cocoa nibs to the blender and pulse a few times until they slightly break up in the smoothie. Enjoy!
Serves 1
Nutritional Analysis: Calories 284, fat 7g, carbohydrates 36g, fiber 7g, protein 26g
---
Veggie dip
Ingredients:
1 medium eggplant-peeled and coarsely chopped into 1? cubes
2 red bell peppers, seeded and coarsely chopped into 1? cubes
1 red onion, peeled and coarsely chopped
2 cloves garlic peeled
1 tablespoon extra virgin olive oil
Pinch of sea salt and ground black pepper
1 tablespoon tomato paste
Directions:
Preheat oven to 400 degrees F.
Combine chopped eggplant, peppers, onion and garlic in a bowl and toss with olive oil and salt and pepper. Spread on a baking sheet and roast for 45 min tossing once half way through baking. 3
Cool slightly then place veggies in a food processor and pulse 3 or 4 times-mixture should have a slightly chunky texture.
Serves 6
Nutritional Analysis: Calories 62, fat 3g, carbohydrates 9g, fiber 4g, protein 2g
---
Sesame shrimp skewers with cucumber soy dressing
Ingredients:
1 cucumber, sliced
2 tablespoons rice vinegar
1 tablespoon soy sauce or tamari
1/2 teaspoon coconut sugar
½ red jalapeño chili, sliced
2 green onions, sliced diagonally
1 tablespoon vegetable oil
1 tablespoon sesame oil
1 pound large shrimp (16 to 20 per lb.), peeled and deveined
1 teaspoon toasted sesame seeds
Directions:
Prepare a charcoal or gas grill for high heat (450° to 550°; you can hold your hand 5 inches above cooking grate only 2 to 4 seconds).
In a medium bowl, combine cucumber, vinegar, soy sauce, sugar, jalapeño, and onions. Set aside.
In another medium bowl, combine oils with shrimp.
Skewer the shrimp lengthwise through the tail so they're straight.
Grill, turning once, until cooked through and grill marks appear, about 4 minutes total. Sprinkle with sesame seeds Serve with cucumber salad.
Serves 4
Nutritional Analysis: Calories 178, fat 7g, carbohydrates 6g, fiber 1g, protein 22g
---
Honey mustard chicken burgers
Ingredients:
1/4 cup grainy mustard
2 tablespoons honey
1 pound ground chicken
1/4 teaspoon Herbamare (salt alternative)
1/4 teaspoon pepper
2 teaspoons olive oil
4 whole wheat buns or lettuce wraps
Directions:
Heat grill. Whisk mustard and honey in a bowl until smooth. Combine chicken, a few tablespoons of mustard mixture (save some for basting), Herbamare and pepper in a bowl. Mix well, and then form into four 1-inch-thick burger patties.
Lightly brush the burgers on both sides with oil. Grill until no longer pink in center, about 5 to 7 minutes per side. Brush the burgers with the remaining mustard mixture.
Serve on whole-wheat bun or lettuce wraps with your favorite toppings.
Serves 4
Nutritional Analysis: Calories 277, fat 11g, carbohydrates 10g, protein 33g
WHAT ARE WE READING?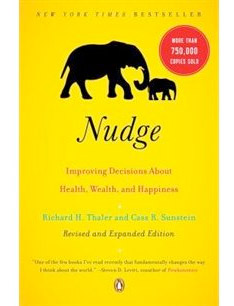 Nudge: improving decisions about health, wealth and happiness
Nudge by authors Richard Thaler and Cass Sunstein is about choices - how we make them and how we can make better ones.
Drawing on decades of research in the fields of behavioral science and economics, Nudge offer a new perspective on preventing the countless mistakes we make in all areas of life (personal, finance and career). In the tradition of the best selling books The Tipping Point andFreakonomics, Nudge is straightforward, informative, and entertaining - a must-read.
Found at www.amazon.ca
TOP 5 HEALTH TIPS FOR DAD THIS FATHER'S DAY
Take 1 tbsp of ground flaxseed daily - High in fiber, ground flaxseed has been shown to aid with digestion and help in lowering cholesterol.

Stretch regularly - Hands down, men are the worst when it comes to stretching. Whether you take your guy to an introduction yoga class or encourage 5-10 minutes of daily stretching - it matters!

Daddy de-stress - Let dad regularly do an activity he loves to de-stress-such as watching a ballgame, playing a round of golf or squash or biking outside.

Boost your intake of omega 3 essential fat - Omega 3 fats are anti-inflammatory fats and have been shown to be good for heart health. Omega 3 fats can be found in cold-water fish (salmon, tuna, sardines), nuts and seeds (walnuts, almonds) and in a distilled fish oil capsules (available at all health food stores).

Keep drinking - water that is. Coffee, alcohol and pop are all dehydrating beverages. To boost energy, optimize digestion and to get rid of muscular aches and pains - men should drink 2 liters of water per day.