The season of change is here. As the air starts to chill and the leaves change color, the excitement of another new season is felt. Fall is one of the best times to remind ourselves what we are grateful for and to lay down some new goals – health and otherwise.
So... what do you want to change and/or improve? Whether it is feeling more energetic, building up more strength, losing weight (for good!) or... making some extra time for mindfulness – you need to make yourself a priority.
This newsletter is filled with a few of my favourite products and recipes to keep you feeling healthy and warm during the autumn months. I hope you enjoy them!
Wishing you the best of health,

---

Did you want to work with Dr. Joey 1-on-1? If so, apply to enter the Cityline Weight Loss challenge, year #10! Dr. Joey has some pretty amazing tricks up her sleeve this year to make sure you look and feel your very best. But... you have to apply by October 25th by visiting www.cityline.tv and clicking on weight loss. Don't wait!
BEFORE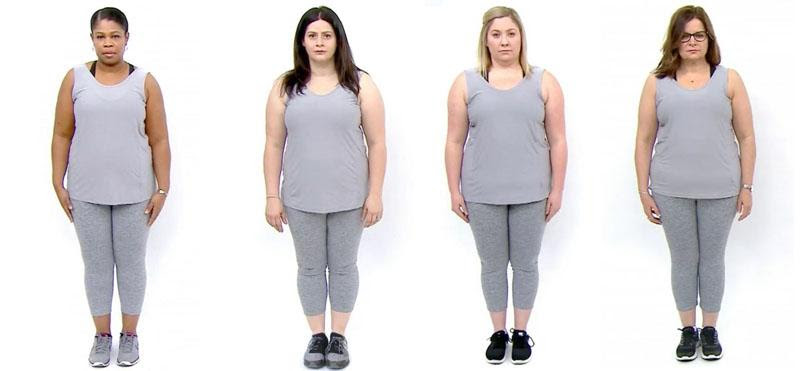 AFTER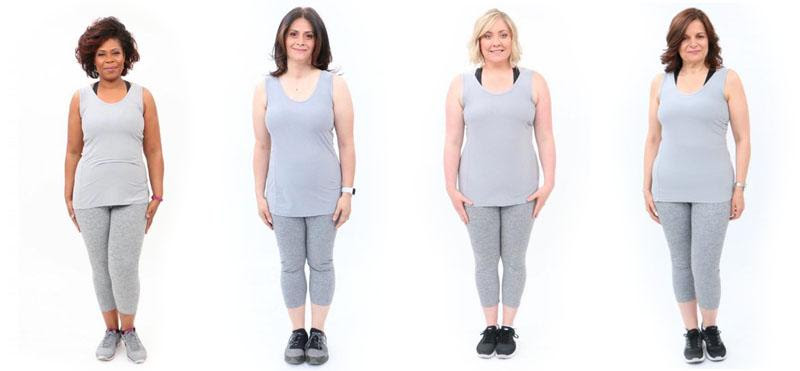 ---

Congratulations to Anita who lost 33 pounds at Shulman Weight Loss London location! Don't forget, all of our new programs are 10% off for the month of October. That is over $100 in savings! All you have to do is visit 1 of our 3 locations below and book in for a free weight loss assessment. We can't wait to meet you!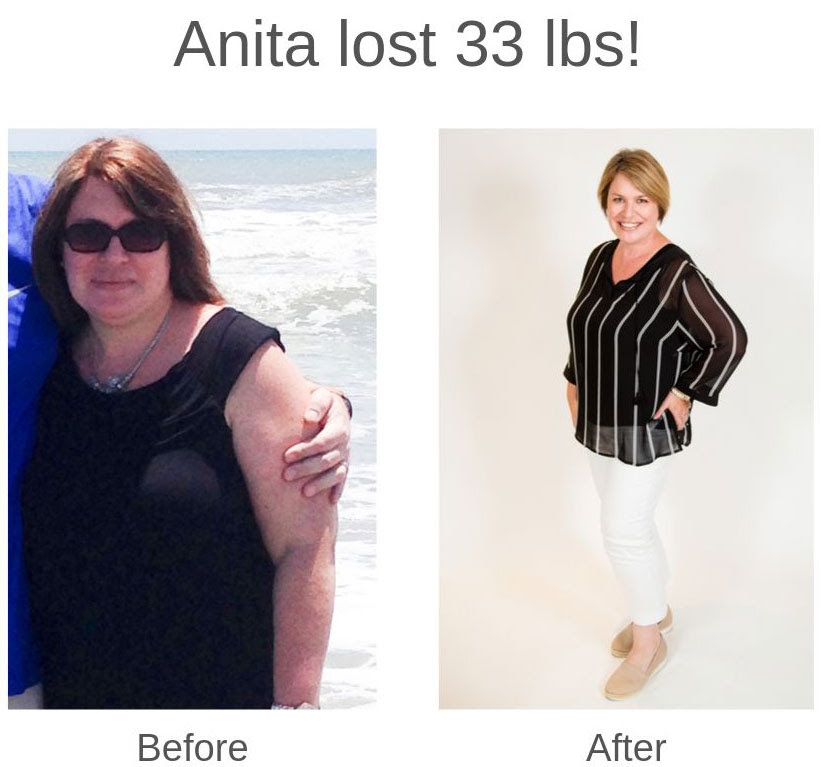 Thornhill
Phone: 905.889.5326 (lean)
inquiries@shulmanweightloss.com
Toronto
Phone: 416.962.5326 (lean)
toronto@shulmanweightloss.com
London
Phone: 519.642.7800
london@shulmanweightloss.com
---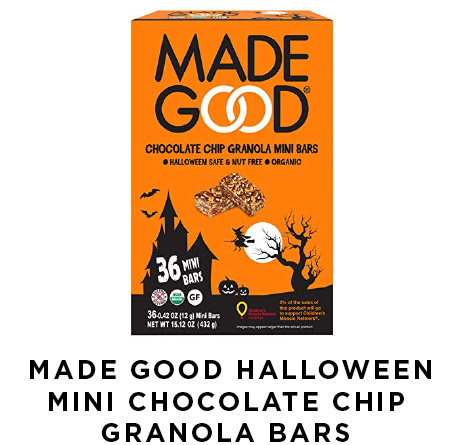 Looking for a sweet, healthy Halloween treat? These delicious nut-free mini chocolate chip granola bars are a great alternative to the white refined sugary treats that are often available this time of year. They are made with clean and organic ingredients and are naturally sweetened with agave nectar, brown rice syrup, and organic chocolate chips. These mini bars are peanut and gluten free and are great to have on hand leading up to Halloween. To top it off, 2% of all sales go towards supporting Children's Miracle Network.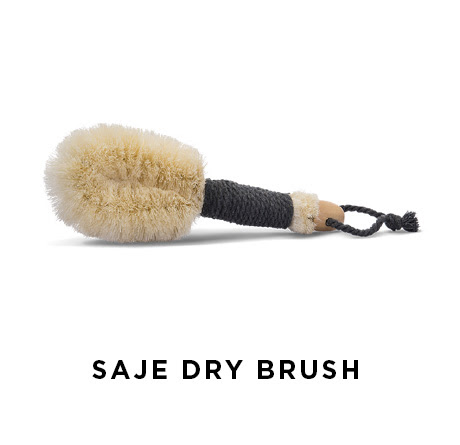 Add a rejuvinating, immune boosting step to your every day routine with dry brushing - a simple, natural way to exfoliate and energize your skin. This 100% natural dry brush by Saje is made with bristles, which are sourced from agave's fleshy leaves. The bristles help remove dull, surface skin cells while supporting your body's natural revitalization processes for soft and smooth skin. Dry brushing stimulates the nervous system, increasing overall blood circulation throughout your body and clears dead skin cells, promoting regeneration and unclogged pores. Try dry brushing 2-3 times a week, before your shower, on dry skin. For best results, start at your feet and work your way up to your chest, brushing in long strokes towards your heart. Brush in a circular, clockwise motion on your chest and stomach.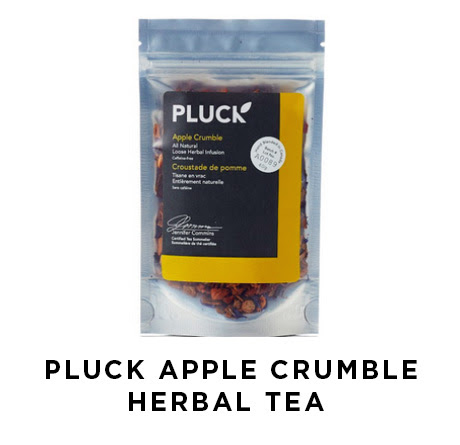 Cozy up to a delicious cup of warming fall spices and flavours in this natural apple crumble herbal tea. The founder of Pluck tea travels the world sourcing premium tea leaves from Ethical Tea Partnership growers, and then adds unique local ingredients from places around Ontario - Prince Edward County, Muskoka and Niagara. These one-of-a-kind teas offer a truly unique and delicious taste and are blended and packed right here in Toronto. This delicious apple crumble herbal tea blend includes flavours such as granny smith apples, cinnamon, rosehip, citrus peel and hibiscus to create a warming fall staple.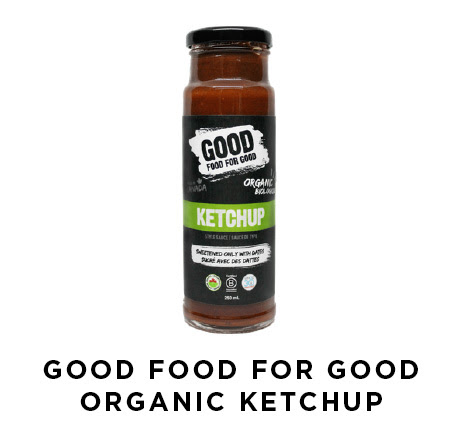 Did you know that 250mL of standard ketchup has the same amount of added sugar as 88 jelly beans? Woah right? That's a lot of unnecessary added sugar, so if you are someone who loves ketchup, this organic ketchup by Good Food for Good is a must-try! Their ketchup is sweetened with organic dates alone, there are no added sugars used. Good Food for Good is committed to making it easier for people to eat healthy. All of their products are made with organic, non-GMO ingredients that are free of gluten, soy, corn, refined sugars, and preservatives. And with every product that is purchased, a meal is donated to feed someone in need.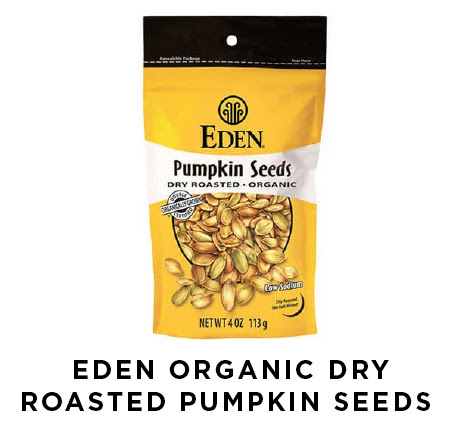 What better way to enjoy the fall harvest than with the delicious taste of pumpkin seeds. These crunchy, dry roasted seeds are low in sodium, rich in fiber and magnesium and are a good source of iron and zinc. Whether you are throwing them into your salad or enjoying them as an afternoon snack, they are sure to hit the spot. Plus, the re-sealable standing pouch makes them portable and easy to take on the go to enjoy at any time of the day.
---

Pomegranate and coconut overnight oats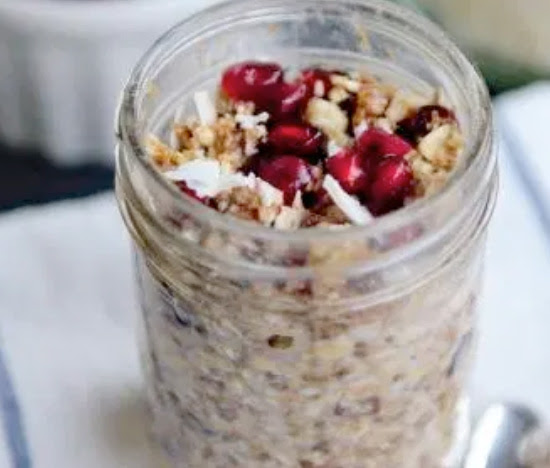 Ingredients:
1/3 cup old fashioned oats
1 tablespoon chia seeds
½ cup unsweetened coconut milk (or oat milk)
½ teaspoon vanilla
½ cup pomegranate seeds
1 tablespoon unsweetened shredded coconut flakes
Directions:
Mix the oats, chia seeds, coconut milk, and vanilla together until well combined.
Place in a covered container or Tupperware and place in refrigerator overnight.
In the morning, top with pomegranate seeds and coconut flakes. Serve cold and enjoy.
Serves 1
Nutritional analysis: calories 430, fat 16g, carbohydrates 60g, fiber 14g, protein 11g
---
Baked salmon with roasted tomatoes and garlic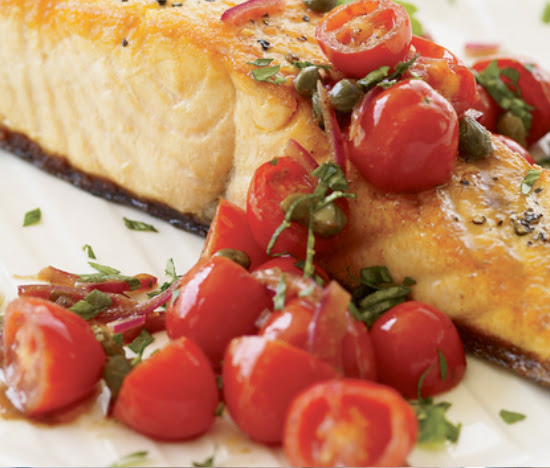 Ingredients:
5 oz piece of organic salmon
1 teaspoon extra virgin olive oil
5 cherry tomatoes, diced
1 garlic clove, crushed
Pinch of sea salt
½ lemon
Directions:
Preheat oven to 375 F.
Line a small baking sheet with parchment paper and place salmon.
Drizzle olive oil and top with tomatoes and garlic. Sprinkle with sea salt and pepper.
Place into oven for 20 minutes, or until fish is flakey and cooked through.
Before serving, squeeze lemon wedge over salmon and enjoy.
Serves 1
Nutritional analysis: calories 340, fat 15g, carbohydrates 25g, fiber 7g, protein 33g
---
Crispy beet frites
Ingredients:
2 large beets
1 tablespoon avocado oil
1 teaspoon paprika
1/4 teaspoon cumin
Pinch of sea salt
2 tablespoons Parmesan cheese, grated
Directions:
Preheat oven tp 400 degrees F. Line a baking sheet with parchment paper.
Peel beets. Slice them into ¼-inch pieces or spiralize them for long thin crispy fries.
Place beets into large bowl and add avocado oil, paprika, cumin and sea salt. Toss to coat. Lay prepared beets onto lined baking sheet.
Bake for 20-25 minutes, flipping halfway through. Broil for 1-2 minutes at the end for extra crispiness.
Remove from oven and sprinkle with Parmesan cheese.
Serves 4
Nutritional analysis: calories 75, fat 4g, carbohydrates 6g, fiber 2g, protein 6g
---
Oven baked whole roasted cauliflower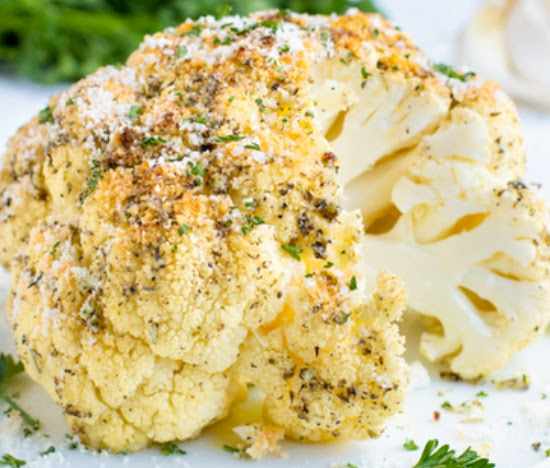 Ingredients:
¼ cup fresh parsley leaves, finely chopped
3 garlic cloves, minced
2 tablespoons avocado oil
2 tablespoons freshly squeezed lemon juice
½ teaspoon freshly ground black pepper
¼ teaspoon sea salt
1 medium cauliflower
Directions:
Preheat oven to 425°.
In a small bowl, stir together parsley, garlic, avocado oil, lemon juice, pepper and sea salt.
Using a large knife, cut the stem from the bottom of the cauliflower crown, taking a bit off the bottom of the crown if needed, to get a nice flat surface so the crown can sit upright.
Place cauliflower crown in a large baking dish and brush the top with avocado oil mixture.
Place on middle oven rack and bake until fork tender and browned on top, about 50-55 minutes.
Serves 4-6
Nutritional analysis: calories 70, fat 1g, carbohydrates 13g, fiber 6g, protein 6g
---

Live green: 52 steps for a more sustainable life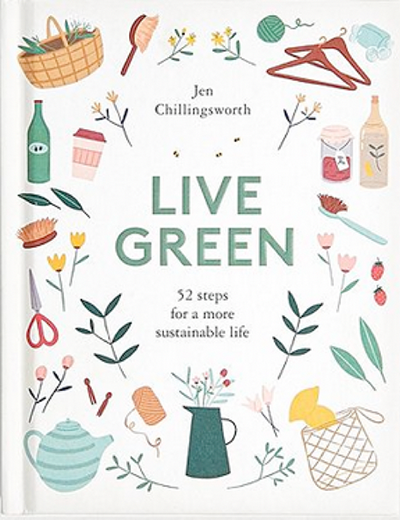 Many of us are already doing what we can to adopt a greener lifestyle. We recycle, try to reduce our waste and plastics, choose organic food when shopping, eat less meat, and opt for environmentally friendly cleaning products. Yet we often wish we were doing more and it can be overwhelming to know where to start. Live Green is a practical guide of 52 tips and changes you can make to your home and lifestyle over the course of a year. Tackling all areas of your life from home and garden, your cleaning routine, food, fashion, and natural beauty, this book has all the ingredients to help you achieve a more sustainable existence. Learn how to modify your daily habits to rid yourself of environmental guilt and rediscover the pleasures of living a slower and simpler life. From creating your own eco-friendly cleaning products and improving your natural beauty regime to creating a capsule wardrobe and composting - discover how to get the most out of life by living more intentionally. Live simply. Live Green.
---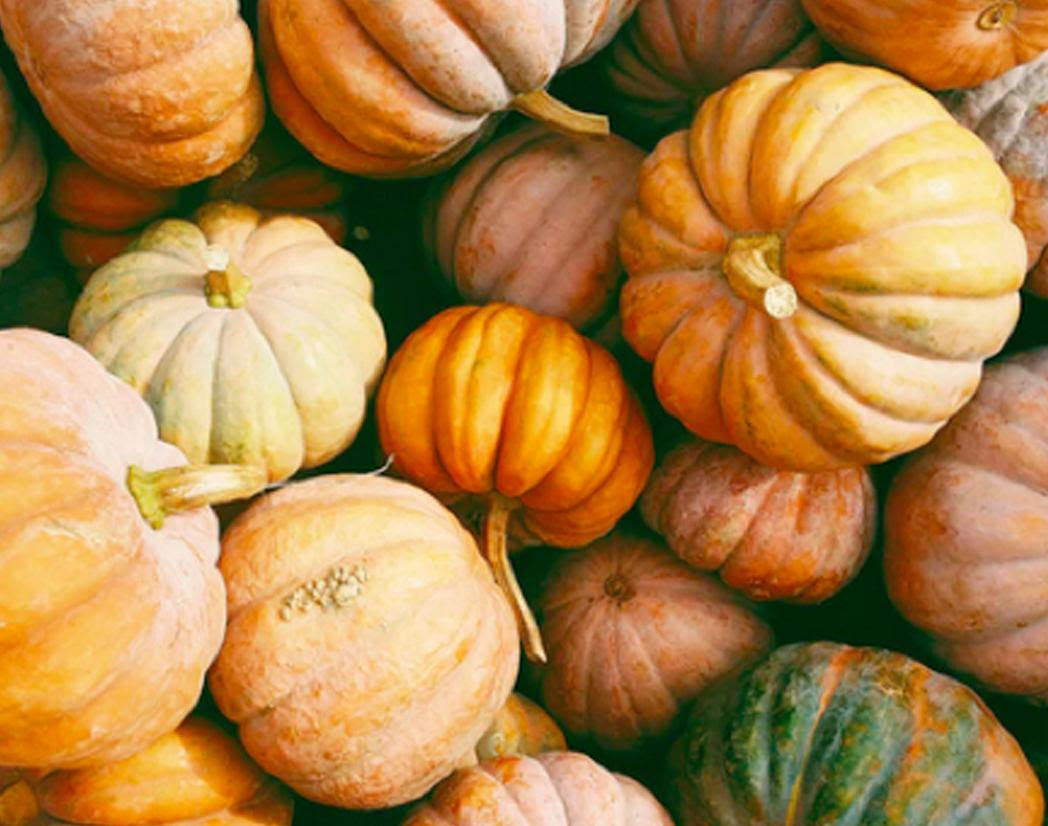 Apples – A crunchy fall favourite that is loaded with antioxidants, fibre and vitamin C.
Beets – These bright root vegetables help improve digestion and metabolism and are actually very low in calories…1 cup has only 60 calories!
Tomatoes – Known for their lycopene content, this antioxidant rich fruit is the prefect fall staple for soups, stews and sauces.
Pears – These juicy fruits are a great source of fibre – 1 medium pear contains a whopping 6g of fibre!
Pomegranates seeds – Rich in fibre, antioxidants and fatty acids, these crunchy seeds are the perfect twist on a fall inspired salad.
Brussels sprouts – This versatile vegetable is part of the cabbage family and helps to boost your immune system – 1 cup of Brussels sprouts provides your recommended daily intake of vitamin C.
Pumpkin seeds – Known as "pepitas", pumpkin seeds offer an excellent source of magnesium and zinc.
Cauliflower – This delicious and versatile super food can be cooked in so many different ways, including mashed, roasted or steamed and 100g of cooked cauliflower contains less than 5g of carbohydrates.
Persimmons – Loaded with nutrients like vitamin A and C, persimmons are commonly known for their sweet, honey like flavour.
Figs – Figs are a good source of potassium, which is a mineral that helps to lower blood pressure and are great to throw into salads or have on their own as a tasty afternoon snack.