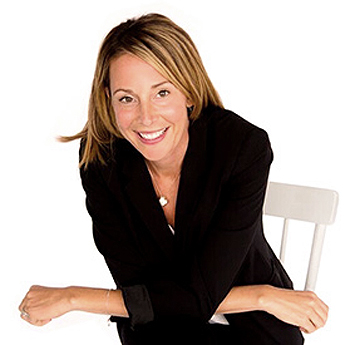 If you are like me, you look forward to summertime all year round. From seeing your children enjoying camp to family barbeques and jumping into a clear Ontario lake – there is really no better time of year. This summer season, try to take some time for YOU. Whether it is investing in a natural facial, eating raw foods or picking up a book to improve your spirit and mood – life is too short to not find some little daily pleasures.
I hope you enjoy the summer edition of the Dr. Joey newsletter filled with some of my favorite picks. As always, if you have a question you would like answered or a product you would like reviewed, I would love to hear from you. Simply e-mail me at inquiries@drjoey.com
Wishing you best health and happiness,
Dr. Joey Shulman DC, RNCP
WATCH!
Did you miss Dr. Joey's stunning weight loss finale on Cityline
Click here to view. You won't believe the results!
DR. JOEY'S TOP PICKS

Naturopathica Calendula Essential Hydrating Cream by Pure + Simple
– Calendula is known as a wound healing herb lending this rich botanical cream properties that reduce inflammation and soothe irritation.
On top of drinking lots of water, using sunscreen and a mild cleanser, a hydrating cream preserves the youth of your skin and protects it from the elements.
This product is a must-have that produces instant results! www.pureandsimple.ca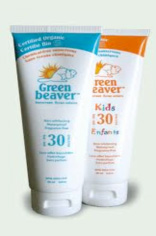 Green Beaver Organic Suncreen
– Quebec-based Green Beaver boasts the formulation of the first 100% certified organic sunscreen in Canada.
Finally, a sunscreen you can slather on yourself or your kids without fear of phthalates, dioxanes, parabens and other harmful chemicals!
This waterproof, non-whitening product uses the power of zinc oxide to protect skin from UV radiation. It also contains nourishing sunflower and raspberry seed oil.
Available at most health food stores and online.
www.greenbeaver.com/sunscreen-86.html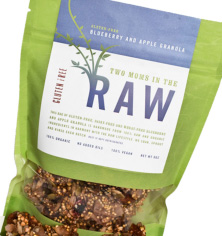 Two Moms In The Raw Gluten-Free Granola
– We are crazy for the super healthy and tasty foods "mompreneurs" are turning out.
After learning how to manage her Multiple Sclerosis with organic, vegan food, founder Shari Leidrich came up with this homemade granola that contains no refined sugars, wheat or added oils.
This tasty and naturally sweet product is "kid-tested" by Shari's three little ones so it's sure to be delicious. Order online at www.twomomsintheraw.com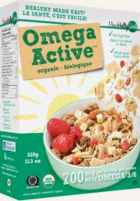 Omega Active Organic Cereal by Mom's Healthy Secrets
- Julie Aurora is an ambitious yoga instructor who set out to bring her mom's healthy cereals to the masses when she noticed many of her clients weren't eating breakfast.
Her Omega Active organic cereal is the new "breakfast of champions" for those who don't have time to boil an egg or blend a smoothie. Loaded with 500 milligrams of omega-3, 7 grams of fibre and 7 grams of protein, this cereal is a real winner.
Available at Longo's, Highland Farms, Galati, Bulk Barn and other major grocers and health food stores. www.momshealthysecrets.com/2
Campbell's Nourish Soup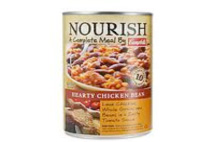 – We don't often feature canned soups in our newsletter, however Nourish by Campbell's deserves special mention because it's a soup with a cause.
Campbell's launched this "meal in a can" in February 2011 as way to deliver 18 grams of protein, two servings of vegetables, fibre, zinc and iron to the 900,000 Canadians who use a food bank each month.
At the launch, Campbell's donated 100,000 cans of Nourish to Food Banks Canada and has made 100, 000 cans available for Canadians to purchase for donation in retail stores.
If Nourish is not available in your grocery store, check out this link to find out other ways you can also get involved in the Nourish campaign to end hunger:
http://smr.newswire.ca/en/campbell-company-of-canada/campbell-canada-launches-nourish
DR. JOEY'S FEATURED FOOD / HERB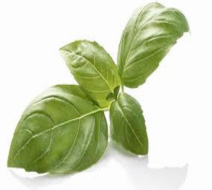 Holy Basil
Also known as tulsi, Holy Basil is an ancient Ayurvedic remedy that is revered by Hindus to this day for its multiple physical and mental health benefits. In herbology, Holy Basil is classified as an 'adaptogen' or anti-stress agent because it gives the nervous system as much support as it needs to cope with life's current challenges.
Recent studies have shown that the leaves of holy basil provide significant protection against emotional and psychological stresses such as anxiety, "stagnant" or situational depression, and recovery from trauma.
Holy Basil works by helping the person enter into a calm, meditative state. However, even those who are feeling calm can chew up to 12 leaves of holy basil, twice a day, to prevent stress. The leaves can also be brewed into a tea or made into a tincture. Holy basil supplements are also available at
www.newchapter.com/targeted-herbal-formulas/supercritical-holy-basil
BOOK OF THE MONTH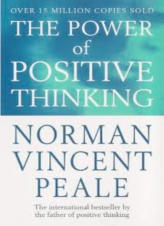 The Power of Positive Thinking
"Picture yourself as succeeding. Whenever a negative thought comes to mind, deliberately voice a positive thought to cancel it out. Do not build up obstacles in your imagination. Instead tear them down by tearing them apart. When you have a dream, affirm it, visualize it, believe it and it will actualize itself."
These are some of the inspirational words of Norman Vincent Peale, a Methodist pastor and religio-psychoanalyst. First published in 1952, The Power of Positive Thinking stayed on the New York Times bestseller list for over three years, selling its message of optimism and changing the lives of over 15 million people worldwide.
A popular preacher ahead of his times, Peale's belief was that a positive attitude can heal and prevent disease. Indeed, just this past year, the National Institutes of Health granted funding to over 44 studies looking at optimism and its link to cancer, cardiovascular disease and other major disease processes. But don't wait for the studies to prove it! Pick up a copy of The Power of Positive Thinking and experience the difference it can make in your health, your daily life, and your level of professional and personal achievement.
RECIPES OF THE MONTH
Easy Balsamic Portobello Burger
Marinade:
1/4 cup soy sauce
1/4 cup balsamic vinegar
2 tablespoons olive oil
3 garlic cloves, minced
Burgers:
4 (4-inch) portobello mushrooms
1 small red bell pepper
Cooking spray
1/4 cup mayonnaise
1/2 teaspoon olive oil
1/8 teaspoon paprika
2 wholegrain sandwich buns
4 thick slices of tomato
4 lettuce leaves
Combine marinade ingredients in a large zip-top plastic bag and add mushrooms to bag. Seal and marinate at room temperature for 2 hours, turning bag occasionally. Remove mushrooms from bag and discard marinade.
Prepare grill to medium heat. Cut bell pepper in half lengthwise; discard seeds and membranes. Place pepper halves on grill rack coated with cooking spray; grill 15 minutes or until blackened, turning occasionally. Place in a zip-top plastic bag; seal. Let stand 10 minutes. Peel. Reserve 1 pepper half for another use. Finely chop 1 pepper half; place in a small bowl. Add mayonnaise, 1/2 teaspoon oil, and paprika; stir well.
Place mushrooms, gill sides down, on grill rack coated with cooking spray; grill 4 minutes on each side. Place buns, cut sides down, on grill rack coated with cooking spray; grill 30 seconds on each side or until toasted. Spread 2 tablespoons mayonnaise mixture on top half of each bun. Place 1 mushroom on bottom half of each bun. Top each mushroom with 1 tomato slice and 1 lettuce leaf. Enjoy open-faced!
Serves: 4
Preparation time: 30 minutes
Per serving
Calories 200, Protein 7g, Carbohydrates 22 g, Fat 7g
Chunky Fresh Gazpacho
2 cups finely chopped tomatoes
1 cup finely diced seeded peeled cucumber
1/2 cup finely chopped Vidalia or other sweet onion
1/4 cup chopped fresh basil
3 tablespoons chopped fresh mint
3 tablespoons fresh lemon juice
1 cup low-sodium V8 vegetable cocktail
1 teaspoon sugar
1/2 teaspoon salt
1 jalapeño pepper, seeded and finely chopped
Combine all ingredients in a large bowl. Cover and chill at least 2 hours.
Serves: 7
Preparation time: 20 minutes (plus 2 hours chilling)
Per 1 cup serving:
Calories 80, Protein 1g, Carbohydrates 15g, Fat 0g
Healthy red wine cocktail
1 tablespoon red wine vinegar
1 cup sparkling mineral water
Mix and enjoy! (Red wine vinegar improves digestion, helps control blood sugar and has the same antioxidants as red wine.)
Serves: 1
Preparation time: 2 minutes
Calories 0, Protein 0g, Carbohydrates 0g, Fat 0g
SHULMAN WEIGHT LOSS: SUCCESS STORIES
What are they saying at Shulman Weight Loss? See the results!
Congratulations to Josee who just lost 50 pounds at Shulman Weight Loss Clinic!
You did it!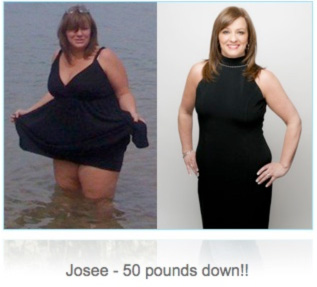 To book in for your free initial and FINALLY lose your weight for life, visit www.shulmanweightloss.com
Want to learn more about the Shulman Weight Loss team of nutritionists? Click here!