Dr. Joey's Newsletter - March 2016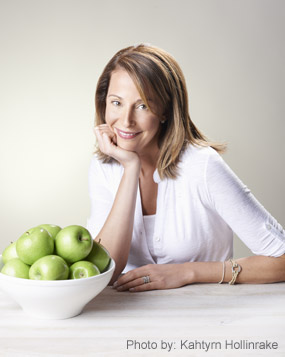 March is nutrition month and its time to celebrate by making a few simple, yet effective health changes. After all these years in the field of nutrition, what I know for sure is that the quality of your food can change the quality of your life.
So... if you are feeling a little blah at the end of this very bizarre winter, I challenge you to commit to bringing up your health game. Drink more water or herbal tea, eat less grain at night, take a high quality multi-vitamin daily and eat more colorful foods. Even small little changes in health creates huge impacts on how your feel.
This newsletter is filled with so much natural goodness and inspiration. Read on to see some amazing Shulman Weight Loss transformations, check in on our Cityline weight loss winners and learn techniques on how to break a stubborn weight loss plateau. I am also featuring some of my new favorite natural health care products and some uber easy recipes to tempt your palate.
So for nutrition month, I raise a (healthy) glass to you. To your health and wellness!
Wishing you the very best,

Dr. Joey Shulman DC, RNCP

GET RESULTS LIKE THESE FROM
THE COMFORT OF YOUR OWN HOME.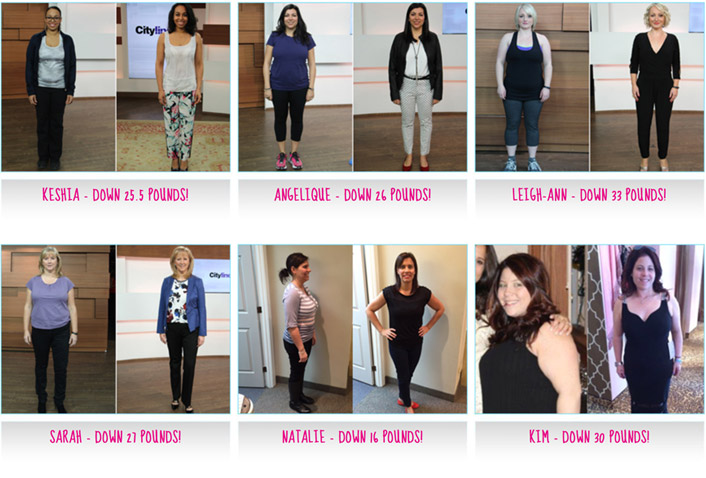 Shulman Weight Loss is working with people across Canada, in the USA, Israel, Dubai and more!
To book in for a free weight loss consult with Dr. Joey, all you have to do is contact inquiries@shulmanweightloss.com or call 905.889.5326.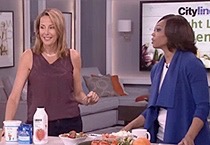 Did you miss Dr. Joey on Cityline? Click here to learn how to break a plateau and... to see how to get your hair, skin and nails to look their best naturally.
For more information, please visit www.cityline.ca

PRODUCTS WE CAN'T STOP LOVING!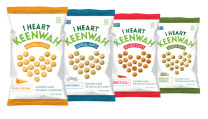 I Heart Keenwa quinoa puffs
These deliciously crunchy quinoa puffs by I heart Keenwa are the perfect crunchy option to keep in your cupboard for when a "snack attack" hits. All quinoa puffs are gluten free, and use certified non-GMO ingredients.
Flavors include aged cheddar, sea salt truffle, sweet chilli and herbs de provence. In addition to a healthy snack, you can toss these quinoa puffs on a salad as a healthy crouton option.
www.iheartkeenwah.com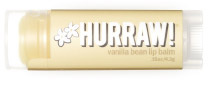 Hurraw! vanilla bean lip balm
Looking for the perfect way to hydrate your lips after a balmy, cold winter? The HURRAW! Lip balms are made with clean, organic, non-GMO and vegan ingredients that you will feel good about using. The flavors range from coconut to coffee bean and delicious vanilla. Good for all ages.
18 carrot gold chips by Hardbite
Instead of high fat and calorie-laden chips, try these tasty carrot chips by Hardbite. Light and crispy, these carrot chips are gluten free, made with non-GMO and artificial ingredients, free from cholesterol and trans fat and are Canadian made (fresh from a farm in British Columbia). The owners at Hardbite have an unwavering desire to make a chip with the finest and freshest ingredients with all chips being cooked in small batches to give you the best product possible.
Check out some of their other amazing vegetable chips atwww.hardbitechips.com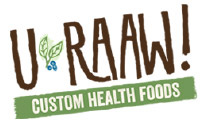 U RAAW! customized energy bars
This amazing Canadian company was built by parents raising two children, knowing the importance and difficulties surrounding healthy snacks and meals. U RAAW developed a fun and easy way to build your own snacks including delicious energy bars that cater to your needs and sensitivities. The company believes in sustainable farming practices and use locally grown and seasonal products whenever possible. Visit their website and start building your own energy bars today.
With a wide variety of ingredients you can use nut butters, protein powders, nuts and seeds, dried fruit, and healthy and natural sweeteners. The finished products are delicious and fun and easy to create! Also great for birthday presents or special occasions.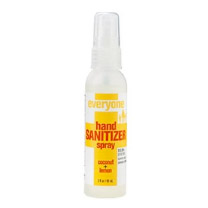 Coconut and lemon Hand Sanitizer spray by Everyone
Keep germs at bay with this natural coconut and lemon hand sanitizer that kills 99.9% of all common germs. Made with lemon essential oils and coconut extracts, the spray leaves your hands smelling great all day long.
Free of all synthetic fragrances, the bottle can also be recycled when finished.
DELICIOUS AND HEALTHY RECIPES
Green coconut smoothie
Ingredients:
1/2 cup unsweetened coconut milk
1 scoop vegan vanilla or unflavoured protein powder
1 cup spinach
? frozen banana
Ice cubes
1 tablespoon shredded unsweetened coconut
Directions:
Blend all ingredients except shredded coconut in blender until well combined.
Add shredded coconut on top of smoothie and enjoy!
Serves 1
Nutritional Analysis: calories 423, fat 32g, carbohydrates 25g, fiber 5g, protein 20g
---
Avocado chocolate pudding
Ingredients:
1 very ripe banana
? ripe avocado
1 Tablespoon unsweetened cocoa powder
Directions:
In a food processor, blend together the banana, avocado and cocoa powder, scraping down the bowl as needed. Continue blending and scraping, until very smooth and creamy.
Enjoy immediately, or chill in the fridge before eating.
Serves 2
Nutritional Analysis: calories 161, fat 10g, carbohydrates 19g, fiber 6g, protein 2g
---
Crispy almond crusted chicken fingers
Ingredients:
3 chicken breasts, boneless & skinless
1 1/4 cup raw almonds, ground
1 tbsp garlic
1 tsp oregano
3/4 tsp sea salt
1/8 tsp ground black pepper
2 eggs
Directions:
Preheat oven to 450 F degrees. Line large baking sheet with parchment paper and set aside.
In one small bowl, mix ground almonds (almond meal), garlic powder, oregano, salt and pepper. In another small bowl, whisk the eggs.
Cut chicken into ? inch thick strips lengthwise.
Dip each strip into an egg mixture, coat completely in almond mixture and place on prepared baking sheet. Bake for 15 minutes on one side, flip and bake for another 12-15 minutes or until golden brown.
Serves 4
Nutritional Analysis: calories 420, fat 22g, carbohydrates 8g, fiber 4g, protein 51g
---
Healthy Caeser salad
Ingredients:
1/3 cup 1% Greek yogurt
1 garlic clove, minced
2 tablespoons fresh lemon juice
2 teaspoons Worcestershire sauce
2 tablespoons extra-virgin olive oil
1/4 cup freshly grated parmasean cheese
Salt and freshly ground pepper
1 large head of romaine lettuce, torn into bite-size pieces
Directions:
In a small bowl, whisk the yogurt with, garlic, lemon juice and Worcestershire sauce. Whisk in the oil and half of the cheese and season with salt and pepper.
In a large bowl, toss the romaine with half the dressing and the remaining cheese.
Option: Add ? cup of quinoa puffs (see in product section) for crouton. Enjoy!
Serves 4
Nutritional Analysis: calories 172, fat 13g, carbohydrates 4g, protein 10g
BOOK OF THE MONTH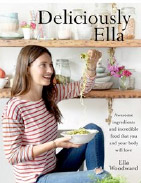 Deliciously Ella by Ella Woodward
Ella Woodward, a well- known food blogger, creates recipes that are easy, straightforward and absolutely delicious. All of the recipes in her latest book are plant-based, gluten-free and easy to follow. Featuring over 100 new recipes, including smoothies, vegetable side dishes, healthy treats and more, there are many ideas that are perfect to kick off spring.
Available at Chapters or can be ordered from amazon.com
THE TOP 5 GAME-CHANGERS FOR ULTIMATE HEALTH
Start your day with a warm glass of lemon water - A simple step that will help to kick start your metabolism, boost your energy and detoxify your digestive system.

Increase your greens - Incorporate greens throughout the day - add a handful of kale in your smoothie, have a glass of chlorophyll water and eat a green-based salad at lunch or dinner.

Remove all white, refined flour and sugar - Swap all your white, refined flour and sugar with healthier alternatives that won't spike your blood sugars. This includes: quinoa pasta, brown rice or brown rice pasta, spelt pasta, coconut sugar and fruit.

Get enough sleep - Sleep in a room that is completely dark and make sure to cut off all caffeine a minimum of 4-6 hour prior to bedtime. Excess alcohol prior to bed will also disrupt your sleep cycle.

Stay hydrated - Being dehydrated will zap your energy fast! Drink a minimum of 2 litres of water per day (herbal tea counts!).