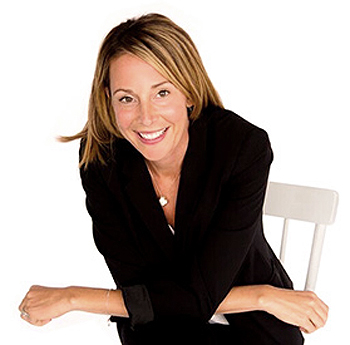 March is nutrition month and it is time to shake off the winter cobwebs and feel your best. In addition to cleaning out your cupboards and/or closet, why not do some internal cleaning as well? Whether it is weight loss, strengthening or working on practicing a little more gratitude, March is always the month where I see so many health transitions begin.
To welcome in the Spring, this newsletter is filled to the brim with goodness such as my top 10 game changing health tips, super food recipes (that are easy), products that will give you the skin glow you have always wanted and books to give you a little internal lift. Going forward, my team and I have some nutritional surprises planned for the spring and summer, so stay tuned. As always, we love your feedback. If you have a product you would like featured, a story to tell or would simply like to reach us, contact drjoey@drjoey.com. Best health,

Dr. Joey Shulman DC, RNCP
---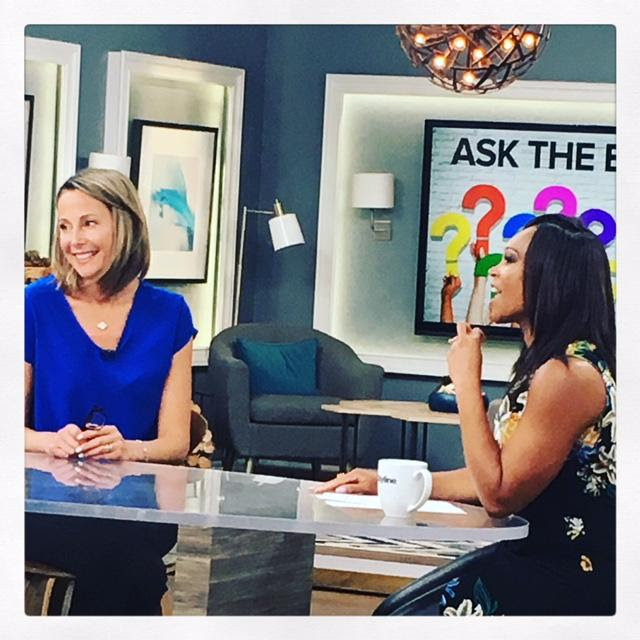 Boy oh boy our Cityline weight loss challengers are doing well this year!
To see their success so far and to get my top 10 game changing health tips, click here.
---

My ultimate goal with clients is not only helping them to lose weight, it is providing them with the skills to keep their weight off for life! Huge congratulations to Stefania, who has successfully kept her weight off for 5 years! Stefania is a working and active mother of 3 who is also training for a triathlon in the summer - she is truly beautiful inside and out.
So... don't wait until summer to start losing your weight and feeling like your best self. Spring into spring by getting rid of belly fat, boosting metabolism and feeling your best. All you have to do is book in for a free weight loss assessment at 1 of our 3 Shulman Weight Loss clinics listed below. As the #1 weight loss clinics in Ontario, my team and I are dedicated to helping you lose your weight and keep it off... for life.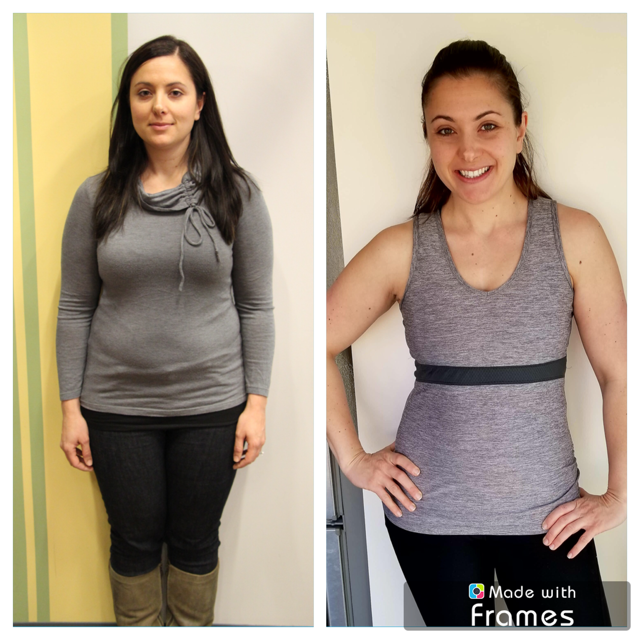 If you are looking to lose weight and feel like your best self, simply call us! Shulman Weight Loss clinics offer hormonal and natural weight loss programs that help clients lose weight in a private and personalized manner. Burn belly fat, hit your goal weight and enjoy the fall and winter looking your best! Call one of our clinics today for a FREE weight loss assessment.
Thornhill
Phone: 905.889.5326 (lean)
inquiries@shulmanweightloss.com
Toronto
Phone: 416.962.5326 (lean)
toronto@shulmanweightloss.com
London
Phone: 519.642.7800
london@shulmanweightloss.com
---
Products We Can't Stop Loving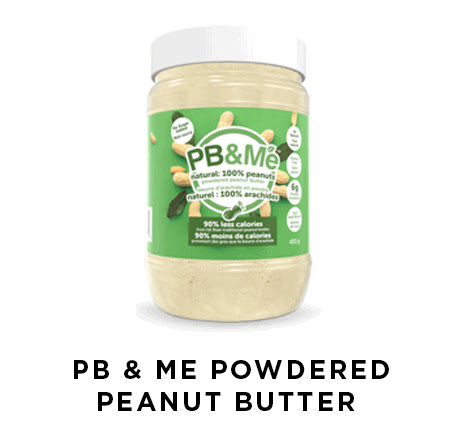 This powdered peanut butter by PB & Me is the perfect way to enjoy the delicious taste of natural peanut butter in an easy and mess-free way. Unlike other powdered peanut butters, PB & Me has NO added sugar, so you can feel good about giving this product to you and your family. Loaded with protein (6g per serving), this product is the perfect nutritional boost for your morning smoothie, overnight oats, or yogurt parfaits.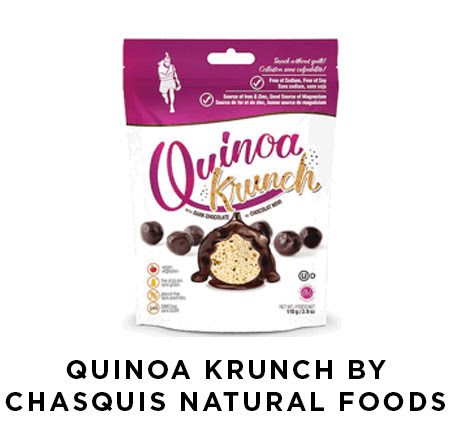 These tasty little quinoa treats are the perfect way to satisfy a chocolate craving in a healthy way! Made with delicious dark chocolate and organic quinoa, each quinoa bite is crunchy and satisfying. Peanut free, gluten free, kosher and vegan – snack without guilt!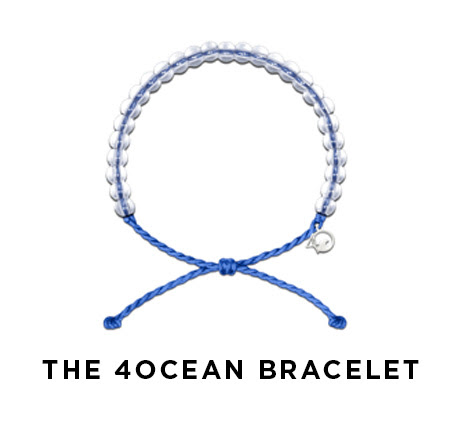 This stylish, unisex bracelet is made from 100% recycled materials. The beads are made from recycled glass bottles while the cord is made from recycled plastic water bottles. Best of all, for every bracelet you purchase, one pound of trash is removed from the ocean. To date, 317, 590 pounds of trash have been pulled from oceans and coastlines from the sale of these bracelets.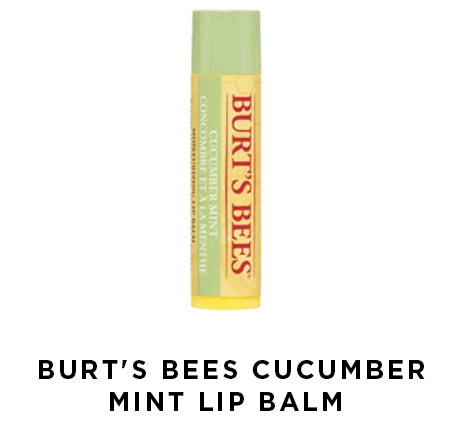 Let's face it – this winter has been hard on our skin, lips and nails. If you are finding your lips extra dry this month, nourish and soothe them with Burt's Bees hydrating cucumber and mint lip balm made with 100% natural ingredients. Infused with cucumber fruit extracts, beeswax, peppermint oil, coconut oil and shea butter to deeply nourish and hydrate all day long. The lip balm is also free of parabens, phthalates, petrolatum and SLS.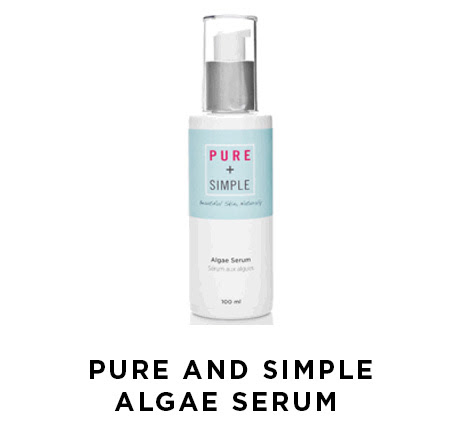 I am often asked about the skin care line I use. Pure and Simple products are definitely part of my "go to" skin regime. This hydrating algae serum by Pure and Simple helps to revive your skin in the morning, while locking in moisture in the evening for a good night's rest. The light, water-rich creamy serum is formulated with rich concentrations of vitamins + antioxidants that help to moisturize and nourish all-skin types. Containing sea algae and antioxidant boosting green tea, your skin will look invigorated and have that healthy, natural glow. Simply apply 1-2 pumps to your entire face and neck after cleansing and toning. Do not rinse. Use day and night for the best results.

www.pureandsimple.ca
---
Nutritious and Delicious Recipes for Nutrition Month!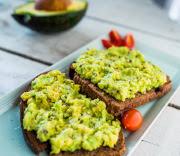 Mashed avocado toast
Ingredients:
¼ avocado
2 slices of sprouted grain bread
1 tablespoon hemp hearts
1 tablespoon feta cheese, crumbled
Directions:
In a small bowl, add the avocado and mash.
Top mashed avocado onto both pieces of toast and sprinkle hemp hearts and feta cheese over both pieces.
Enjoy open faced.
Option to add a sliced hard-boiled egg on top for extra protein.
Serves 1
Nutritional analysis: calories 390, fat 20g, carbohydrates 37g, fiber 8g, protein 17g
---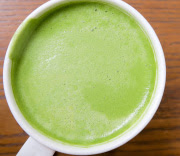 Antioxidant packed matcha latte
Ingredients:
1/2 teaspoon matcha powder
1 tablespoon hot water
1 cup unsweetened almond milk (steamed or foamed)
1 teaspoon honey
1/2 teaspoon cinnamon (optional)
Directions:
Add matcha powder and hot water into mug and whisk together well.
Add steamed/foamed almond milk, honey and cinnamon to mug.
Mix together and enjoy hot!
Serves 1
Nutritional analysis: calories 74, fat 4g, carbohydrates 11g, fiber 3g, protein 1g
---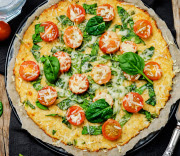 Cauliflower crust pizza (great alternative to pizza!)

Ingredients:
1 medium cauliflower (approx. 4 ½ cups of cauliflower rice)
1 large organic egg, beaten
â…" cup soft goat cheese
1 teaspoon dried oregano
1 teaspoon of sea salt
½ cup tomato sauce (make sure to use a "no sugar added" sauce)
½ cup baby spinach leaves
½ cup cherry tomatoes, halved
3 tablespoons parmesan cheese, grated
Directions:
Preheat your oven to 400 F.
To make the cauliflower rice, pulse batches of raw cauliflower florets in a food processor, until a rice-like texture is achieved.
Fill a large pot with about an inch of water, and bring it to a boil. Add the cauliflower rice and cover. Allow to cook for about 4-5 minutes. Drain into a fine-mesh strainer.
Wrap up the rice in a dishtowel or cheese cloth and squeeze all the moisture out.
In a large bowl, mix up your strained rice, beaten egg, goat cheese, and, oregano and sea salt.
Press the dough out onto a baking sheet lined with parchment paper.
Bake for 35-40 minutes in preheated oven. The crust should be firm and golden brown when finished.
Add tomato sauce, cherry tomatoes, spinach and Parmesan cheese and return the pizza to the oven. Bake an additional 5-10 minutes and broil for last 1-2 minutes.
Serves 4
Nutritional analysis: calories 216, fat 13g, carbohydrates 9g, fiber 4g, protein 17g
---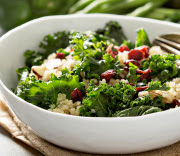 Kale quinoa salad

Ingredients:
2 tablespoons dried currants
2 tablespoons plus 1 teaspoon white wine vinegar
1 bunch kale, centre ribs and stems removed, washed and patted dry
1 teaspoon finely grated lemon rind
3 teaspoons fresh lemon juice
1 tablespoon raw honey
1 tablespoon extra virgin olive oil
1/2 teaspoon sea salt
2 tablespoons unsalted sunflower seeds
1 cup cooked quinoa
Directions:
Place currants in small bowl and cover with two tablespoons white wine vinegar. Set aside.
Lay several leaves of kale on top of each other and cut thinly crosswise. Add to a large bowl.
Make vinaigrette: In a small bowl, combine one teaspoon white wine vinegar, lemon rind, lemon juice, honey, olive oil and sea salt, and whisk.
Add vinaigrette, sunflower seeds, and currants, including any additional vinegar left over from soaking, to the kale and toss to combine.
Allow to marinate for 20 minutes at room temperature, tossing occasionally.
Add cooked quinoa before serving.
Makes 12
Nutritional analysis: calories 265, fat 7g, carbohydrates 43g, fiber 5g, protein 9g
---
5 Nutritious Super Foods... and What to Do with Them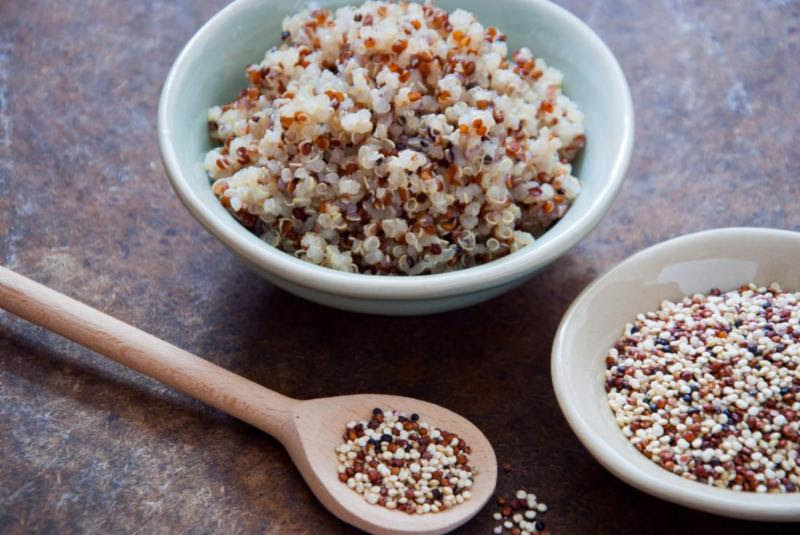 Up your green veggies – Whether it's adding a handful of spinach and kale into your morning smoothies, or roasting up some dark green leafy vegetables for dinner, get those greens in as much as possible!
Get active – Design a workout routine that works into your schedule and commit to it. Always aim for 10,000 steps each day.
Manage your stress – Establish a daily mindfulness practice (i.e., 10 minute meditation in morning or before bed, or hot yoga class after work) to help lower stress and cortisol levels to protect your heart.
Get to know what's in your food – Read food labels before you buy foods and make sure to avoid foods that contain trans fats or high levels of sodium.
Include healthy fats – Incorporate foods that are a good sources of healthy fats, including fish, nuts and seeds, and flax seeds.