They are back! Back to school and back to routine. After one of the best summers we have seen in a while, it is time to return to the rhythm of work, school and of course, some good health habits. With vacations, camping and patios, summer can often be a tricky time to make some health and eating changes. So... let's kick it up a notch, shall we? Whether it is weight loss, optimal digestion or more energy, brainpower and focus – food is a very powerful way to turn the volume up on your health. We also have a new section of the Dr. Joey newsletter called "Ask an Expert". If you have a burning nutrition question you would like me to answer, I want to hear from you! Simply e-mail your question to drjoey@drjoey.com
Our goal this Fall is to provide you with the best recipes, food tips, inspiring stories and need to know healthy changes so you can literally feel your very best daily. Are you ready? Let's get this health party started!
Wishing you a wonderful September,

---

Feeling inflamed? Click here to learn more about my favourite anti-inflammatory foods that can help!
---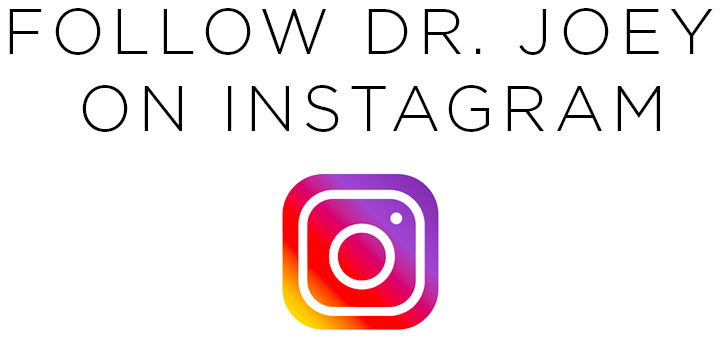 ---

Congratulations to Santina who lost 30 pounds at Shulman Weight Loss – you look amazing! At Shulman Weight Loss – our goal is not only to help you lose the weight – we will teach you the skill set and program that will also help you keep the weight off for life! Hormonally balanced, personalized, easy to follow and the most delicious food – you will wonder why it took you so long to get started. With the best team in the business (click here to meet my amazing team!) – we cannot wait to meet you. All you have to do is book in for a free weight loss assessment at 1 of our 3 clinics listed below.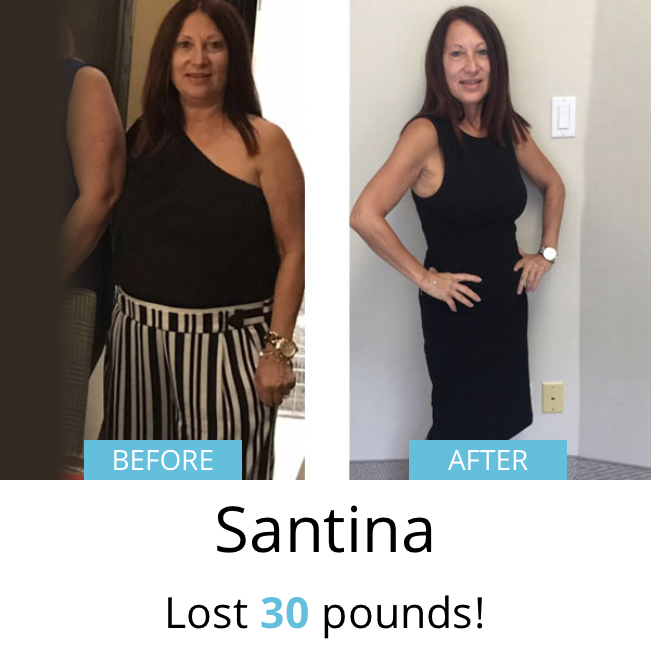 Thornhill
Phone: 905.889.5326 (lean)
inquiries@shulmanweightloss.com
Toronto
Phone: 416.962.5326 (lean)
toronto@shulmanweightloss.com
London
Phone: 519.642.7800
london@shulmanweightloss.com
---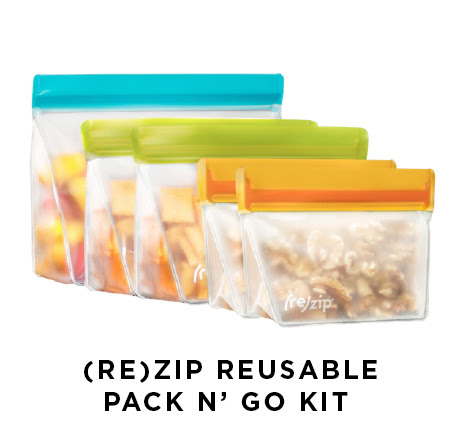 Did you know that one reusable bag replaces up to 300 disposable baggies? This small change can make a big impact on our environment. These environmentally friendly re-usable bags by (re)zip are offered in a variety of colours and sizes and are ideal for lunches and meals on the go.(re)zip lay-flat bags are food-safe, lead-free, BPA-free and freezer safe. The double-lock closure provides an airtight seal and prevents leaks and spills. This pack n'go set of bags includes one 4-cup bag in turquoise, two 2-cup bags in green and two 1-cup bags in orange.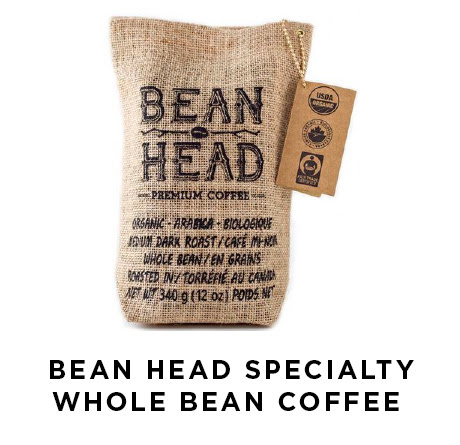 Bean Head's top rated blend of medium roast dark coffee is 100% organic, fair trade certified and free from all harmful pesticides. This whole bean coffee is rich, full body, and perfectly balanced, with a smooth clean finish. Packed in a biodegradable and reusable straw bags with the beans being roasted right here in Canada!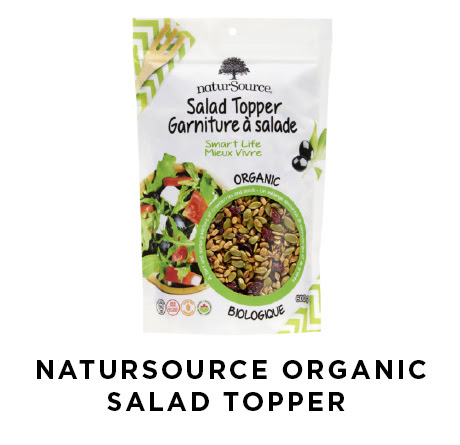 Boost your salads with this easy and delicious gluten free salad topper by NaturSource. With a mix of organic cranberries, crunchy pumpkin seeds and tamari flavored sunflower seeds, you simply can't go wrong! This salad topper is packed with antioxidants and fill-you-up healthy fats – just throw a couple of tablespoons on your salad or enjoy as a satisfying afternoon snack. There are no preservatives, artificial colors or flavors used – just good, wholesome ingredients you will love!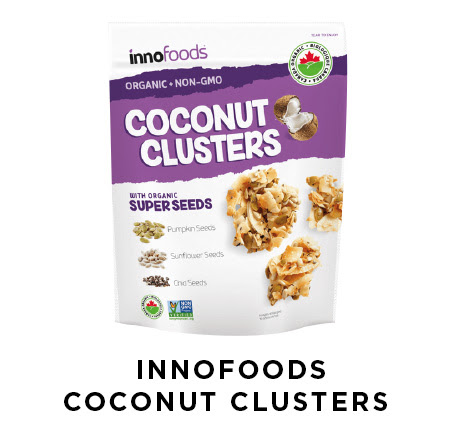 These delicious coconut clusters by innofoods are a great, naturally sweetened snack that is packed with delicious ingredients such as coconut, pumpkin seeds, sunflower seeds and chia seeds. These clusters are 100% organic, non-GMO, gluten-free, vegan and contain no preservatives, artificial colors or flavors. They make a great afternoon snack that will fill you up and satisfy a sweet craving in a healthy and delicious way.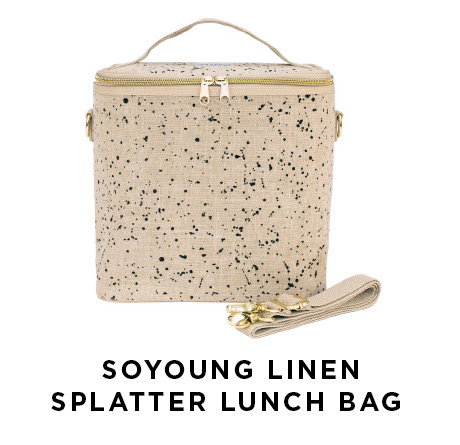 Get back into the school and work routine with this contemporary, splattered lunch bag by SoYoung. This stylish and roomy bag offers maximum space for your meals and snacks and the insulated interior will keep you food chilled. Its machine washable design makes it easy to keep clean and the removable insulated insert is great for daily cleaning. It comes with a detachable strap, gold hardware, and has extra pockets to help keep you organized. The linen and cotton exterior is BPA free and they come in a variety of sizes, patterns and colors.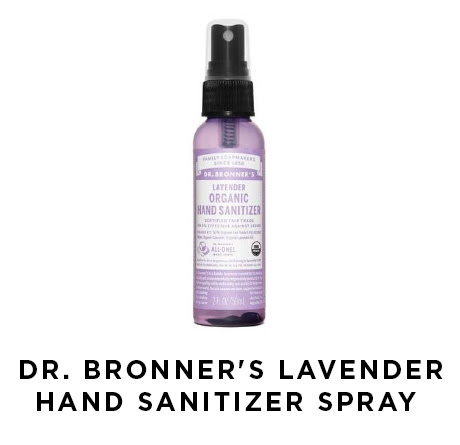 This organic hand sanitizer by Dr. Bronner's sits on every desk at Shulman Weight Loss. This organic and fair-trade spray works to kill germs naturally. The formula is free from all the harsh chemicals found in many conventional sanitizers and includes all organic ingredients. The organic lavender oil leaves your hands smelling fresh and clean while the organic glycerin moisturizes the skin. Make this a staple for your office or your little one's school bag as a natural defense against the cold or flu.
---

Strawberry coconut overnight oats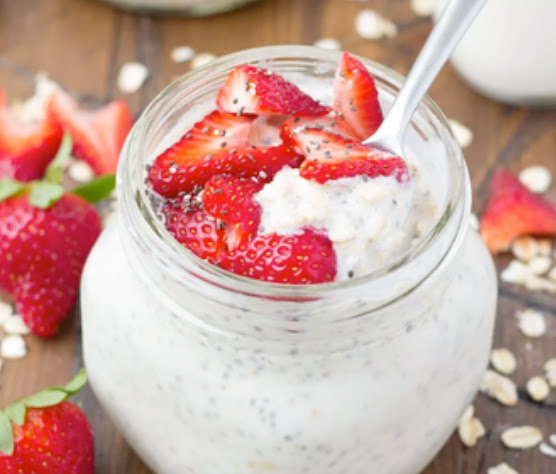 Ingredients:
½ cup of unsweetened coconut milk
1 teaspoon maple syrup
1-2 tablespoons chia seeds (start with 1 tablespoon and add more if you want a thicker consistency)
1 tablespoon hemp hearts
1 tablespoon unsweetened coconut flakes
½ cup sliced strawberries
Directions:
In a small bowl or mason jar, add the coconut milk, maple syrup, and chia seeds. Mix together and put into fridge for 1-2 hours (stir a few times in between).
Once all the liquid is absorbed, top with hemp hearts, coconut flakes and sliced strawberries.
Serves 2
Nutritional analysis: calories 416, fat 33g, carbohydrates 24g, fiber 14g, protein 12g
---
Crispy chicken fingers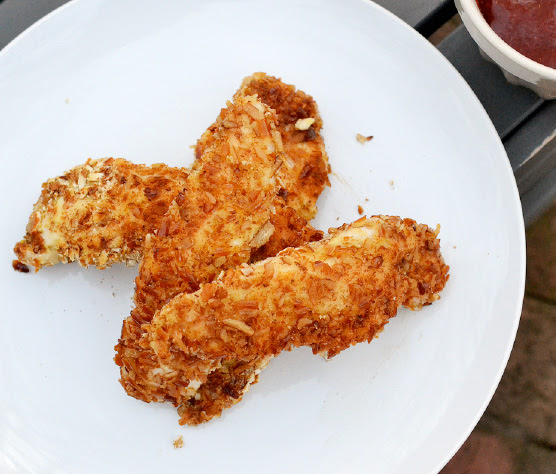 Ingredients:
1 lb boneless, skinless chicken breasts
1 cup of spelt breadcrumbs
½ teaspoon garlic powder
½ teaspoon onion flakes
1 egg
Directions:
Preheat oven to 375 F.
Slice chicken breasts into long, thin strips (1" wide)
In a small bowl, mix the breadcrumbs, garlic powder and onion flakes.
In a separate bowl, crack the egg and whisk.
Dip each piece of chicken into egg and then coat with breadcrumb mixture.
Place on a baking sheet lined with parchment paperand bake for 20 minutes, or until chicken is cooked through.
Serves 4
Nutritional analysis: calories 250, fat 10g, carbohydrates 4g, fiber 1g, protein 35g
---
Mini turkey meatballs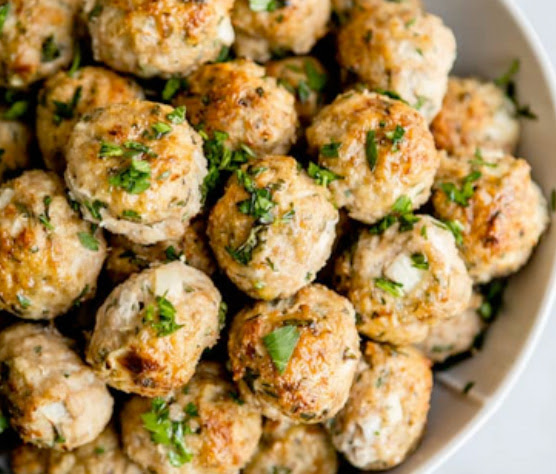 Ingredients:
1 lb of ground turkey
½ cup whole wheat or spelt breadcrumbs
1 egg
1 teaspoon garlic powder
Directions:
Preheat oven to 350 F.
In a medium bowl, add the ground turkey, breadcrumbs, egg, and garlic powder. Mix well to combine.
Form mixture into mini meatballs and place onto lined baking sheet.
Cook meatballs for 15-20 minutes, until cooked through and no longer pink inside.
Serves 4
Nutritional analysis: calories 250, fat 14g, carbohydrates 2g, protein 33g
---
School friendly mini banana chocolate chip muffins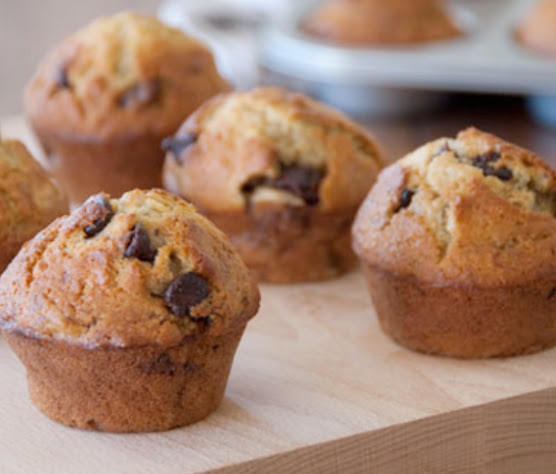 Ingredients:
2 ripe bananas
1 cup of sunflower seed butter
2 organic eggs
¼ cup honey or maple syrup
½ teaspoon baking powder
½ cup mini dark chocolate chips
Directions:
Preheat oven to 400 F.
In a large bowl, mash the bananas. Add the sunflower butter, eggs, honey/maple syrup and baking powder. Mix together.
Fold in the chocolate chips and pour into lined muffin tins.
Bake for 12-15 minutes, until cooked through.
Makes 24 muffins
Nutritional analysis: calories 106, fat 7g, carbohydrates 10g, protein 3g
---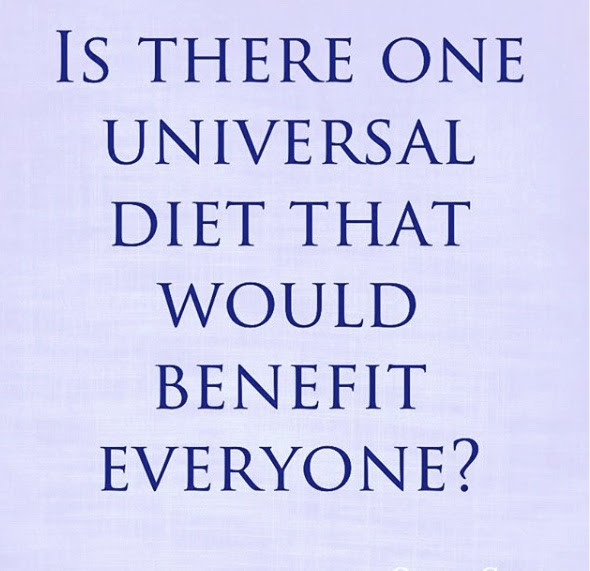 No – there is no one size fits all when it comes to diet. This is why I love practicing 1 on 1 weight loss and nutritional care in my clinics. While I do practice hormonal weight loss - dietary needs differ from person to person depending on genetics, allergies, immune health, hormonal stages, environment, stress levels and health history.
While being a vegan or going more towards a ketogenic approach may be right for some – it may actually backfire for others. Working with thousands of clients over all these years I have really learned to be a good listener. What I know for sure is that YOU know your body best. Pay attention to how you feel, your energy, sleep, digestion and ability to lose weight in association to your current dietary approach. This is the first step in the right direction.
So while there is not a "one size fits all" dietary approach – there are a few fundamentals that are very good for all to implement:
Eliminate or reduce processed foods as much as possible – We were not designed to thrive on foods that come from a box.
Hydrate – drink 2 liters of water per day, this is a game changer.
Practice some degree of fasting – This does not have to be the "16-8" that is in vogue at the moment (16 hours of fast, 8 hours of eating) A simple 12 hour fast (i.e. not eating from 7p -7am) is also very good for health.
To fill up and satiate – have a high quality protein source per meal. This can be a mixture of plant-based protein and high quality (and organic if possible) fish, chicken, dairy and grass fed beef.
Eat nutrient dense and calorie light foods – vegetables and fruits in season or frozen.
Pay attention to digestive health – bloating, constipation – those are not normal signs. Supplementing with a mixed strain probiotic is always advisable.
Eat high quality fats – nuts, oils and avocados are very good options.
---

Best Lunch Box Ever by Katie Sullivan Morford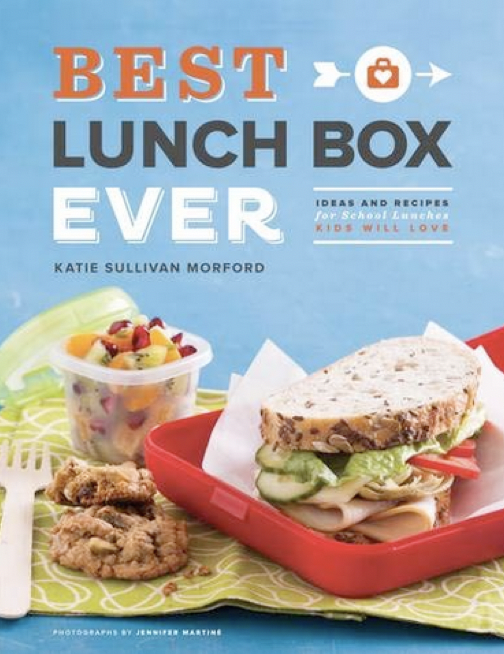 Get organized for your back to school routine with Best Lunch Box Ever! This book is filled with recipes, ideas, and strategies for packing creative and healthy lunches for kids. Busy parents will appreciate the quick and simple solutions for wholesome, balanced meals and kids taste buds will definitely be enticed. Auth`or Katie Sullivan Morford, a registered dietician and a mother of three, provides easy and delicious options that are packed with nutrients for well-rounded lunches and snacks, including Deconstructed Caprese Skewers, Easy Cheesy Thermos Beans, Pesto Pita Pizza, Cinnamon Wonton Crisps, Parmesan Kale Chips, Crispy Applewiches, and more. Available where books are sold.
---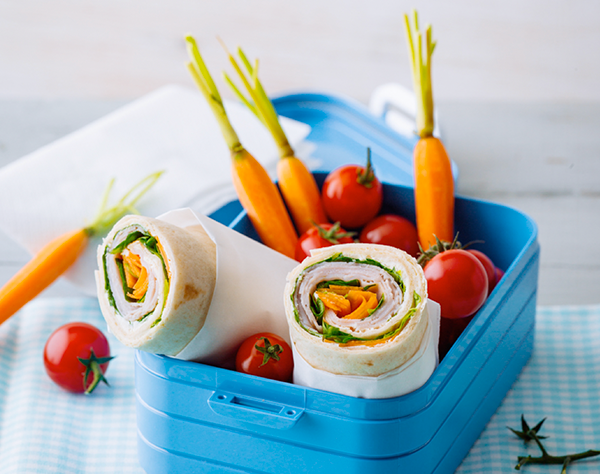 Don't skip breakfast. Plan your morning routine around a healthy breakfast to start your day off right. Have healthy options available in the fridge like cut up fruit, hard-boiled eggs, chia seed pudding, and yogurt.
Plan for the week. Take a few hours on Sunday to meal plan and grocery shop for the week to make sure you have everything ready to go in the fridge.
Pack a water bottle. Kids should be drinking a minimum of 4-6 glasses of water per day.
Pack snacks. Snacks are an important way to keep blood sugars balanced and maintained throughout the day. Fruits, healthy granola bars, vegetables and dips and homemade cookies are all great choices. If buying – we love Made Good, Enjoy Life and Mary's crackers for some delicious healthy options.
Keep lunches creative so your kids stay interested. Add different colors and textures to their lunches and incorporate lots of variety.
Focus on good quality sleep. Limit screen time and stimulation before bed to ensure a good night sleep for you and the kids.