Dr. Joey's Newsletter - July 2016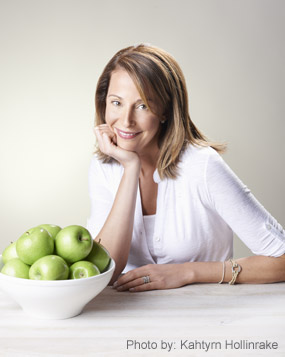 Dissatisfaction is the first step to change?
Summertime is definitely one of the greatest times of the year to make a health and wellness change. Whether you want to boost energy, lose weight, improve skin or build muscle - the key is to incorporate the dietary and physical steps that will help you feel your best. If you feel you cannot do all at once - no problem at all! Baby steps towards health (drinking more water, getting a better nights sleep, eating less sugar) all pay off. At Shulman Weight Loss, we have clients that range from ages 18-91! This is a true testament that you can improve your health and the way you feel at any age, any stage.
So whether you drop gluten, eat more greens, break a sweat or do a little more deep breathing (and check out our app recommendation below!)- the take home message for this month is do something a little different and see how you feel. Try to push pass the initial resistance and take your health up a tiny little notch each day.
I hope you enjoy the products, recipes and transformations in this newsletter and find them as inspiring as we do! As always - I would love to hear from you. If you have a product you would like to be reviewed or a comment to make, simply email me at drjoey@drjoey.com
Wishing you a wonderful start to summer,

Dr. Joey Shulman DC, RNCP
SHULMAN WEIGHT LOSS SUCCESS STORIES!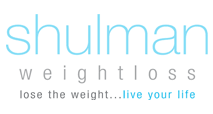 We have seen some phenomenal transformations at Shulman Weight Loss lately! From 50 pounds (or more) lost to inches down and energy dramatically up - seeing someone re-gain their health and vitality is a thrill each and every time.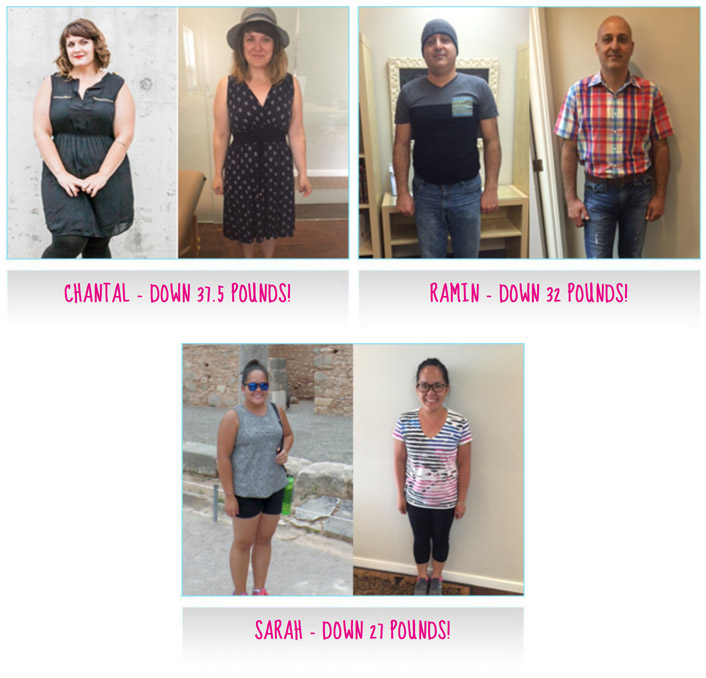 If you are ready for a change and want to take back control of your health and weight, call us. Shulman Weight Loss is dedicated to taking care of each and every one of our clients in a natural, hormonally balanced and personalized way. All you have to do is call and book in for a free weight loss assessment. I cant wait to meet you!
Thornhill:
inquiries@shulmanweightloss.com or 905.889. LEAN (5326)
Toronto:
toronto@shulmanweightloss.com or 416. 962. LEAN (5326)
London:
london@shulmanweightloss.com or 519. 642.7800
PRODUCTS WE CAN'T STOP LOVING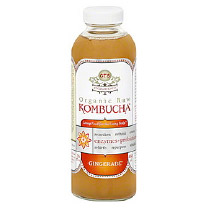 GT's Gingerade Kombucha
Kombucha is an ancient fermented tea beverage full of probiotics, B vitamins and anti-oxidants that has recently made a come back! Bubbly, refreshing and a natural energy booster GT's kombucha is available in most health food stores in a variety of flavors.
The freshly pressed ginger found in GT's gingerade gives this Kombucha a whole other element. With only 4g of sugar, this drink makes a great alternative to pop and juices.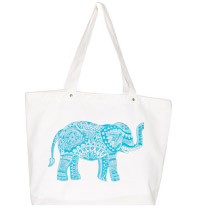 Spring Dialogue Tote Bag
Looking for the perfect summer bag for your cottage or road trips... look no further! The new colors by The Dialogue Projects are now available offering roomy and sturdy (yet chic) space for all your goodies.
A portion of every bag sold is donated to various charities to help reduce the stigma surrounding mental illness.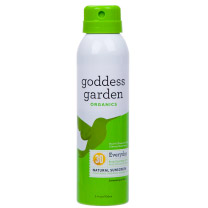 Goodess Garden Natural sunscreen
Goodess Garden natural sunscreen uses naturally occurring minerals and organic, plant-based ingredients that provide powerful broad-spectrum sun protection for you and your family. Made with nourishing ingredients including red raspberry, coconut oil and green tea - this natural sunscreen leaves your skin feeling smooth and silky.
The easy-to-apply spray format is non-greasy, biodegradable and is certified organic safe. Good for you and the environment!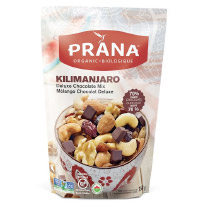 Prana Kilimanjaro organic trail mix
I have said it before and I will say it again fat does not make you fat - so eat your nuts and seeds!
One of the best snack foods around filled with nuts, seeds and a little chocolate is Prana's Kilimanjoro mix which contains 100% vegan, organic and gluten free almonds, walnuts, cashews, raisins cranberries and chocolate chips (70% chocolate), One small handful does the trick for hunger and sugar cravings. Can you say yum?
Available where most grocery food items are sold.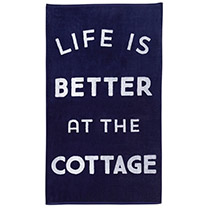 Expressions Beach Towel from Indigo
This plush, cozy beach towel is available at Indigo and makes the perfect gift to give this summer.
Made with cotton terry material - this towel gets softer with each wash.
www.chapters.indigo.ca
REFRESHING SUMMER RECIPES
Pina colada smoothie
Ingredients:
½ cup frozen mango
¼ cup plain Greek yogurt
½ scoop of vanilla protein powder (sprouted is recommended)
1 tsp vanilla extract
1/3 cup of unsweetened coconut milk or coconut water
1/4
1 tbsp chia seeds
1 tbsp unsweetened shredded coconut
3-4 ice cubes
Directions:
Place mango, ice, yogurt, protein powder, vanilla extract, milk, and water in a blender.
Blend for 30 seconds. 3. Remove from blender, and add in chia seeds and coconut, stir with a spoon and enjoy!
Serves 1
Nutritional Analysis: calories 360, fat 24g, carbohydrates 23g, fiber 6g, protein 15g
---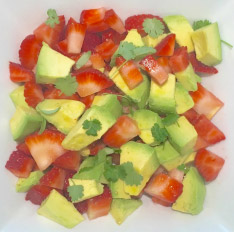 Strawberry avocado salsa
Ingredients:
2 ripe avocados, finely chopped and peeled
1 cup finely chopped strawberries
2 tablespoons minced fresh cilantro
1 teaspoon minced seeded jalapeño pepper
2 teaspoons fresh lime juice
Pinch of salt
Nacho chips (we love Neal brothers flax chips!)
Directions:
Combine all ingredients into bowl and mix.
Serve with flaxseed tortilla chips.
Serves 6
Nutritional Analysis: calories 145, fat 13g, carbohydrates 8g, fiber 5g, protein 2g
---
Coconut chia seed pudding
Ingredients:
1 cup unsweetened coconut milk or almond milk
1 teaspoon vanilla extract
1 tablespoon ground flax seeds
1 tablespoon chia seeds
1 tablespoon hemp seeds
2 tablespoons unsweetened shredded coconut
Pinch sea salt
Raw honey to garnish
Directions:
Pour the milk into a small to medium-sized saucepan. Add vanilla into milk. Warm the milk over medium-heat until it comes to a gentle boil. Add the flax, chia, and hemp seeds along with the coconut, and stir to combine. Reduce the heat to simmer and stir over low heat until porridge thickens.
Season with a small pinch of salt. Serve immediately with drizzled honey on top.
Serves 1
Nutritional Analysis: calories 200, fat 13g, carbohydrates 10g, fiber 8g, protein 5g
---
Feta turkey sliders
Ingredients:
6 oz lean ground turkey
1 tbsp feta cheese
½ tsp dried oregano
4 Boston lettuce leaves, or 4 mini slider buns
Directions:
Preheat grill on medium-high heat.
In a bowl mix turkey, feta, oregano and pepper to taste.
Form into 4 sliders. Lightly oil grate and place patty onto grill.
Cook for about 10 minutes or until turkey is cooked through, flipping half way through.
Enjoy on a whole wheat or sprouted grain bun or in a lettuce wrap with toppings of choice (i.e., pickles slices, tomatoes, mustard, etc.)
Serves 1
Nutritional Analysis: calories 270, fat 14g, carbohydrates 1g, protein 35g
5 FOODS TO KEEP YOU HYDRATED ALL SUMMER LONG

(AND KEEP YOUR SKIN LOOKING GREAT!)
Watermelon - High in water, antioxidants and vitamin C.

Celery - Contains 95% water, making it the perfect veggie for your dips.

Cucumber - 1 cup of sliced cucumber contains a whopping 100mL and offer anti-inflammatory properties.

Strawberries - Naturally sweet, high in vitamin C and low in calories.

Lettuce - A great grain free option for wraps and burgers.
WHAT ARE WE LISTENING TO?
No time to meditate but looking for a little stress relief? If so, download the app Headspace to help guide you thru 10 simple (yet effective) minutes of mediation each and every day. Headspace will show you how to decrease anxiety and to apply mindfulness to your day. With over 5 million current users, Headspace is helping people enjoy a healthier and happier life.