Dr. Joey's Newsletter - August 2015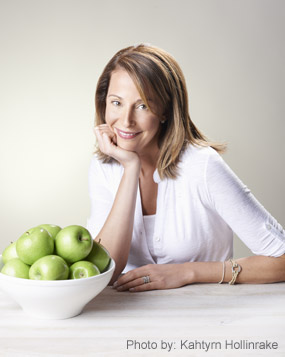 Oh what a summer we have had! To end the summer off with a bang, this newsletter is filled to the brim with natural tips and tricks that can help you look and feel your very best. From coffee subtitutes to clothing with a conscious and a simple little book that will change your life - there is a lot to learn and love.
With back to school and everyday routine just around the corner, let's enjoy these last few sunny weeks. We have a lot of exciting announcements to share with you this Fall... so please stay tuned! As always I love hearing from each and every one of you. All questions and recommendations are welcome. My team and I are constantly testing new products so we can ensure we are offering you the very latest and greatest in natural healthcare. To reach me, all you have to do is email drjoey@drjoey.com Have a wonderful end to your summer!
Wishing you all the best,

Dr. Joey Shulman DC, RNCP

Did you miss Dr. Joey on Cityline? If so click here to watch! Do you have a food vice you can't give up?
If so, click here to learn some healthier options to coffee, sugar, salt and more!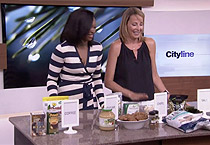 SHULMAN WEIGHT LOSS SUCCESS STORY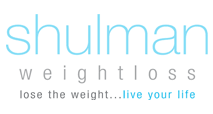 Following the Cityline Weight Loss Challenge ?winners keep on losing and getting healthier and strong with Shulman Weight Loss behind the scenes! A huge congratulations to Angelique who has now lost 42 pounds and soon to go on our maintenance program.
Why choose Shulman Weight Loss clinic?
Hormonally balanced, personalized and easy to follow
No starvation or injections - lose weight with food
Proven results from thousands of clients
#1 clinic in the GTA!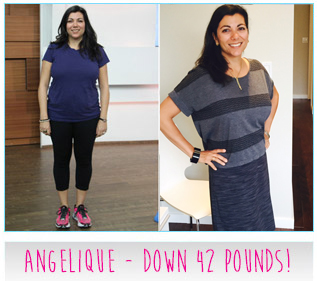 To book in for your free weight loss assessment, please visit one of our clinics below.
Thornhill location:
inquiries@shulmanweightloss.com
or 905.889. LEAN (5326)
Toronto location:
toronto@shulmanweightloss.com
or 416. 962. LEAN (5326)
London location:
london@shulmanweightloss.com
or 519. 642.7800
PRODUCTS WE CAN'T STOP LOVING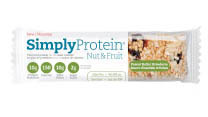 Nut & Fruit Simply Bar - Peanut Butter Strawberry
Looking for a balanced and uber yummy snack?
If so... Simply Protein's newest Nut & Fruit bar is the perfect option! The peanut butter strawberry flavor includes luscious fruits, wholesome nuts, and easy to digest pea protein. Low in sugar, high in fiber and extremely filling.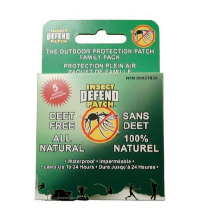 Insect defend patch
Even in August there are still bugs. Available at most health food stores, the insect defend patch will keep mosquitoes and other critters away for up to 24 hours!
This all natural, topically applied patch contains thiamin (vitamin B1) and is 100% DEET free. Apply within 2 hours of being outside.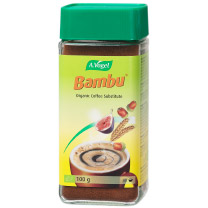 Bambu Coffee Substitute
Raise your hand if you are a coffee lover. I do adore my morning cup of java, but find that more than one cup per day is a slippery slope.
This is why I turn to Bambu coffee substitute after dinner as a natural and sweet option to coffee. Made with chicory, figs, wheat, malted barley and acorns, Bambu coffee substitue offers a velvety smooth flavor with only 5 calories per serving! Just add to boiling water or almond milk, stir and enjoy a bit of coconut sugar if desired.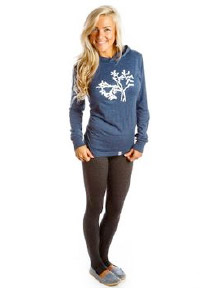 Ten tree apparel
When I have a present to buy, Tentree apparel is often my "go to". For every item of clothing purchased, 10 trees are planted in an area of the world that needs it most. When you purchase an article of clothing from Tentree, you can also visit the "tree map" to determine where your trees will planted.
Extremely soft and cozy, great looking and environmentally conscious.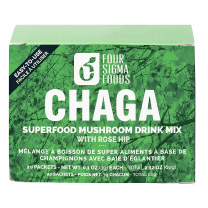 Instant Chaga by Four Sigma Foods
This superfood mushroom drink mix is the perfect way to strengthen your immune system and decrease inflammation naturally. Chaga has exceptionally high antioxidant levels with 1 pack of chaga having the equivalent of 30 pounds of carrots! This delicious, dark drink is enhanced with mint and rose hip ? the perfect way to start your day. In each dose, there is 1500 mg of wildcrafted chaga dual-extract. A box includes 20 packets of superfood mushroom drink mixes.
Giveaway Alert! Four Sigma Foods will be providing one lucky winner with a package of all their amazing products. The winner (always from the drjoey.com database!) will be contacted by one of our team members.
RECIPES
Lacinato Kale Salad with lemon mustard dressing
Ingredients:
Salad:
6 cups finely shredded Lacinato kale (you can roll them and cut them lengthwise to get ribbon shaped leaves)
1/2 cup slivered almonds, toasted
1/2 cup grated Parmesan cheese
Dressing:
1 tbsp shallots, minced
2 tbsp Dijon mustard
1/4 cup freshly squeezed lemon juice
1 1/2 teaspoons lemon zest
2 teaspoons honey or agave nectar
1/4 cup extra virgin olive oil
Directions:
In a small bowl, whisk together the shallots, mustard, lemon juice, lemon zest, honey and olive oil. Season with salt and pepper to taste.
In a large bowl, toss together the shredded kale and toasted almonds. Add as much dressing as desired, tossing to combine, then add the cheese and toss. Place in fridge for 1-2 hours and serve.
Serves 6
Nutritional Analysis: 269 calories, 19g fat, 14g carbohydrates, 3.g fiber, 2g sugar, 14g protein
---
Grilled Artichokes
Ingredients:
1 lemon, halved
4 medium artichokes
1 tsp extra virgin olive oil
Sea salt and pepper to taste
Directions:
Fill large bowl with cold water and squeeze lemon juice in.
Trim artichokes and place artichokes on steamer rack in large pot with water filled just below rack. Cover and bring water to a boil. Reduce heat and simmer for about 10-15 minutes until outer artichoke leaves are easily removed.
Once cooked, remove artichokes from pot and slice them in half. Remove prickly part. Brush with olive oil and season with salt and pepper.
Put artichokes on grill or BBQ for about 5 minutes to get them tender and charred.
Serve warm!
Serves 2
Nutritional Analysis: 96 calories, 3g fat, 17g carbohydrates, 9g fiber, 2g sugar, 5.g protein
---
Baked rainbow trout
Ingredients:
Extra virgin olive oil for the foil
4 small rainbow trout, boned
Sea salt and freshly ground pepper
1 pound ripe tomatoes, peeled, seeded and chopped
2 garlic cloves, minced
1 tablespoon extra virgin olive oil
4 to 8 sprigs fresh thyme
Chopped fresh parsley or thyme for garnish
Lemon wedges for serving
Directions:
Preheat the oven to 450 degrees. Cut 4 sheets of aluminum foil into squares that are 3 inches longer than your fish. Oil the dull side of the foil with olive oil and place a trout, skin side down, on each square. Season both sides with salt and pepper and open them out flat.
In a bowl combine the tomatoes, garlic, olive oil, salt and pepper to taste and spoon mixture over the middle of each trout. Place 1 or 2 sprigs of thyme on top, and fold the two sides of the trout together. Drizzle olive oil over each piece of fish.
Making sure that the trout are in the middle of each square, fold the foil up loosely, grab at the edges and crimp together tightly to make a packet. Place on a baking sheet and bake for 10 to 15 minutes, checking one of the packets after 10 minutes. The flesh should be opaque and pull apart easily when tested with a fork.
Place each packet on a plate. Carefully cut across the top to open it, taking care not to let the steam from inside the packet burn you. Gently remove the fish from the packet. Sprinkle with parsley or thyme and serve, passing the lemon wedges.
Serves 4
Nutritional Analysis: 170 calories, 9g fat, 5g carbohydrates, 1g fiber, 3g sugar, 17g protein
BOOK OF THE MONTH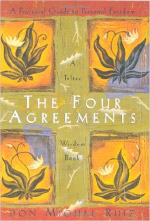 The Four Agreements - A Practical Guide to Personal Freedom
Each year, I pick up this easy to read book and re-read as a good reminder on how to live your best life. In his book, author Don Miguel shares 4 simple truths that effectively help you feel more joy and live in the moment.
Wisdom passed on from his Toltec ancestors - this is a must read book for all.