Dr. Joey Newsletter – May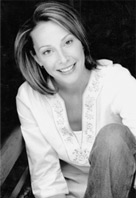 As Canadians, we welcome the month of May with open arms. The air is warmer, birds are singing and flowers are finally in bloom. The month of May also happens to be one of our busiest months at the Shulman Weight Loss Clinics (you may think it is January... but the closer bikini season gets – the more motivated people are to lose weight!).
Although a big part of my professional life is to help people lose weight and get rid of unwanted belly fat – there is much more to weight loss than that. Taking back control of your health and feeling as energetic and fit matters at every age – physically and emotionally. As motivational speaker Jim Rohn said so often, "You really can't do well if you don't feel well".
If you have weight to lose or simply want to start feeling your best naturally – I encourage you to just start taking one small health step at a time. Small steps will lead into bigger ones and slowly but surely – your health will transform. Read my 7 steps to weight loss article for a little motivation. And... scroll to the end of this newsletter to see the most amazing before and afterpictures of our Cityline winners – 97 pounds down collectively!
If you have a comment or product you would like reviewed, simply e-mail me atdrjoey@drjoey.com - I would love to hear from you!
Wishing you best health,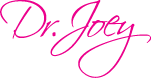 Dr. Joey Shulman DC, RNCP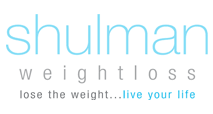 PS – Don't forget – All Shulman Weight Loss Clinics are offering 10% of all programs until the end of May.
For more information, please visit www.shulmanweightloss.com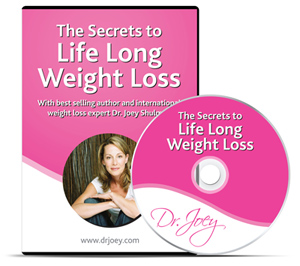 Now you can discover Dr. Joey's Secrets to Weight Loss in the comfort of your own home by ordering her latest DVD!
Burn belly fat, boost energy and transform your body with Dr. Joey's 7 simple steps to lifelong weight loss. Order now!


Learn the Secrets of Weight Loss live with Dr. Joey Shulman brought to you by canfitpro!
For more information, click here.
Call to reserve your spot at 1-800-667-5622.
---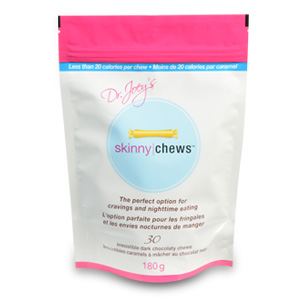 Have you tried Dr. Joey's skinny|chews™ yet?
They are literally flying off the shelves. skinny|chews™ are the perfect chocolaty and chewy option to end nighttime eating and 3pm cravings. Finally... chocolate with benefits! Order 2 or more skinny|chews™ at Dr. Joey's online store and delivery is free! Click here for details.

PRODUCTS WE CAN'T STOP LOVING!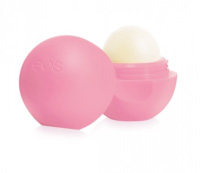 Eos Organic Lip Balm – These colourful, organic lip balms make for a great accessory this spring. With different flavours and colours to choose from – including pomegranate raspberry, sweet mint, honeydew, and strawberry sorbet, this product offers a fun way to moisturize and soften your lips.
Eos lip balms are free of paraben and petrolatum and full of amazing ingredients and nutrients such as antioxidants, vitamin E, shea butter and jojoba oil.
They leave your lips feeling smooth and refreshed!
www.evolutionofsmooth.ca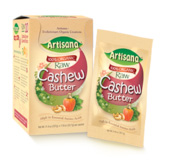 Artisana Single Serving Squeeze Pack Nut Butter – Artisana's single serve squeeze packs come in a variety of nut butter flavours including almond, walnut, cashew, pecan and macadamia. These delicious "on the go" nut butters are chock full of healthy fats, which are critical for optimal health and weight loss.
The 'knead it and squeeze it' method makes this product easy for anyone to use and doesn't require any utensils! The raw Cacao Bliss is one of my favorites and is vegan and made from organic, all natural ingredients.
Excellent in smoothies. www.artisanafoods.com
Ella's Botanicals Bubblemania – Give your little's ones bathtime a fun and exciting spin this season with this 3-in-1 shampoo, body wash and bubble bath.
The natural formula used by Ella's Botanicals is soap free and full of aloe, natural olive oils and lavender essential oils – leaving no room for synthetic fragrances, and unnatural ingredients.
This is definitely a new favourite in my house! www.ellasbotanicals.ca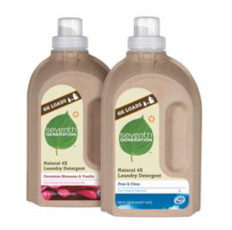 Seventh Generation Laundry Detergent – Are you looking for a laundry detergent that is tough on stains but gentle on the environment? If so, then Seventh Generation laundry detergent is for you!
Hypoallergenic, natural and free of dyes and synthetic fragrances – the bio degradable formula works well in all temperatures.
Available in 'Free & Clear', 'Geranium Blossoms & Vanilla' or 'Blue Eucalyptus and Lavender' scent. www.seventhgeneration.com/laundry-detergent
THIS MONTH'S SUPERFOOD - CARROTS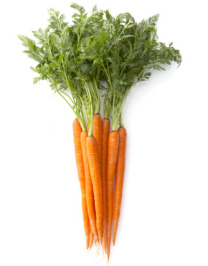 With a bright and colourful vegetable like carrots – you know you are getting a rich source of nutrients.
Carrots are an excellent source of beta-carotene – an antioxidant that supports the health of our skin and eyes. Beta carotene also helps to protect against free radical damage – decreasing our risk of cancer.
This root vegetable is also a very good source of vitamin K (for bone health) and vitamin C (for immune system support)
SPRINGTIME RECIPES
Carrot Apple Flax Muffins
Ingredients:
Dry ingredients:
1 ½ cup whole wheat or quinoa flour
¾ cup ground flaxseed meal
¾ cup oat flour
½ cup coconut sugar
2 tsp baking soda
1 tsp baking powder
2 tsp cinnamon
2 cups shredded carrots
2 cups shredded green apple
½ cup raisins (optional)
Wet ingredients (put in separate bowl):
¾ cup skim milk
2 large eggs
1 tsp vanilla
Directions:
Pre-heat oven to 350 F
Add dry ingredients to the bowl of wet ingredients
Mix well and scoop into muffin tins
Bake for 15 – 20 minutes.
Makes 24 muffins
Nutritional Analysis (per muffin):
88 calories, 1.5g fat, 17g carbohydrates, 2g fiber, 7g sugar, 2g protein
Banana Nut Smoothie
Ingredients:
½ banana, frozen (cut into 1 inch pieces before freezing)
½ cup Greek yogurt or plain yogurt
½ cup unsweetened almond milk
1 tbsp of natural, organic peanut butter or 1 tbsp of nut butter
½ tsp cinnamon
2-3 ice cubes
Directions:
Add all ingredients into blender and blend for about 2 minutes.
Add water if desired.
Serves 1
Nutritional Analysis:
230 calories, 9g fat, 22g carbohydrates, 4g fiber, 12g sugar, 16g protein
Carrot and Rosemary Dip
Ingredients:
½ cauliflower, steamed
2 carrots, steamed
1 garlic clove, diced
1 tbsp rosemary
1 tsp turmeric
1 tsp paprika
½ tsp chili flakes
2 tbsp extra virgin olive oil
¼ cup of water
Directions:
Put all ingredients into food processor and serve with veggie sticks or crackers!
Serves 4
Nutritional Analysis:
75 calories, 7g fat, 3g carbohydrates, 2g fiber, 1g protein
Quinoa Salad with Carrots and Black Beans
Ingredients:
1 cup cooked quinoa
½ cup extra virgin olive oil
3 tbsp fresh lime juice
½ tsp cumin
¼ tsp hot sauce (or to taste)
¼ tsp freshly ground black pepper
½ can black beans, drained and rinsed well
3 carrots, shredded
2 ribs celery, thinly sliced
1 large red bell pepper, chopped
½ red onion, chopped
2 cloves garlic, finely minced
1 tbsp chili peppers
1 cup kale leaves, shredded
Directions:
Cook quinoa, drain and put in the fridge.
In a small bowl, stir together the olive oil, lime juice, cumin, hot sauce and black pepper.
Add the black beans, carrots, celery, red pepper, onion, garlic, chili peppers and kale to the quinoa
Pour in olive oil mixture and stir gently until well blended. Add more seasoning, if needed.
Cover and refrigerate for 1-2 hours.
Serves 2
Nutritional Analysis:
390 calories, 15g fat, 40g carbohydrates, 11g fiber, 3g sugar, 13g protein
THIS MONTH, OUR BOOK CLUB RECOMMENDS...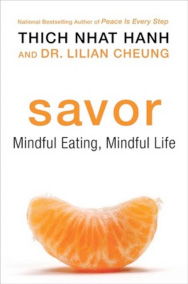 Savor - Mindful Eating, Mindful Life by Zen Master
Thich Nhat Hanh and Nutritionist Dr. Lilian Cheung makes a connection between the mind, body and spirit. This book puts emphasis on the practice of mindfulness – incorporating awareness eating practices into our daily lives. It also takes a look into a Buddhist's perspective of weight loss and eating.
Savor shows us how to eat healthy and incorporate nutrient dense foods while still enjoying a happy and satisfying life.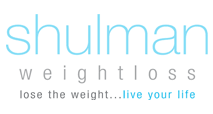 SUCCESS STORY

Have you seen the results of our Cityline weight loss winners? Collectively they have lost 97 pounds and look fantastic! Congratulations to Mel, Stefania and Mary – you were all such a pleasure to work with. Check out some of their results!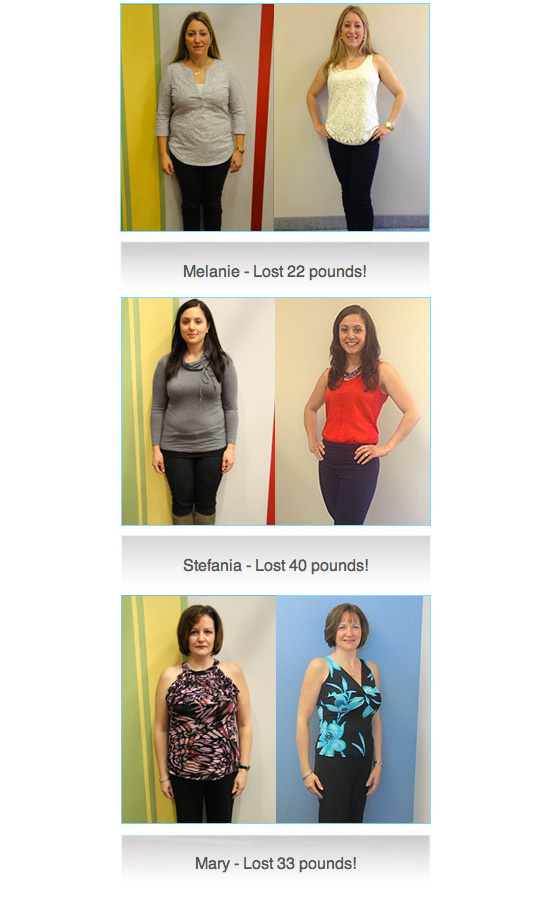 I received a letter this month that I wanted to share with everyone... I just love receiving these emails and hearing this!
Dear Dr. Joey,
I am in disbelief after completing the first week of your "Give me one month" plan. I literally let out a yelp when I stepped on the scale this Friday, after just one week on the plan and saw that I lost 4 pounds!!!!!!! I have been struggling to reach 145 for months now. Thank you, thank you, thank you!!!!!! I cannot believe how simple and easy your one month plan is. I immediately jumped onto your one month plan after seeing you on Cityline last week. I'm going to Punta Cana at the end of May so the timing of your appearance was perfect. I thought "hey, I can do this for one month, let me give it a try for one week, just to see if I like it". Let me tell you... I love it! Sending an email like this is totally against my nature, but I just had to give you a shout out and praise you on this fantastic and realistic plan. I cut out dairy and gluten and drank 2 L of water a day, plus the green tea, along with all of your other suggestions. My energy is up, my weight is down, and my motivation is through the roof. I only have 5 more pounds that I want to lose to reach my goal of 140. I'm sure I'll get there in no time. I am thrilled. Once again, and I can't say this enough,
Thank you Dr. Joey!!!!!