Are you ready for a change? If so, this newsletter is for you! In my line of work, I get to see so many positive health changes that take place when people spend a little more time on themselves. From weight loss to more energy, improved sleep, optimal digestion and better skin – I am always amazed at how the body responds when given the proper nourishment, exercise and rest.
In upcoming newsletters, you will start to see a greater emphasis on your gut biome. Why? Because as I have always said in my books and podcasts, "You are only as healthy as your pipes!" In other words, you are truly only as healthy as you are absorbing, digesting and excreting. We now know that your gut health can affect every system in your body. In fact, 95% of all serotonin (the neurotransmitter that makes you feel happy) is found in your gut (which is also referred to as your second brain). Going forward, in every newsletter we will be featuring products, articles and recipes on how to improve gut biome, how to lessen your toxic load and how to live the healthiest way possible in today's hectic world.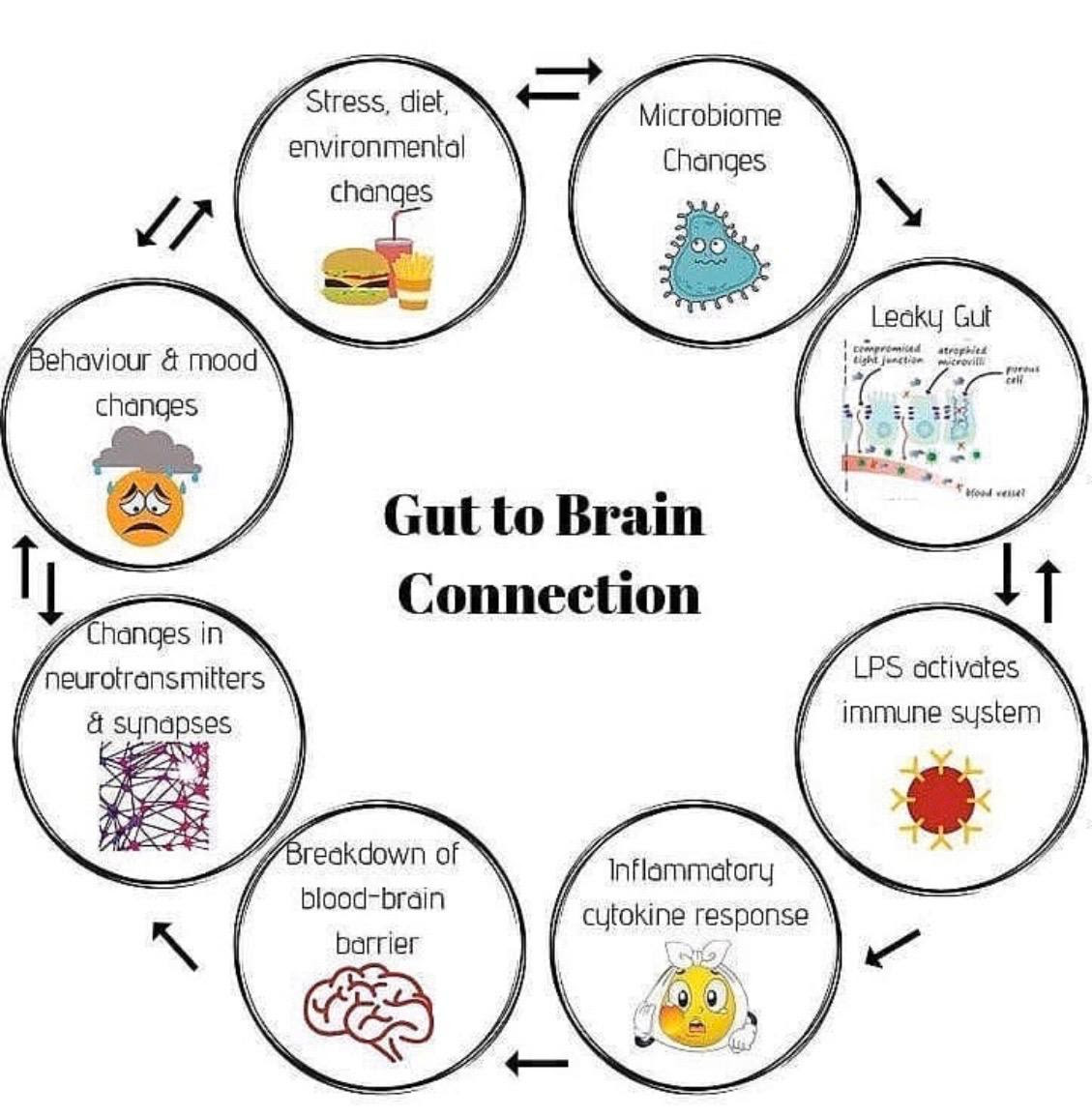 With the holiday season around the corner, stay tuned for our amazing natural gift-giving guide. And remember — if you have a health story you would like to share with us, feel free to reach out at drjoey@drjoey.com — we would love to hear from you!
As always, wishing you only best health,

---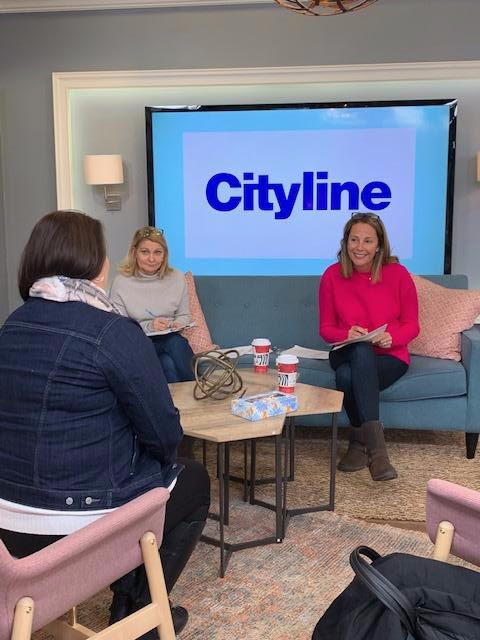 The Cityline interviews are completed and we have picked our 4 winners for the Cityline Weight Loss challenge – 2020 year #10! Over the years I have been blessed to hear from thousands of people from coast to coast who have lost their weight, re-claimed health and are now living their best life.
Thank you to all those who applied and to everyone who came in for an interview. We kick off the challenge in early January and have some amazing tricks up our sleeve this year. Don't forget to join our Facebook group as well — one of the largest weight loss and health groups in the country! Stay tuned for more...
---

Congratulations to Anita who lost 33 pounds at Shulman Weight Loss London branch! As Ontario's #1 weight loss and health clinics, we are proud that our focus is on you – 1 on 1 private, hormonal and personalized weight loss. We have helped thousands across the country and abroad (yes...we offer long distance programs), lose the weight and live their lives. I have spent years dedicated to building the best health team in the business and would love for you to meet them. Click here to meet all of our nutritionists and front desk staff who are the backbone of what we do.
If you are looking to lose the weight and finally get healthy for 2020 – all you have to do is book in for a free weight loss assessment at 1 of our 3 clinics below. We cannot wait to meet you!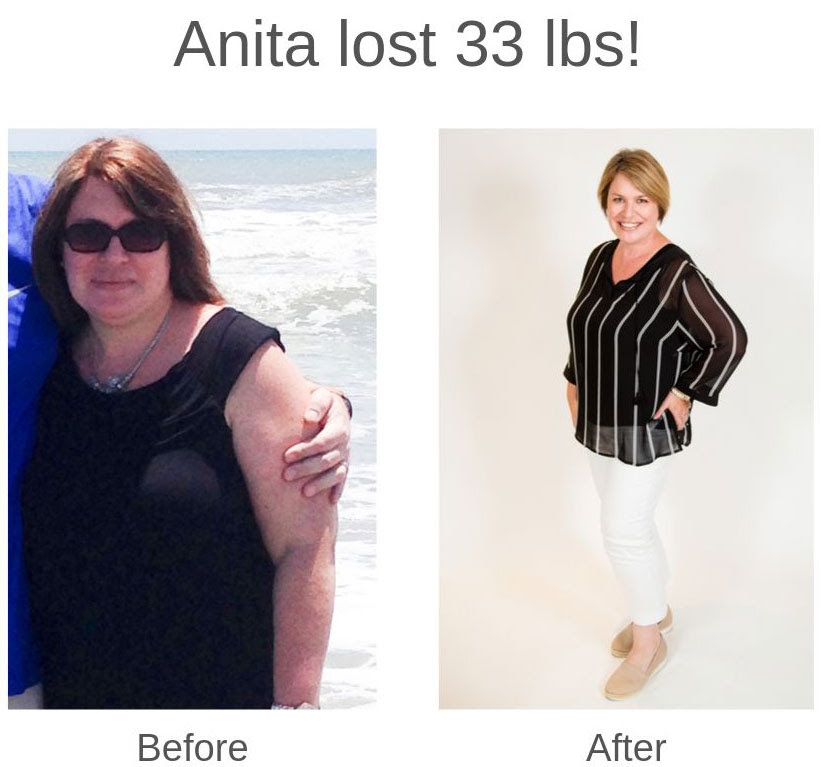 Thornhill
Phone: 905.889.5326 (lean)
inquiries@shulmanweightloss.com
Toronto
Phone: 416.962.5326 (lean)
toronto@shulmanweightloss.com
London
Phone: 519.642.7800
london@shulmanweightloss.com
---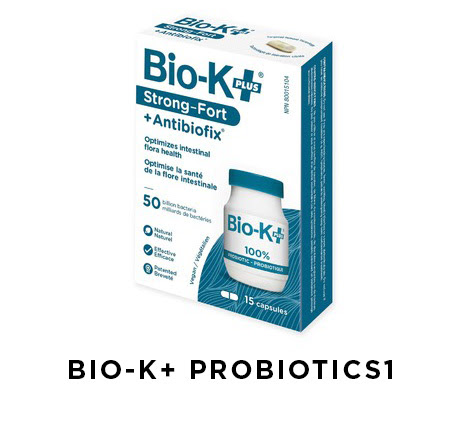 Digestive health alert! To keep your health and digestion in check, I am a big advocate of taking a daily high quality probiotic. I am often asked which probiotic I recommend. In truth, there are several good probiotics on the market. I recommend purchasing a mixed strain probiotic with a high count (i.e. this particular brand by bio K contains 50 billion). Store your probiotics in your fridge and take on an empty stomach. For more information visit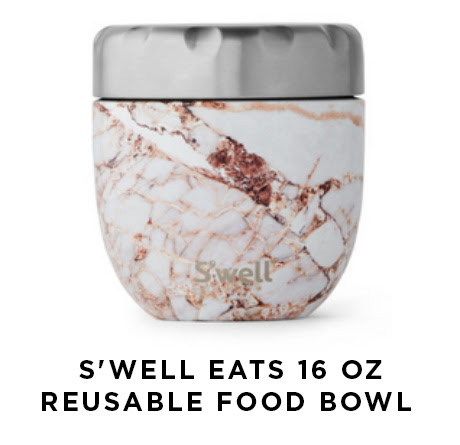 This stylish 2-in-1 food bowl by S'well is a sustainable way to bring meals on the go while reducing the use of single-use plastic. It offers two separate bowl options – one that is made with a high-grade stainless steel that is designed with a triple-layer vacuum insulation to keep contents cold or hot, leaving no condensation on the exterior. Its second bowl option — the "prep bowl", has a pop-top lid and is BPA and BPS-free, leak-resistant and is safe for use in the refrigerator, freezer, dishwasher, and/or microwave. Holds up to 2 cups of liquid — making it ideal for soup, chili and stew.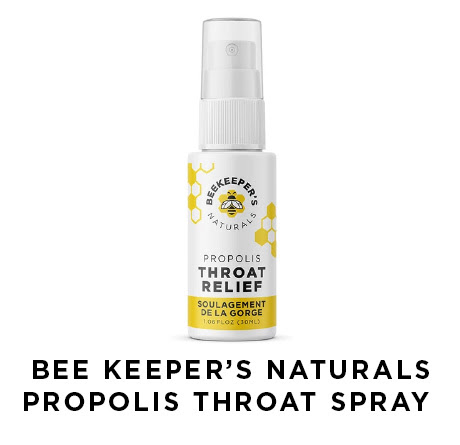 Looking for some natural immune support? This handy throat spray by Bee Keepers Naturals is the perfect first line of defense during cold and flu season. Prized as the immune system of the hive, propolis has incredible germ fighting properties and contains over 300 beneficial vitamins, minerals, and compounds — making it nature's ultimate defender. Take 3-4 sprays once or twice daily for immune support, defense on-the-go, and fortification during times of increased stress or fatigue.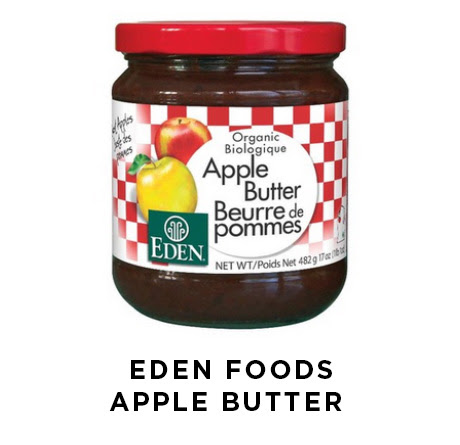 For those who love jams and jellies, apple butter is an excellent, natural option. It is a low sugar spread that is much lower on the glycemic index than many alternative products on the market. It is made with only two simple ingredients and is free of all refined sugars. This apple butter by Eden Organics is a blend of family orchard Great Lakes' organic apples that are hand sorted, washed, peeled, cored, chopped, and slowly kettle simmered with a bit of organic apple juice concentrate. It offers a naturally sweet flavour that has only 4 g of sugar for 1 tablespoon and is great to spread on toast or to naturally sweeten oatmeal or chia seed puddings for breakfast.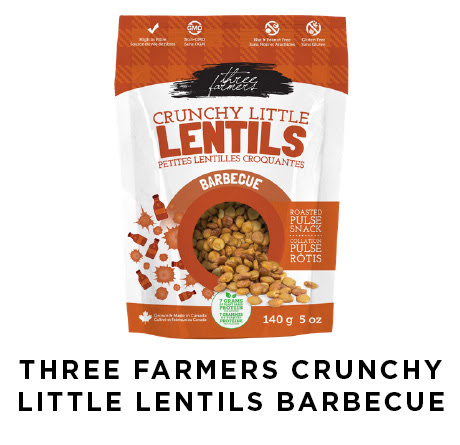 These crunchy little lentils by Three Farmers are packed with delicious flavours and made with only clean, safe ingredients. 1 serving offers a whopping 7g of protein and is a great source of fiber. They are grown and made right here in Canada and are nut and peanut free, gluten free, non-GMO kosher and vegan. They are an excellent option to throw into salads or soups to increase protein or to have as a morning or afternoon snack. Also available in mini, portioned controlled snack packs to take with you on the go.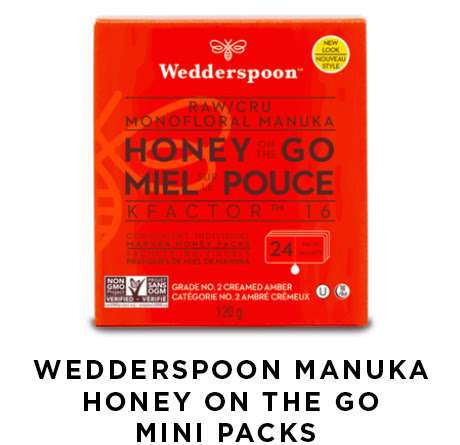 Enjoy the benefits of this raw, non-GMO project verified New Zealand manuka honey in a convenient snap pack design. These convenient travel-sized individual sachets of KFactor are easy to take on the go to use as needed and are perfect for providing that extra boost of natural energy and immunity to your daily routine. Manuka honey has amazing antiviral, anti-inflammatory and antioxidant benefits, making it a useful "go-to" during cold and flu season. It also great to add into coffee and tea as an alternative sweetener.
---

Chocolate coffee smoothie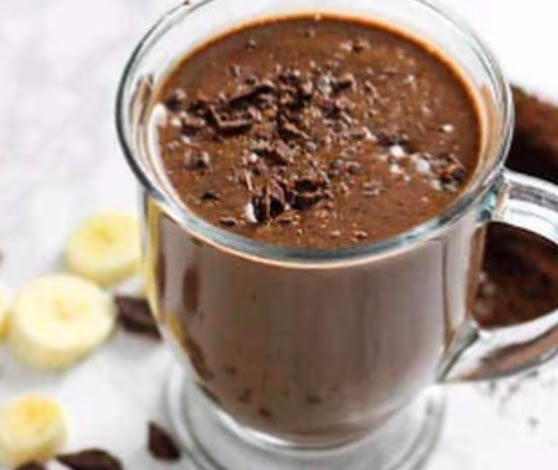 Two things I love in one — chocolate and coffee! This morning smoothie will be sure to put a little extra pep in your step. Enjoy.
Ingredients:
1 chopped frozen banana
1 scoop chocolate protein powder
1 cup brewed coffee
½ cup coconut yogurt
½ teaspoon vanilla extract
Blend on high and enjoy!
Nutritional analysis: Calories: 375, Fat 2g, Carbohydrates 24g, Fiber 8g, Protein 18 g.
---
Chunky vegetable soup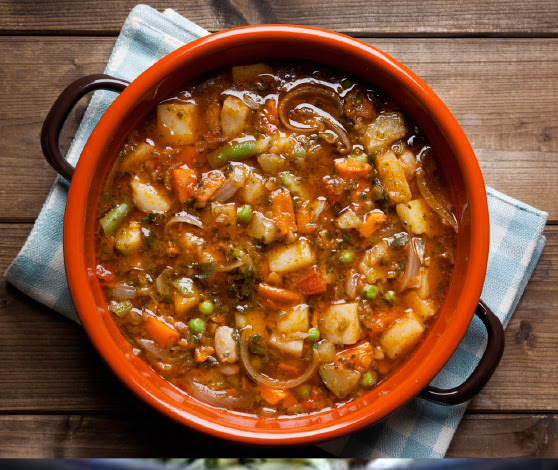 Ingredients:
1 tablespoon avocado oil
1 onion, diced
5 garlic cloves, crushed
2 stalks of celery, diced
3 large carrots, diced
5 cups of low sodium vegetable broth
1 can of diced tomatoes
1 cup baby spinach
1 tablespoon oregano
1 teaspoon black pepper
1 teaspoon sea salt
1 can of chickpeas
Directions:
Heat oil in a large soup pot over medium heat and sauté onion and garlic for 5-7 minutes.
Add celery and carrots and sauté for another 5 minutes.
Add broth and tomatoes, along with the spinach and seasoning and bring to a boil. Reduce heat and simmer for 30 minutes.
Rinse chickpeas and add into pot. Allow to simmer for another 15 minutes.
Enjoy while warm.
Serves 6
Nutritional analysis: calories 230, fat 4g, carbohydrates 42g, fiber 11g, protein 11g
---
Shrimp zoodles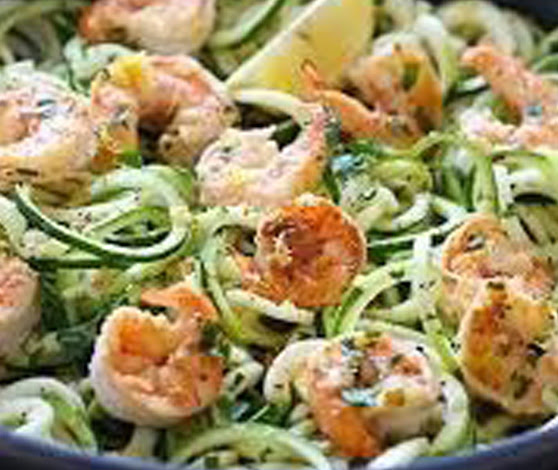 Ingredients:
1 tablespoons avocado oil
1 pound shrimp, peeled and deveined
4 garlic cloves, minced
1 teaspoon oregano
2 tablespoons grass fed butter
1 tablespoon fresh lemon juice
¼ cup low sodium vegetable broth
4 medium zucchini
¼ cup cilantro, chopped
1 tablespoon grated parmesan cheese
Directions:
Heat oil in a large skillet over medium-high heat and add the shrimp. Cook for one minute. Add the garlic and oregano and cook for another 1-2 minutes. Transfer the grilled shrimp to a plate and set aside.
Using the same skillet, add butter, lemon juice and vegetable broth. Bring the sauce to a simmer for 2-3 minutes, stirring regularly.
Wash zucchini and cut ends off. Make the zucchini noodles using a spiralizer or julienne peeler and set aside. Add noodles to the pan and cook for another 1-2 minutes. Add the shrimp to the pan and mix all together.
Place noodles onto serving plate and sprinkle with cilantro and Parmesan cheese before serving.
Serves 4
Nutritional analysis: calories 170, fat 7g, carbohydrates 7g fiber 2g, protein 21g
---
Baked cinnamon apples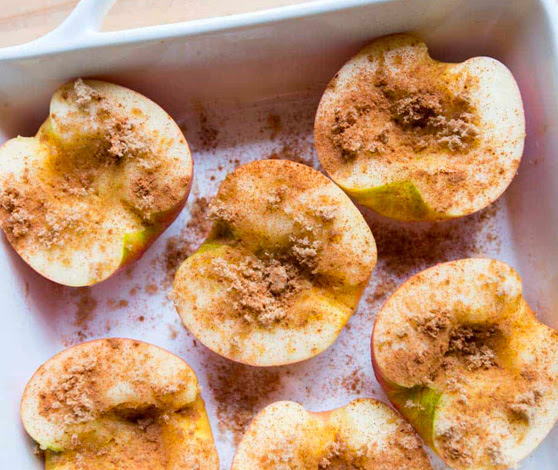 Ingredients:
2 medium apples
1 tablespoon coconut sugar
¼ teaspoon cinnamon
Directions:
Preheat oven to 350 F.
Wash apples and remove core.
On a lined baking sheet, place apples and sprinkle with coconut sugar and cinnamon.
Place in oven and bake for 25-30 minutes, until apples are tender.
Allow the apples to cool slightly. Enjoy while still warm.
Serves 2
Nutritional analysis: calories 102, carbohydrates 28g, fiber 5g,
---

24/6 - The power of unplugging one day a week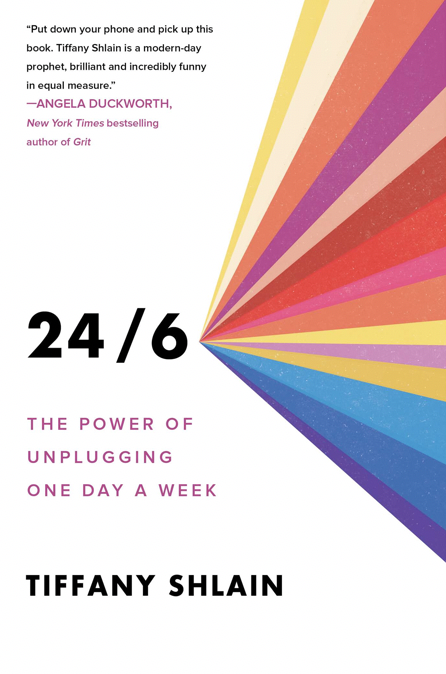 Internet pioneer and renowned filmmaker Tiffany Shlain takes us on a provocative and entertaining journey through time and technology, introducing a strategy for living in our 24/7 world: turning off all screens for twenty-four hours each week. This practice, which she's done for nearly a decade with her husband and kids (sixteen and ten), has completely changed their lives, giving them more time, productivity, connection, and presence. She and her family call it "Technology Shabbat."
Drawn from the ancient ritual of Shabbat, living 24/6 can work for anyone from any background. With humor and wisdom, Shlain shares her story, offers lessons she has learned, and provides a blueprint for how to do it yourself. Along the way, she delves into the neuroscience, philosophy, psychology, and history of a weekly day of rest across cultures, making the case for why we need to bring this ritual back.
A compelling personal story and a fascinating, far-reaching examination of the complex world we've created, 24/6 is a call to rebalance ourselves.
---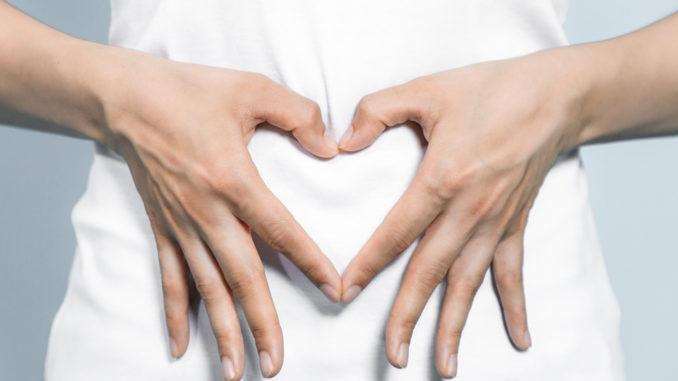 Supplement with a probiotic daily. Try to purchase a mixed strain probiotic with greater than 30 billion count per capsule.
Eat an alkaline diet. Make sure you eat plenty of green foods (organic is best). Cold pressed juices are also an excellent option. You can also purchase alkaline water such as FLOW water.
Spend time outdoors in nature and with animals - both are shown to improve gut health. Do not be shy to stick your hand is some soil and get dirty – it all helps!
Pay attention to your bowel movements. For optimal health, you should be having a daily bowel movement. Bloating and constipation are not normal symptoms.
Minimize or avoid foods that may irritate you such as gluten, dairy and all processed sugars.
Get a slow cooker and start to make your own organic bone broth. Bone broth is excellent for overall health and to support digestive capacity.