Dr. Joey's Valentines edition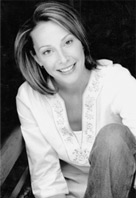 With Valentine's day fast approaching, it is time to focus on love, healthy foods and fun filled products to make your day as sweet and delicious as possible. From fantastic lip treatments to carb free meals, dark chocolate skinnychews and chips that are actually healthy – this newsletter has a little something for everyone.
Don't forget, if you have not joined our CityLine weight loss challenge, it is not too late to start! Simply click here to get the ultimate start up package to begin looking and feeling your very best (and be bikini ready by spring!).
As always, keep in touch – I love hearing from you! Simply e-mail me at drjoey@drjoey.com with any of your questions or comments. And... don't forget, order 2 or more dark chocolate Skinnychews and... delivery is free! Simply visit www.skinnychews.com
Wishing you best health,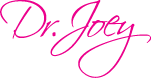 Dr. Joey Shulman DC, RNCP
Finally... you don't have to feel guilty about eating chocolate!
My dark chocolaty Skinnychews have less than 20 calories per chew, have 4 grams of pre-biotic inulin fiber and are gluten free! The perfect option for 3pm or afternoon cravings.

---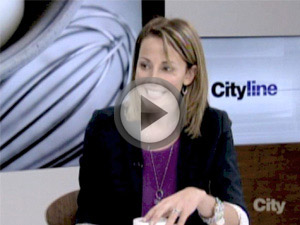 Check out how our CityLine weight loss gals are feeling better, burning belly fat and losing inches!
SOME OF OUR FAVOURITE FINDS...

Sugar Lip Balm with Moisturizing Tint - This lip balm is my new favorite find. It is extremely hydrating for winter and gives your lips a nice, healthy tint. Sugar lip balm comes in a variety of colours and flavours and has been found to leave your lips moisturized for up to 6 hours after application.
The SPF 15 found in this product makes it great to bring away on vacation and to have on hand during sunny, spring days. Best of all – lip sugar is free of any parabens, sulfates, synthetic dyes and petroleum. www.sephora.com

I admit it – I have a goat's cheese problem! Whether it is on my salad, in creamy tomato soup (see below) or in my eggs – I cannot get enough. One of my favorites is Woolwich dairy's traditional chèvre, coated with a perfect mixture of fine herbs.
Chevrai is a traditional rich and creamy cheese made from fresh goat's milk. It has a light, tangy taste with a smooth finish, and slices easily and maintains its shape when heated or browned in an oven/broiler. Goat's cheese is easy to digest, lower in saturated fat in comparison to cow cheese and higher in protein. www.woolwichdairy.com

Pacific Organic Creamy Tomato Soup – When I am out of time at night, but looking for a homemade feel, I turn to this creamy option.
Pacific Organic's delicious gluten free tomato soup is the perfect thing to keep in your cupboard over the winter months, when you are looking for a hot, creamy bowl of soup to warm up to. Try throwing in some goat cheese (woolwichdairy.com) and fresh basil leaves to give you a satisfying, warm meal or snack. With 100 calories per serving, and 5g of protein, this product is sure to be a winner in your household. www.pacificfoods.com

Simply Protein Chips – Simply protein chips were sent to our office last month and we absolutely love them (my staff is eating all of it!) The pea protein used in this tasty snack provides 15g of protein per serving. The crunchy texture of these protein chips offers a healthy satisfying mid afternoon snack option with enough protein to keep you full.
If you enjoy spicy foods, try the chili flavor or, for those who prefer a sweeter taste, try the herb option. www.thesimplybar.com
DR. JOEY'S FEATURED FOOD – STRAWBERRIES

Not only are strawberries delicious and refreshing, they also contain a high antioxidant content and are packed with nutritious vitamins and minerals. Frozen of fresh, strawberries are the perfect fruit to throw into your smoothies or yogurt or in a salad at lunch. The numerous benefits offered by strawberries include booting immune system function (due to their high vitamin C level), reducing inflammation and being low on the glycemic index (therefore good for diabetics and weight loss).
Half a cup of strawberries contains only 24 calories, 2 grams of fiber and 6 grams of carbohydrates.
RECIPES JUST FOR YOU!

Homemade guacamole
This is a great recipe to bring to a party or to have out at your house for the kids. Pair with some cut up veggies and healthy crackers for dipping.
Ingredients:
1 ripe avocado
2 tablespoons fresh cilantro, chopped
2 teaspoons freshly squeezed lime juice
1/2 teaspoon salt
Directions:
Mash ingredients together in large bowl.
Taste and adjust lime and/or salt to suit your taste.
Serves: 4
Nutritional Analysis:
Calories 86, Fat 7.4g, Carbohydrates 5.5g, Dietary Fiber 4g, Protein 2g
Chocolate Covered Strawberries
Ingredients:
8 ounces dark chocolate (high cocoa content)
12 large ripe organic strawberries, washed
½ cup of shredded coconut
½ cup of chopped almonds
Directions:
Melt the dark chocolate in a bowl set over a small pot of simmering water.
Impale a strawberry with a fork and dip it into the melted dark chocolate and then immediately roll in your choice of coconut or almonds. Lay on a baking sheet to set and place in the fridge for an hour.
Serves 12
Nutritional Analysis:
Calories 141, Fat 8g, Cholesterol 4mg, Carbohydrates 14g, Dietary Fiber 1.8g, Protein 2.5g
Crispy Chicken Fingers
Ingredients:
4 boneless, skinless chicken breasts cut into chicken finger size
1 cup whole wheat Italian Seasoned bread crumbs
1 cup freshly grated parmesan cheese
1 Tablespoon garlic powder
1 teaspoon Herbamare salt substitute –Provincial herb is best OR 1 tsp sea salt
2 egg white
Directions:
In a medium size bowl combine breadcrumbs, grated parmesan, garlic powder and salt.
Stir till incorporated
In a separate bowl beat 2 egg whites till combined
Dip chicken fingers one by one into the egg mixture and then roll them in the breadcrumb mixture
Place breaded fingers on a baking sheet lined with parchment paper
Bake 400 degrees turning after 15 minutes and baking another 10 minutes till golden and crispy
Serves 4, one serving = 4 chicken finger
Nutritional Analysis:
Calories 323, Fat 10g, Carbohydrates 20g, Protein 20g
Chipless Nachos
Ingredients:
1 ½ cups of Iceberg lettuce, shredded
½ pound of ground chicken, cooked
½ cup of sliced black olives
½ cup of tomatoes, chopped
1/4 cup of chopped green onions, chopped
1 cup of low fat mozzarella cheese, shredded
Instructions:
On a baking pan lined with tin foil, spread a fresh bed of shredded lettuce.
Distribute meat, olives, chopped tomatoes, green onion and any additional toppings. Sprinkle with cheese.
Heat oven to 350 and broil for 3 minutes or until cheese is bubbling.
Remove immediately and serve.
Serve with guacamole or low fat cottage cheese or sour cream if desired.
Serves 2
Nutritional Analysis:
Calories 448, Total Fat 31g, Carbohydrates 7g, Protein 33g, Fiber 1g
Strawberry Banana Split
Ingredients:
1 banana
½ cup sliced organic strawberries
¾ cup Greek yogurt (you can use strawberry flavoured if prefered)
2 teaspoons toasted chopped almonds
Directions:
Peel and cut 1 banana down the center.
Place banana halves in serving bowl and add sliced strawberries, yogurt and almonds
Optional: For a frozen treat, close the banana with the fillings inside, wrap in tin foil and put in the freezer for the next day.
Nutritional Analysis:
Calories 265, Fat 36, Dietary Fiber 5g, Protein 22g
BOOK OF THE MONTH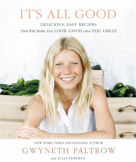 It's All Good – Delicious, Easy Recipes That Will Make You Look Good and Feel Great –by Gwyneth Paltrow
"It's All Good" was written when Gwyneth Paltrow was told that she would have to undergo a complete elimination diet to help support her anemia, vitamin D deficiency and high stress levels (no wheat, dairy, eggs, coffee, soy or gluten!). The book is filled with over 185 recipes that Gwyneth turns to when she wants to boost her energy, lose weight and get "red carpet" ready. Recipes include: Huevos Rancheros, Hummus Tartine with Scallion-Mint Pesto, Salmon Burgers with Pickled Ginger, even Power Brownies, Banana "Ice Cream," and more! Great job Gwyneth – we love it!
www.amazon.com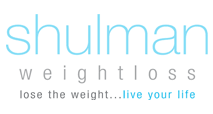 CLIENT SUCCESS STORIES
We are so proud to share our client, Barbs, wonderful success at our clinic. She lost 20 pounds at our clinic and here's what she has to say:
"I have more energy and I no longer need to take my stomach meds. I see this as a real lifestyle change."
Seeing is believing!
We are so proud of all our clients and are thrilled to offer hormonally balanced weight loss programs that are personal and private. If you would like to book an free initial assessment with Dr. Joey, please contact (905) 889-5326 or email us at inquiries@shulmanweightloss.com. You can also visit our website at shulmanweightloss.com. Assessments are offered at our Thornhill, Avenue Road and London offices (London office is now open Saturdays!).