ZUCCHINI AND BANANA BREAD LOAF
Published on June 10, 2016

Looking for an easy way to hide some greens in your kids food - well this loaf is sure to do the trick!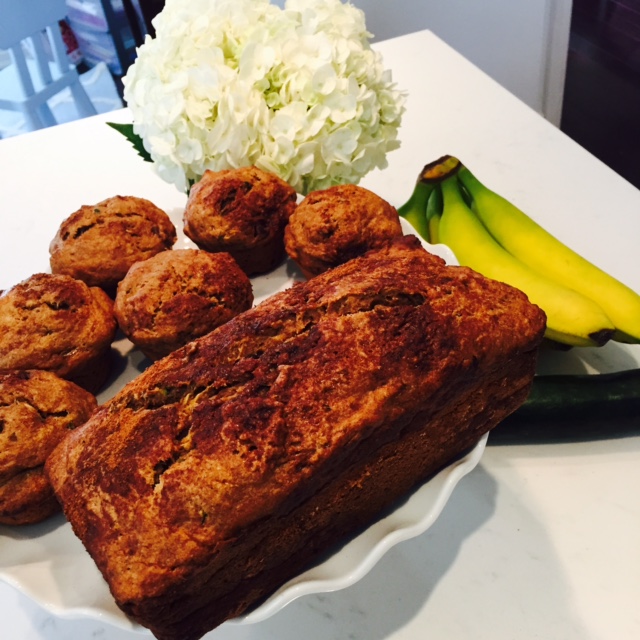 Ingredients:
2 cups of mashed overripe banana (about 4 large bananas)
2 cups zucchini, grated
3/4 cup butter, melted
2 organic eggs, lightly beaten
3 cups of spelt or sprouted grain whole wheat flour
1 1/2 cups of coconut sugar
1 tablespoon baking powder
1/2 teaspoon baking soda
1/2 teaspoon salt
1 teaspoon cinnamon
To sprinkle on top:

1 tablespoon cinnamon
1 tablespoon coconut sugar
Directions:
Preheat oven to 350 F
Prepare loaf pans by spraying with coconut or olive oil.
With a fork, beat together mashed bananas, zucchini, melted butter, and eggs in a large bowl until combined.
In a separate bowl, whisk together flour, coconut sugar, baking powder, baking soda, salt and 1 tablespoon cinnamon. Add to banana mixture and gently stir until just combined.
In an additional small bowl, mix cinnamon and coconut sugar together (1 tablespoon each) and sprinkle on top of loaf prior to baking.
Bake for about 55 minutes, until toothpick inserted into the center comes out clean and top feels springy.
Cool loaf for about 5 minutes in pan prior to slicing.