TOP 5 DINNERS UNDER 30 MINUTES
Published on October 27, 2017
Struggling to find the time to cook healthy dinners while trying to lose weight? We've got you covered! These easy to prep grain-free dinner recipes all take under 30 minutes to make, saving you time in the kitchen on those busy night.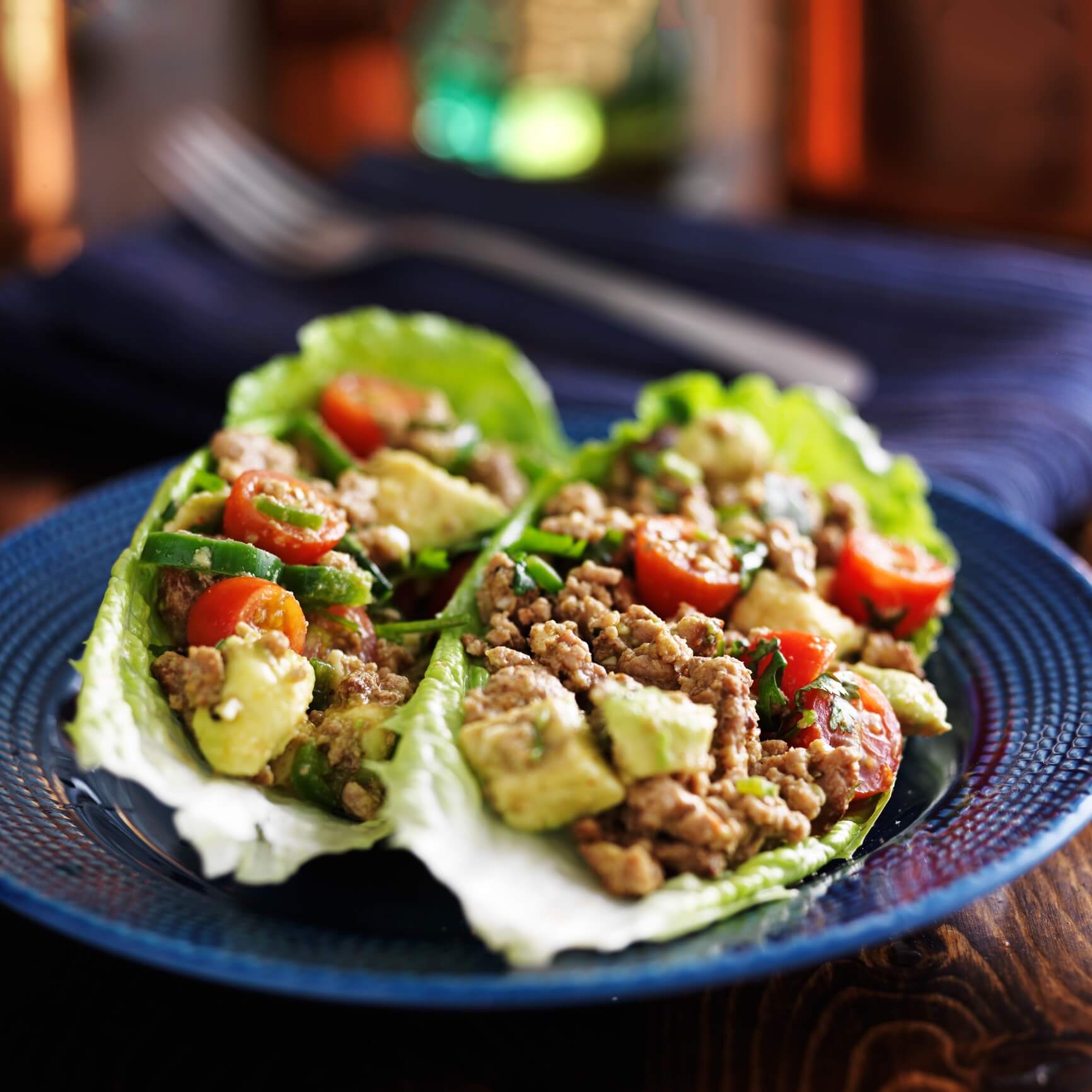 Chicken lettuce cups
NGREDIENTS
½ cup of lean ground chicken
1 clove garlic, minced
1 tablespoon red onion, diced
2-3 Boston lettuce cups
1 tablespoon salsa
¼ avocado, cubed
1 tablespoon cilantro (optional)
DIRECTIONS
Cook chicken over medium heat until cooked through and no longer pink.
Add garlic and onion and allow to cook for another 5 minutes.
Add cooked chicken into lettuce cups and top with salsa, avocado cubes and cilantro.
Serves 1
Nutritional analysis: calories 266, fat 16g, carbohydrates 7g, fiber 4g, protein 25g
Sheet pan salmon and veggies
INGREDIENTS
5oz piece of fresh salmon
1 cup of broccoli
1 small sweet potato, cubed
1 tablespoons of extra virgin olive oil
Sprinkle of sea salt
DIRECTIONS
Pre heat oven to 350 F. Line a baking sheet with parchment paper and place salmon and veggies.
Drizzle olive oil over salmon and veggies and sprinkle with sea salt. Cook for 20 minute, until salmon is flakey.
Serves 1
Nutritional analysis: calories 393, fat 23g, carbohydrates 19g, fiber 4g, protein 31g
"Pasta" with meat sauce
INGREDIENTS
3 ounces ground turkey
1 cup of tomato sauce (make sure it is free of added sugar)
2-3 mushrooms, sliced
1 cup of zucchini noodles, spiralized (click here for a great spiralizer)
1/2 tablespoon olive oil, divided
1 teaspoon Parmesan cheese
DIRECTIONS
Sauté ground turkey in 1/4 tablespoon olive oil until cooked through and no longer pink. Add tomato sauce and mushrooms and simmer for 10 minutes.
While simmering, sauté zucchini noodles in 1/4 tablespoon olive oil until softened.
Place zucchini noodles on a plate and top with meat sauce.
Sprinkle with Parmesan cheese, if desired.
Serves 1
Nutritional analysis: calories 400, fat 20g, carbohydrates 20g, fiber 6g, protein 40g
Coconut shrimp stir-fry
INGREDIENTS
½ tablespoon coconut oil
¼ pound shrimp
1 large garlic clove, minced
¼ teaspoon hot sauce
½ head bok choy, trimmed
1 cup diced red peppers, snow peas, sprouts
¼ cup unsweetened coconut milk
1/2 tablespoon unsweetened coconut flakes
DIRECTIONS
Heat coconut oil in large skillet or wok. Add shrimp, garlic and hot sauce and sauté for about 5 minutes. Then add bok choy, peppers, snow peas, and sprouts and sauté for another 5-7 minutes.
Add coconut milk and saute for an additional 2-3 minutes. Sprinkle with coconut flakes and serve warm.
Serves 1
Nutritional analysis: calories 500, fat 29g, carbohydrates 30g, fiber 9g, protein 37g
Chicken Greek salad
INGREDIENTS
4 oz white chicken, cooked
2 cups of romaine lettuce, chopped
½ cup cherry tomatoes, chopped
¼ cucumber, chopped
8 black olives, sliced
1 tablespoon olive oil + ½ tablespoon red wine vinegar + 1 teaspoon oregano + 1 teaspoon garlic powder + sprinkle of sea salt
1 tablespoon feta cheese
DIRECTIONS
Cook chicken and cut into 1-inch cubes. In a serving bowl, add lettuce, tomatoes, cucumbers, olives and cooked chicken.
In a small bowl, add olive oil, red wine vinegar, oregano, garlic powder and sea salt and whisk together until well combined.
Drizzle dressing over salad and sprinkle feta on top before serving.
Serves 1
Nutritional analysis: calories 414, fat 24g, carbohydrates 15g, fiber 4g, protein 37g