TOP 5 WARMING WINTER LUNCHES
Published on January 26, 2018
Warm up this winter with some of these comforting, protein packed lunches that will fill you up, boost your energy, and keep your metabolism strong!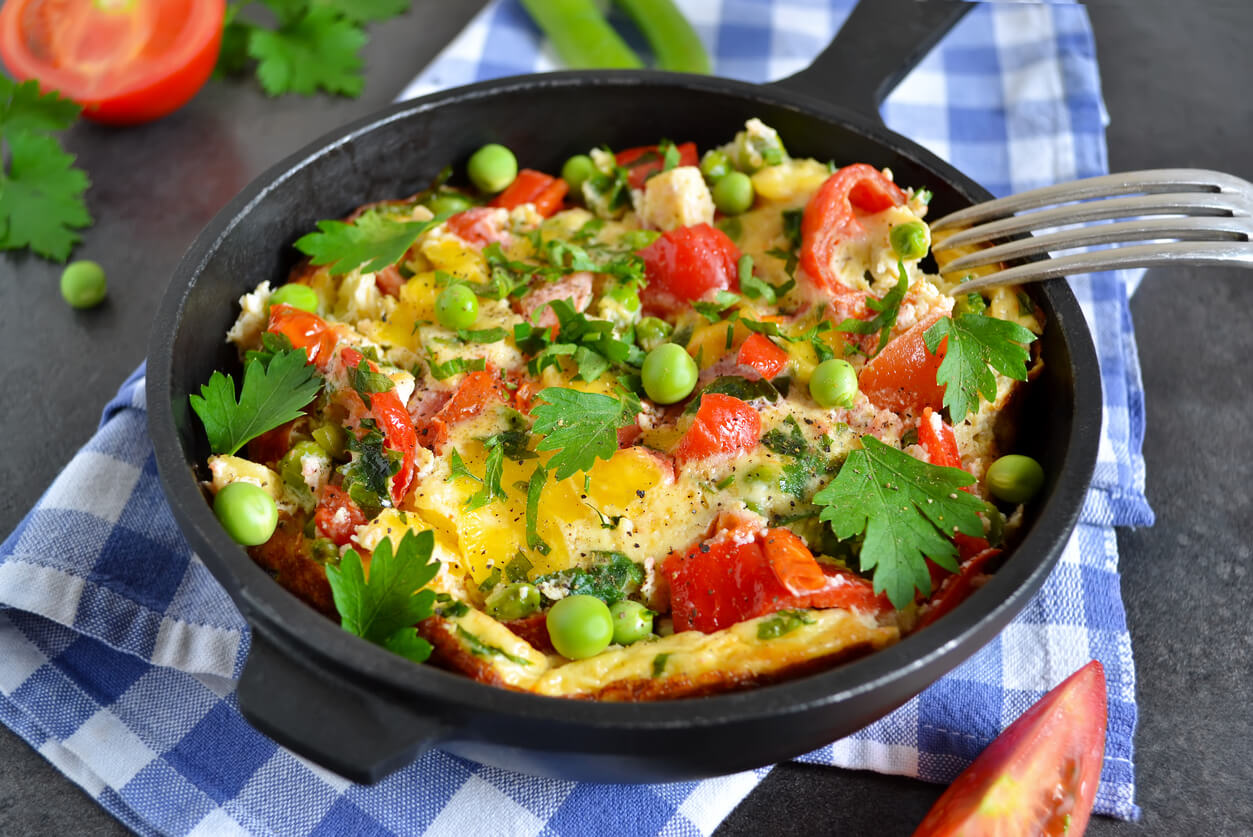 1. Mini roasted pepper and goat cheese frittata on bed of arugula
Ingredients:
2 eggs
2 egg whites
¼ cup roasted red peppers
1 tablespoon goat cheese
1-2 cups of arugula
1 tablespoon extra virgin olive oil
Method:
Preheat oven to 350F.
Whisk eggs in small bowl. Add roasted red peppers and goat cheese and mix.
Pour mixture into lined muffin tins (or spray with avocado or coconut oil spray) and bake for 15 minutes until eggs are cooked through.
Serve mini frittatas on a bed of arugula drizzled with olive oil.
Serves 1
2. Chicken avocado quesadillas (fun for the kids too!)
Ingredients:
1 teaspoon avocado oil
¼ cup of diced onion
¼ cup green peppers, diced
¼ cup tomatoes, diced
1 large whole wheat wrap or 2 small wraps
5 oz of Rotisserie chicken or 5 oz of cooked chicken breast
1 tablespoon cheddar cheese, shredded
Method:
Heat oil in a pan over medium heat. Add onions and peppers and sauté until tender.
Add tomatoes and sauté for another minute to warm up tomatoes.
Add sautéed vegetables onto your tortilla wrap, add cooked chicken and sprinkle cheese overtop.
Fold your wraps in half and place back onto pan over medium heat until wrap is golden on both sides.
Serves 1
3. Classic chicken Caesar salad
Ingredients:
1-2 cups of romaine lettuce, chopped
3-5 ounces of grilled chicken breast, sliced
1 tablespoon oil based Caesar dressing
1 teaspoon Parmeasan cheese, grated
Method:
Add lettuce into bowl and add chicken, dressing and cheese. Toss together and enjoy.
Serves 1
4. Pomegranate arugula salad with roasted chickpeas
Ingredients:
1 cup arugula
½ cup pomegranate seeds
1 tablespoon goat cheese
½ cup roasted chickpeas (see below for instructions on how to do this!)
1 tablespoon olive oil + 1 teaspoon Dijon mustard + sea salt to taste
Method:
Add arugula into large bowl, top with pomegranate seeds, goat cheese, and roasted chickpeas.
In small bowl, add olive oil, Dijon mustard and sea salt and whisk together. Drizzle onto salad and toss.
Instructions on how to roast chickpeas: Preheat oven to 350 degrees. Rinse 1 can of chickpeas, drain thoroughly and dry on paper towels. Once dry, place in a large bowl and sprinkle with ½ tbsp olive oil, 1 tsp oregano, 1 tsp garlic powder. Toss and bake 50 minutes or until crunchy.
Serves 1
5. Protein packed tuna wrap
Ingredients:
1 high fiber wrap, small
6 ounce of tuna packed in water
1 tbsp of low fat mayonnaise
1 hard boiled egg, sliced
¼ cup of celery, chopped
2 tomato slices
2-3 slices of cucumbers
Method:
Drain tuna and mix with mayonnaise and celery.
Add into wrap with hard-boiled egg, tomato and cucumbers.
Serves 1