Top 3 Nourishing Winter Soups
Published on January 25, 2021
Around this time of year when it's chilly outside and the snow is falling, there is nothing like a warm bowl of hearty soup. These soups are loaded with high fiber vegetables, plant-based protein and delicious seeds. One key tip when making any of these soups is to use no-sodium-added broth so that YOU can control the amount of salt being added to your recipes. These soups are great for weight loss and will ensure that you are getting in your daily intake of nutritious vegetables.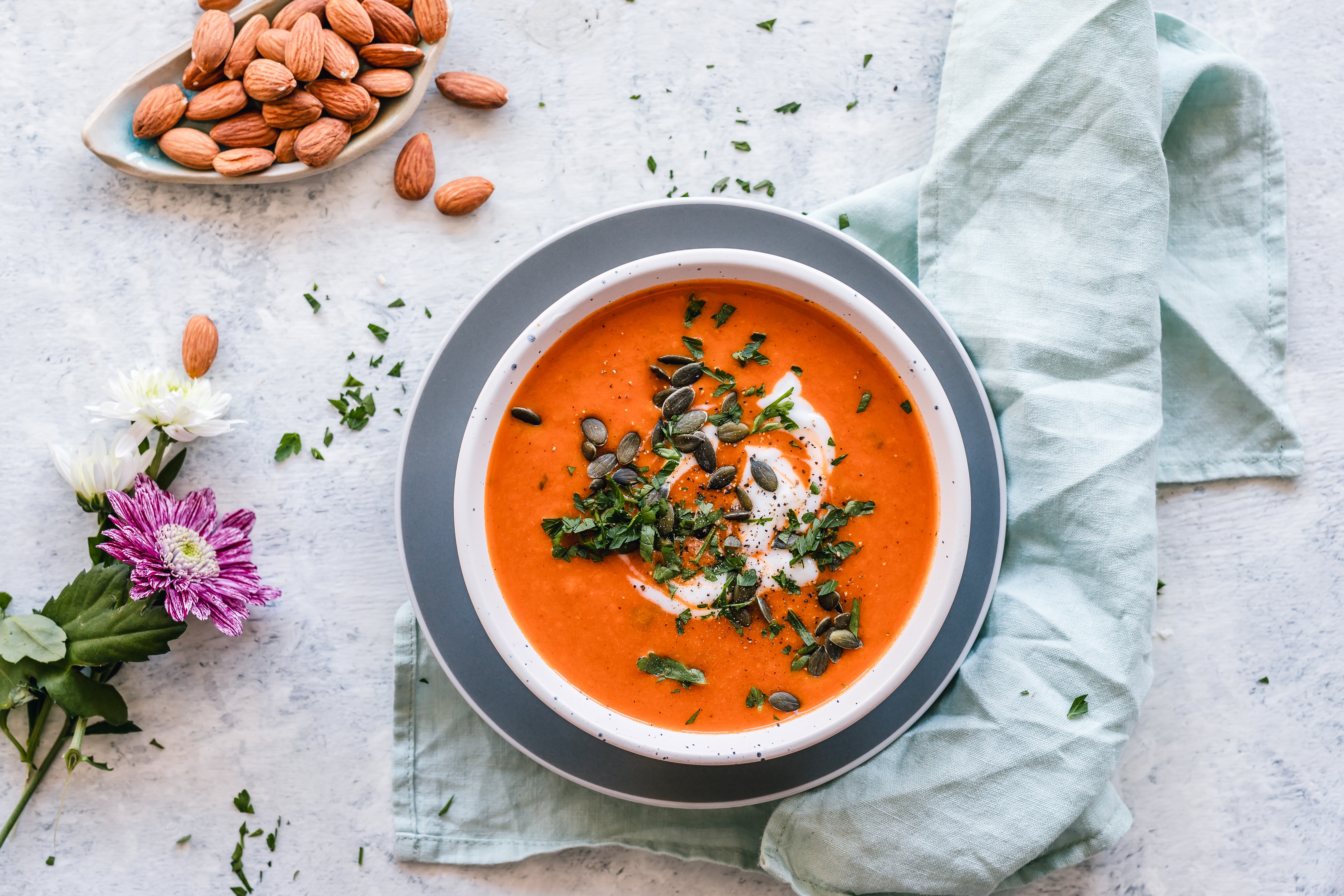 Hearty Vegetable Soup
Recipe makes 6 servings
Ingredients:
4 cups low-sodium chicken broth
½ cup thinly sliced carrots
½ cup white onion (diced)
½ cup extra firm organic tofu (cut into 1-inch cubes)
½ tsp garlic (minced)
½ tsp dried basil
¼ tsp black pepper
1 cup broccoli (cut into florets)
1 cup tomato (diced)
1 cup cremini mushrooms (sliced)
½ cup thinly sliced celery
½ cup red pepper (diced)
1 tbsp butter (or vegan butter substitute)
Instructions:
Bring broth to a boil and add carrots, onion, tofu, garlic, basil and black pepper. Cook over medium heat for 30 minutes.
Stir in broccoli, tomato, mushrooms, celery, red pepper and butter. Simmer over low heat for 20 minutes. Enjoy!
Hearty Tomato Quinoa Soup
Recipe makes 6 servings
Ingredients:
1 cup quinoa
3 tbsp butter (or vegan butter substitute)
1 tbsp olive oil
2 medium shallots
2 cloves garlic
1 tbsp fennel seeds
2 cans whole peeled tomatoes
2 cups no-sodium-added vegetable broth
¼ cup pumpkin seeds (roasted)
1 tbsp fresh chives
½ tsp crushed red pepper (optional)
Instructions:
Cook quinoa according to directions on box.
In a large saucepan, heat butter and oil over medium heat under butter is melted. Add shallots, garlic and fennel seeds. Cook for 5-6 minutes or until vegetables begin to soften. Add tomatoes and broth and simmer for 15 minutes, stirring occasionally.
Remove saucepan from heat and use an immersion blender to puree soup until smooth.
In a medium bowl, combine quinoa, pumpkin seeds, chives and red pepper.
Serve soup topped with quinoa mixture. Enjoy!
White Bean & Butternut Squash Soup
Recipe makes 4 servings
Ingredients:
1 butternut squash (about 2 lbs) (halved and seeded)
1 tsp olive oil
1 white onion (diced)
2 garlic cloves (minced)
1 can white beans (drained and rinsed)
2 ½ cups no-sodium-added vegetable broth
1 cup unsweetened plain almond milk
Salt and pepper (to taste)
1/8 teaspoon nutmeg
Instructions:
Preheat oven to 375 F and line a baking sheet with parchment paper.
Place the two butternut squash halves face down on the baking sheet and bake in oven for 1 hour. Prick with a fork to make sure the squash is tender. Remove from oven and set aside to cool before peeling off the skin.
In a large soup pot, heat olive oil over medium heat and add in onion and garlic. Sauté until onion is translucent.
Transfer mixture to a large blender by adding in all the beans and ½ of the broth. Blend until smooth. Add in butternut squash and remaining broth and blend until smooth and thick. Alternatively, you can use an immersion blender here.
Transfer back into the soup pot and stir in almond milk until you have reached a desired consistency. Add salt and pepper to taste. Stir in nutmeg and simmer over low-medium heat for 10-15 minutes. Enjoy!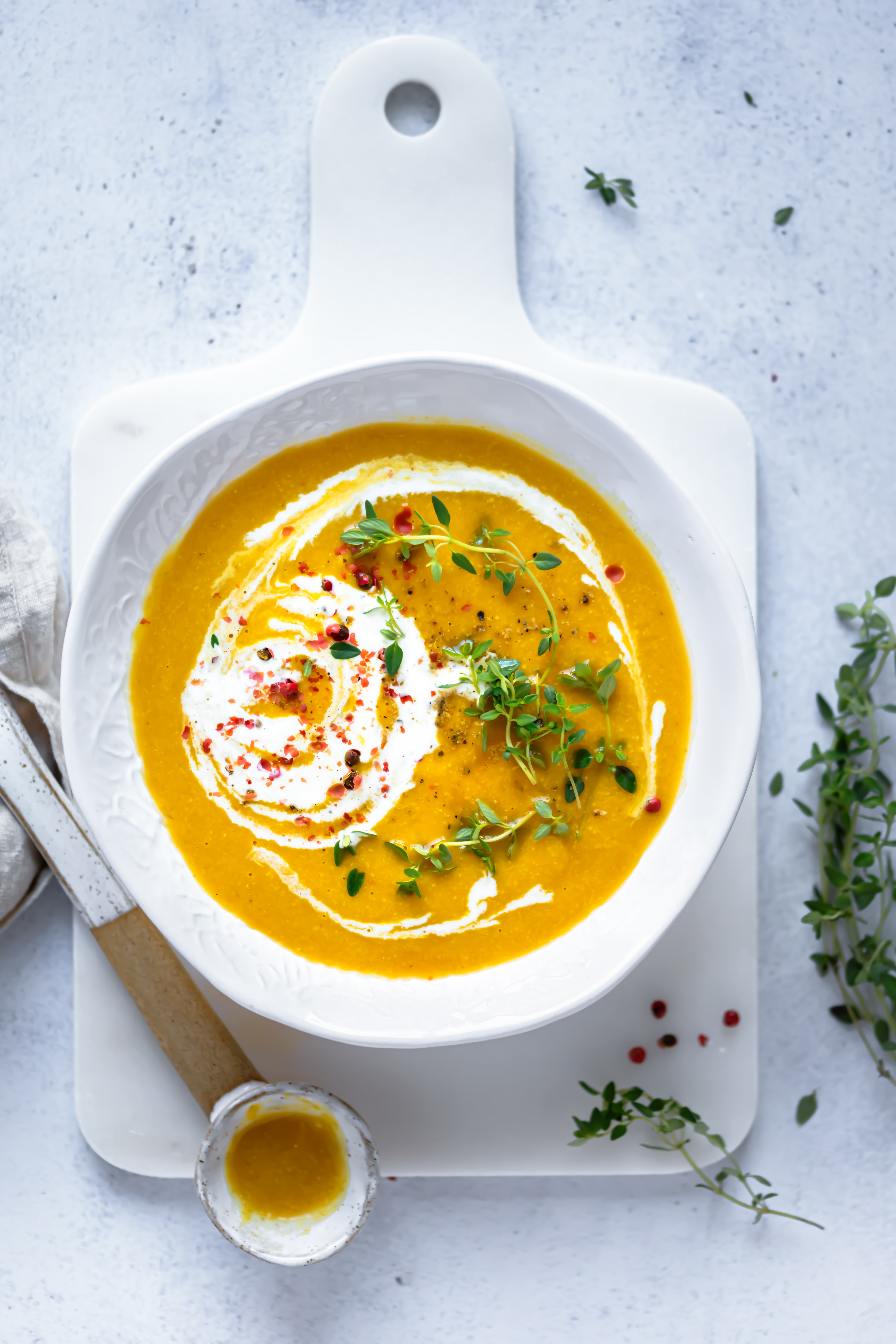 Like what you've read? Read more about the importance of organic produce here.