TOP 5 SPRING RECIPES
Published on March 24, 2017
Raise your hand if you are thrilled as I am that spring is finally here! To start the season off just right, here are some of my favourite delicious and nutritious spring inspired recipes!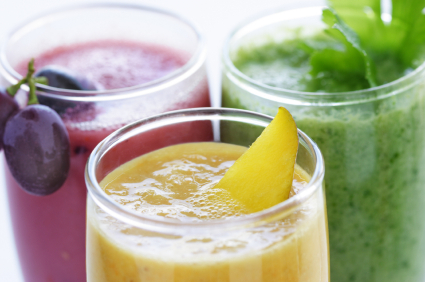 My go-to green smoothie
Smoothies are the perfect go-to breakfast option for any season. They are easy to make and are packed with a ton of beneficial nutrients. This is my favourite spring smoothie - it is refreshing, filling and of course - green!
INGREDIENTS
1 cup unsweetened almond milk
1 cup baby spinach
1/2 banana
¼ cup frozen mango
2 ice cubes
3 tablespoons of hemp hearts or 1 scoop vanilla protein powder
1 tablespoon ground flax seeds
1 inch piece of fresh ginger root
DIRECTIONS
Blend until all is smooth
Enjoy!
Serves 1
Nutritional analysis: calories 317, fat 9g, carbohydrates 48g, fiber 17g, protein 14g
Strawberry avocado salsa
This fruity salsa is the perfect way to add a refreshing touch to any dinner party. It is packed with flavour and will not disappoint!
INGREDIENTS
2 ripe avocados, finely chopped and peeled

1 cup finely chopped strawberries

2 tablespoons fresh cilantro, minced

1 teaspoon jalapeño pepper, seeded and minced

2 teaspoons fresh lime juice

3/8 teaspoon sea salt

Neal brothers blue flax seed tortilla chips.
DIRECTIONS
Combine all ingredients into bowl and combine together.

Serve with flax seed tortilla chips.
Serves 6
Nutritional analysis: calories 145, fat 13g, carbohydrates 8g, fiber 5g, protein 2g
Refreshing spring salad
Change up your salad routine with this fun spring salad - using some delicious seasonal ingredients. Make it a complete meal by adding some chicken, tuna or egg!
INGREDIENTS
2 cups pea shoots

2 cups of arugula

1-2 radish bunches

½ cup English peas

1 avocado

¼ cup feta (or you can use feta goat cheese)
For the dressing:
1/3 cup extra virgin olive oil

Juice from 1 lemon

2 teaspoon honey

1 teaspoon Dijon mustard

1 small garlic clove, minced

Sea salt and pepper
DIRECTIONS
Lay pea shoots on top of a bed of arugula.

Cut radishes with mandolin and add to salad, along with peas.

For dressing, add all ingredients into small bowl and whisk together. Drizzle dressing over salad. Add avocado slices on top and sprinkle with cheese. Use as a side salad or add chicken, shrimp or tofu to make it a meal. Enjoy!
Serves 6
Nutritional analysis: calories 215, fat 19g, carbohydrates 10g, fiber 4g, protein 3g
Tuna ceviche
A fun and delicious recipe that everyone will love - packed with protein and healthy fats!
INGREDIENTS
1 pound sushi-grade tuna, sliced 1/4 inch thick
Large avocado, diced into pieces
Small red onion, halved and thinly sliced
3/4 cup fresh lime juice
1 teaspoon freshly ground black pepper
1/4 cup cilantro, coarsely chopped plus leaves for garnish
Sea salt to taste
DICRETIONS
Line a baking sheet with plastic wrap and arrange the tuna slices in a single layer. Freeze for about 15 minutes.
Once fairly firm, take the tuna slices out of the fridge and cut them into ¼ inch cubes with a sharp knife.
In a glass bowl add cubed tuna, red onion, lime juice and black pepper. Cover the tuna with plastic wrap and refrigerate for 1 hour, stirring gently every 15 to 20 minutes (tuna will change color slightly).
Just before serving add the avocado, chopped cilantro and salt.
Serves 6
Nutritional analysis: calories 214, fat 12g, carbohydrates 15g, fiber 3g, protein 12g
Coconut flour banana bread
You will love the taste of this delicious coconut flour banana bread. Great for the kids or to serve as a healthier dessert option.
INGREDIENTS
1 cup coconut flour, sifted

2-3 very ripe bananas

4 organic eggs

6 tablespoon melted coconut oil

3 tablespoon raw honey or maple syrup

1/4 teaspoon sea salt

1 tablespoon cinnamon

1/2 teaspoon baking soda

1 tablespoon vanilla

1/4 cup crushed walnuts

1/4 cup dark chocolate chips (optional)
DIRECTIONS:
Preheat your oven to 300 degrees

Oil or butter a bread pan. Line with parchment paper. Cut 2 pieces and fit them in the baking pan.

Smash the bananas. In the same bowl, mix in the honey, butter, vanilla and eggs.

In a separate bowl mix the coconut flour, baking soda, sea salt, and cinnamon.

Add the dry ingredients to the wet and stir until just combined.

Spoon the batter into your lined bread pans.

Bake for 1 hour and 15 minutes. The top and edges should be a golden brown color. Remove form oven and let it cool for 15 minutes in the pan. Store in the fridge.

Slice and serve!
Serves 12
Nutritional Analysis: calories 147, fat 10g, carbohydrates 14g, fiber 2g, protein 3g
Click here for some other tasty spring inspired recipes!