QUINOA CHOCOLATE CHIP COOKIES
Published on March 16, 2013

Makes about 2 dozen medium sized cookies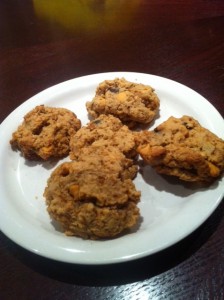 Quinoa Chocolate Chip Cookies Makes about 2 dozen medium sized cookies
Prep time: 8 minutes
Cook time: 12 minutes
Total time: 20 minutes (plus cooling time)
Ingredients
2 cups quinoa flour

1/2 teaspoon baking soda

1/2-teaspoon kosher salt

8 tablespoons (1 stick) unsalted butter, melted and cooled

3/4 cup of coconut sugar

1 large organic egg

1/2-teaspoon vanilla extract

¼ cup of chopped walnuts

1 1/2 cups chocolate chips (semi-sweet chocolate chips are a classic, feel free to use your favorite chocolate chip – my son loves butterscotch!)
Instructions
Preheat the oven to 325 degrees, with racks in the upper and lower thirds. Line two baking sheets with parchment paper.

In a medium bowl whisk together quinoa flour, baking soda, and salt set aside.

In your stand mixer with the paddle attachment, beat the melted butter and brown sugar on medium speed until it combines into a caramel colored syrup (1-2 minutes).

Beat in the vanilla and egg (about 30 seconds)

Reduce the mixer speed to low and slowly add the dry ingredients until just smooth (about 30 seconds).

Mix in the walnuts and chocolate chips.

Using a small scoop portion out 12 cookie dough balls onto each baking sheet. Space dough balls 2 inches apart.

Bake until the edges are golden but the centers are still soft and puffy (about 10-12 minutes).

Let the cookies cool on the baking sheets for 10 minutes, then serve warm or transfer parchment paper and cookies to a wire rack to cool completely. Enjoy!