OUR GO-TO PLANT BASED DINNERS FOR WEIGHT LOSS
Published on December 13, 2019
Plant based eating and lifestyles are getting a lot press lately.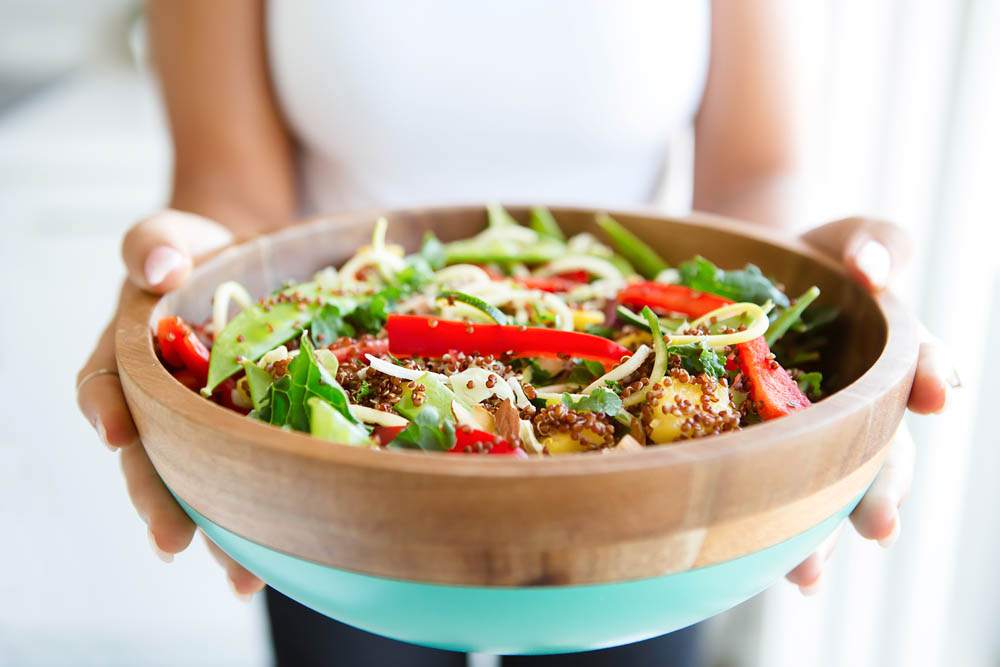 What exactly is plant based eating?
It is a whole-foods, plant based diet that focuses on minimally processed foods that are effective for optimal health and weight loss. There is no strict definition for a plant based diet, although the basic principles include:
Limiting animal products.
Emphasizing plants including fruits, vegetables, whole grains, nuts and seeds.
Exclusion of refined flours, sugar and processed oils.
Inclusion of organic food options wherever possible.
In addition to lowering risk factors for cardiovascular disease, diabetes and cancer – plant based diets have also been shown to benefit the environment as well. People who follow a plant-based diet tend to have a smaller environmental footprint and adopting sustainable eating habits can help to reduce greenhouse gas emissions, water usage and global warming. In fact, a review of 63 studies demonstrated that the largest environmental benefits were seen from diets that were the least animal based (i.e. vegan, vegetarian and pescatarian). This does not mean you have to restrict all red meat, but a reduction would be beneficial.
A plant based shopping list would include:
Vegetables – broccoli, kale, spinach, sweet potatoes, carrots, tomatoes, asparagus etc.
Fruits- strawberries, raspberries, apples, oranges, pineapples, bananas.
Whole grains – Brown rice, quinoa, sprouted grains, rolled oats. Etc.
Beans and legumes, - chickpeas, lentils, black beans, kidney beans, soy beans, and pinto beans
Seeds, nuts and nut butters
Plant based proteins – tempeh, tofu, hemp hearts, protein powders, nutritional yeast
Unsweetened plant based milks – coconut milk, almond milk, cashew milk.
Herbs and spices
Here are some of our favorite go-to plant based lunch and dinner recipes.
Black bean sliders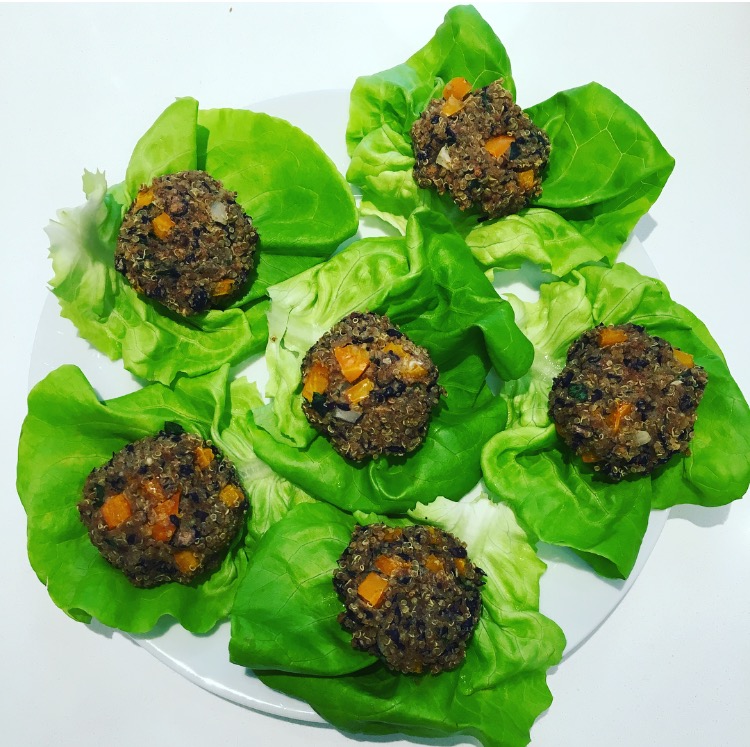 These tasty iron-rich sliders make a great plant-based dinner that everyone will love. They are easy to throw onto salads at lunch or into lettuce wraps at dinner. A guaranteed crowd-pleaser! Ingredients:
15-oz. can black beans, rinsed well and drained
1 cup cooked quinoa
1 egg (can swap for a flax egg)
1 tablespoon avocado oil
¼ cup red peppers, finely diced
¼ cup sweet onion, very finely chopped
½ cup spelt breadcrumbs
2 garlic cloves, minced
½ tablespoon cumin
½ teaspoon sea salt
1 teaspoon Worcestershire sauce
½ cup fresh parsley, chopped
Directions:
Preheat oven to 400 F.
In a large mixing bowl, roughly mash black beans with a fork. Add cooked quinoa, egg, avocado oil, red peppers, onions, breadcrumbs, garlic, cumin, sea salt, Worcestershire sauce and parsley and mix together.
Form into 16 mini sliders.
Bake for 20 minutes, flipping half way through.
Serves 5 Nutritional analysis: calories 240, fat 4g, carbohydrates 41g, fiber 7g, protein 11g ______________________________________________________________
Baked tofu in peanut sauce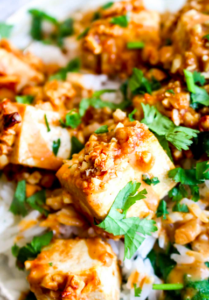 Ingredients:
1 package of extra-firm organic, non GMO tofu
¼ cup natural peanut butter
½ teaspoon ground ginger
2 tablespoons fresh lime juice
1 tablespoon tamari
2 tablespoons toasted sesame oil
2 tablespoons raw honey
1 tablespoon sweet chili sauce
1 tablespoon fresh cilantro
Directions:
Preheat the oven to 400 F.
Cut tofu into 1-inch pieces.
In a small bowl, combine the peanut butter, ginger, lime juice, tamari, sesame oil, honey and sweet chili sauce and whisk.
Coat tofu with the sauce and place onto lined baking sheet.
Bake for 20-30 minutes, or until tofu is crispy.
Sprinkle with fresh cilantro before serving.
Serves 4 Nutritional analysis: calories 230, fat 17g, carbohydrates 14g, fiber 2g, protein 9g ______________________________________________________________
Meatless veggie patties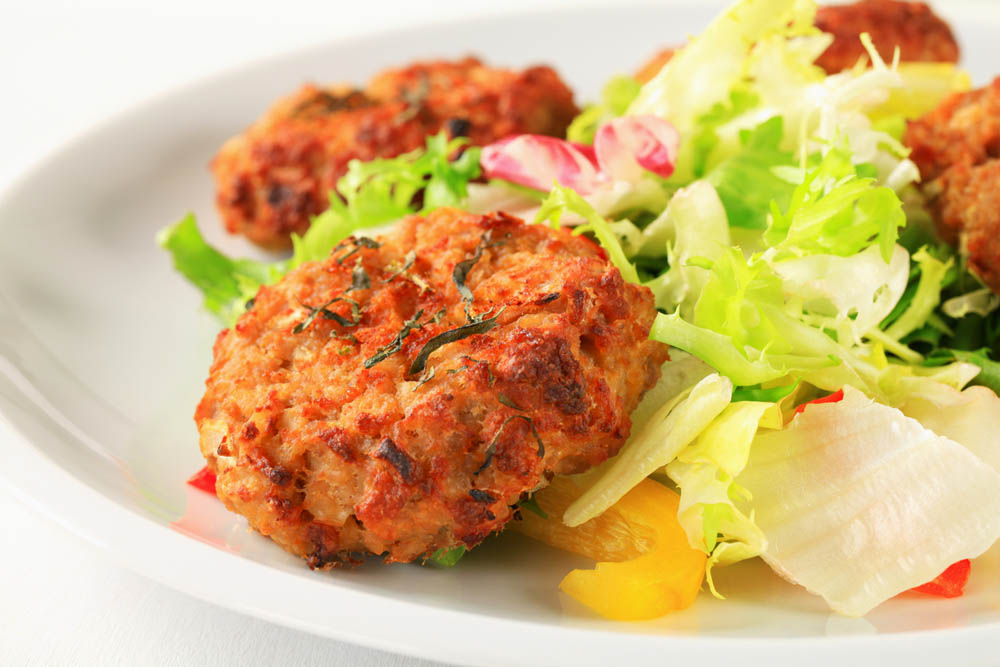 Ingredients:
2 tablespoons avocado oil
1 onion, chopped
2 carrots, chopped
2 celery stalks, chopped
1 garlic clove, minced
1 teaspoon sea salt
3 tablespoons tomato paste
2 cups canned lentils, drained and rinsed well
3 eggs (can swap for a flax egg)
½ cup spelt breadcrumbs
½ cup fresh cilantro or parsley, chopped
¼ cup walnuts, chopped
Directions:
Add avocado oil to a large pan and sauté onion, carrots, celery, garlic, and sea salt over medium-high heat, stirring frequently, for about 10 minutes, until the vegetables are tender and just beginning to brown.
Add the tomato paste and continue to cook, stirring constantly, for 5 minutes. Transfer the mixture to a large bowl and allow to cool.
Add the lentils, eggs, breadcrumbs, cilantro/parsley, and walnuts to the cooled vegetables and mix together. Place in the refrigerator for 25 minutes.
Preheat the oven to 400°F.
Roll the mixture into 30 1-inch mini patties, packing firmly so they hold together and place onto a lined baking dish.
Bake for 30 minutes, or until the patties are firm and cooked through. Cool for 5 minutes before serving.
Serves 6 Nutritional analysis: calories 326, fat 7g, carbohydrates 46g, fiber 22g, protein 22g ______________________________________________________________
Veggie packed chili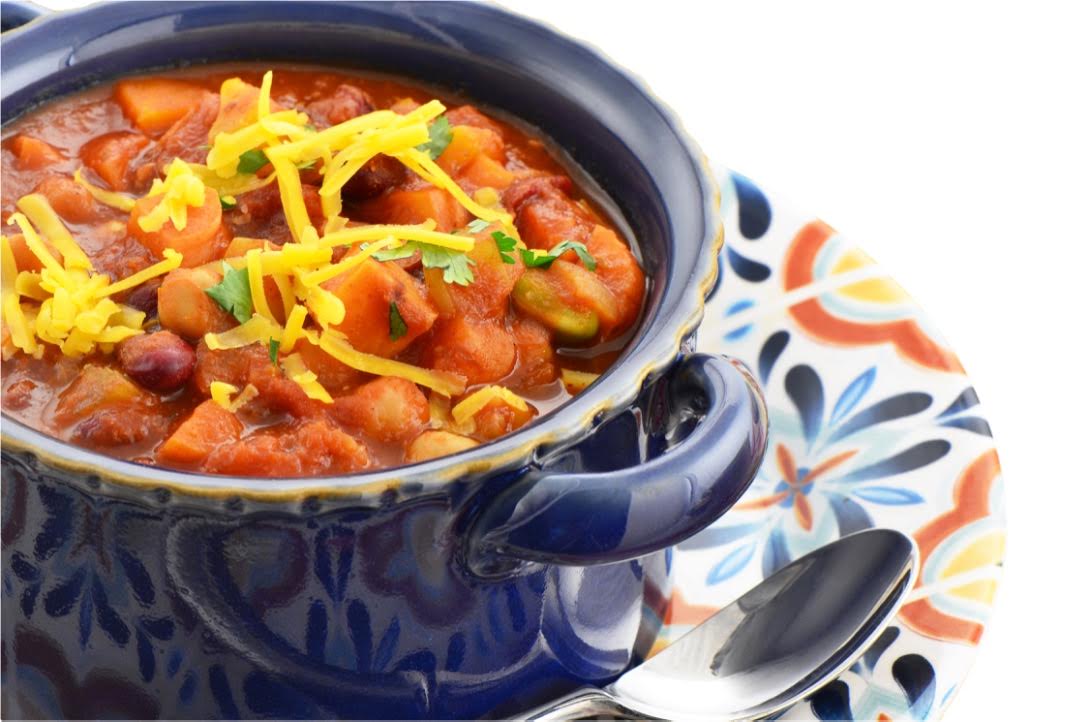 Ingredients:
1 tablespoon extra virgin olive oil
1 onion, chopped
4 garlic cloves, minced
4 celery stalks, diced
2 red peppers, seeded and diced
2 large carrots, peeled and diced
28-oz can diced tomatoes
1 cup low sodium vegetable broth
6 tablespoons tomato paste
15-oz can kidney beans, drained and rinsed
15-oz can pinto beans, drained and rinsed
1 tablespoons chili powder
2 teaspoons oregano
¼ teaspoon cayenne pepper
½ teaspoon sea salt
1 teaspoon hot sauce (optional)
Directions:
In a large pot, warm the oil over medium heat and sauté the onion and garlic for about 5 minutes, until soft and translucent.
Add the celery, peppers and carrots and sauté for another 6-7 minutes, until vegetables are soft.
Add the can of diced tomatoes (with the juice), vegetable broth, and tomato paste and stir to combine.
Increase heat to medium-high and add the beans, along chili powder, oregano, cayenne pepper, salt and hot sauce.
Simmer the mixture for 15-20 minutes and serve warm.
Serves 6 Nutritional analysis: calories 240, fat 4g, carbohydrates 43g, fiber 13g, protein 11g
Some tasty grain-free and plant-based sides that can be enjoyed at lunch or dinner include: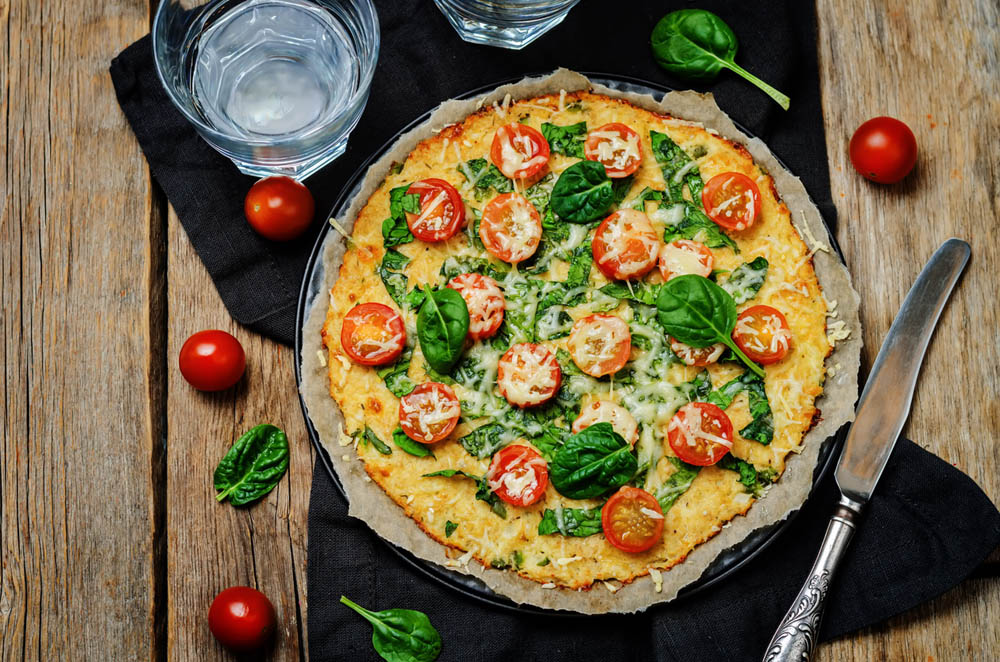 Cauliflower rice
Sweet potato fries
Spaghetti squash
Zucchini noodles
Collard green or Boston lettuce wraps
Cauliflower pizza (click here for a great recipe)
If you would like to lose weight and feel your best, feel free to book in for a FREE health and weight loss assessment at any time!