HEALTHY WEEKNIGHT DINNER IDEAS
Published on October 11, 2019
One of the biggest challenges of getting into the school routine is finding the time to make healthy weeknight dinners. Between busy days at the office and managing kids programs after school, it's often hard to find enough time to cook healthy, well-balanced dinners that everyone will eat and love.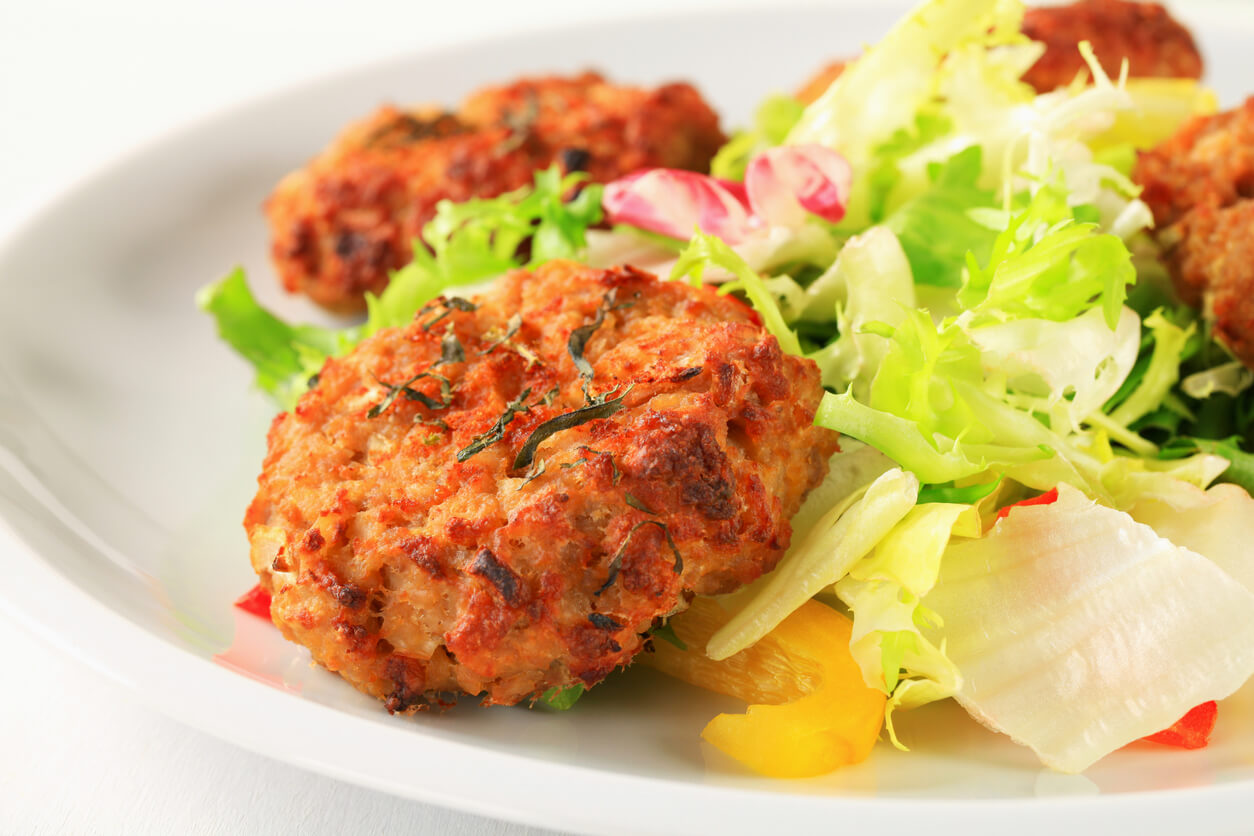 Here are some key tips to consider when planning quick, healthy dinners.
1. Plan ahead – Make a meal plan to keep you organized for the upcoming week. Shop according to your plan to stock your fridge and cupboard with the ingredients you will need for the week. This will also reduce waste.
2. Get creative – Try one new recipe each week to bring some variety into your weekly meals without getting overwhelmed.
3. Do some batch cooking – Cooking ahead of time is one of the biggest game changers when you are trying to put a healthy dinner out on the table each night.
4. Prepare your produce – Cutting up all your vegetables at the beginning of the week will save you lots of time when you are putting your dinners together in the evening.
5. Freeze leftovers - If you can, double your recipes to make extra for the freezer. You can generally keep food in the freezer for up to 3 months so ensure you are labeling freezer meals with an "eat by" date.
6. Try "one pan" cooking – My idea of easy, quick dinners is throwing everything onto one pan, cooking and voila – dinner is served! Some important kitchen tools to consider investing in:
Slow cooker, Crock pot or instant pot
A good stock pot
Some freezer friendly containers
Food thermometer
Spiralizer or mandolin
Here are some of our favourite easy to prep dinners that can be made ahead of time and will make your weekday meal prep a whole lot easier.
One pan chicken and veggies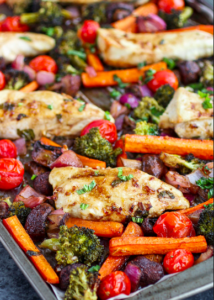 Ingredients:
4 chicken breasts
2 tablespoons avocado oil
1 teaspoon paprika
1 teaspoon oregano
½ teaspoon onion flakes
Veggie of choice - 1 medium broccoli or cauliflower (cut into florets), carrots, onions or tomatoes
Pinch of sea salt
Directions:
Preheat oven to 350 F.
Place chicken onto one side of a large baking sheet lined with parchment paper and brush with 1 tablespoon of avocado oil. Sprinkle paprika, oregano and onion flakes evenly over chicken.
On other side of baking sheet drizzle the remaining oil onto the veggies and season with sea salt.
Place into oven for 25 minutes, or until chicken is cooked through and veggies are soft and crispy.
Serves 4 Nutritional analysis: calories 230, fat 9g, carbohydrates 6g, fiber 3g, protein 31g
Classic beef chili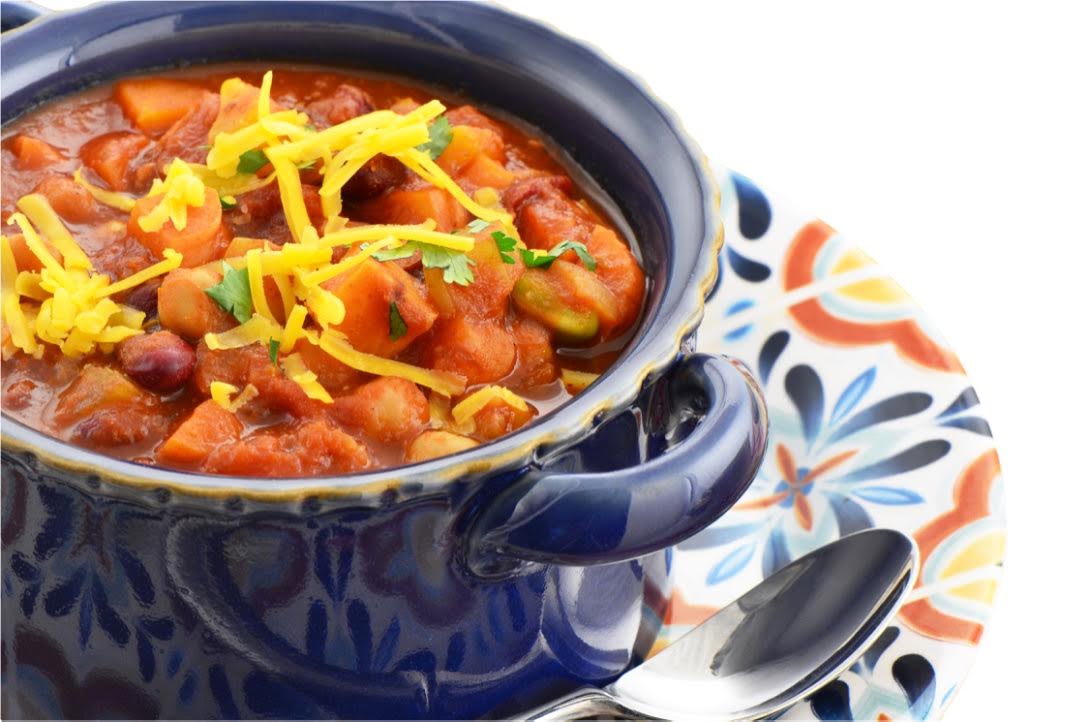 Ingredients:
1 lb of lean ground beef (or you can use turkey or chicken)
1 tablespoon avocado oil
2 cups sweet onion, diced
4 garlic cloves, minced
1 cup celery, diced
2 red peppers, diced
1 (28-oz) can diced tomatoes
1 cup low sodium chicken broth
6 tablespoons organic tomato paste
1 (15-oz) can kidney beans, drained and rinsed
1 (15-oz) can pinto beans, drained and rinsed
1 tablespoons chili powder
1 teaspoon dried oregano
½ teaspoon sea salt
1/4 teaspoon ground cayenne pepper
¼ cup shredded cheese (optional)
Directions:
In a small pot or skillet, add ground beef and cook on medium heat until cooked through. Set aside.
In another pot, add oil, onion and the garlic and cook until soft and translucent, about 5 minutes. Add the celery, and peppers and sauté for another 5-7 minutes or so, until softened.
Add the can of diced tomatoes (with the juice), broth, and tomato paste. Stir to combine. Increase heat to medium-high and bring to a gentle boil. Add the beans, chili powder, oregano, salt, and cayenne.
Reduce heat and simmer the mixture until thickened, about 20-30 minutes.
Top with cheddar cheese before serving.
Serves 8 Nutrition analysis: calories 280, fat 6g, carbohydrates 31g, fiber 10g, protein 27g
Turkey meatloaf muffins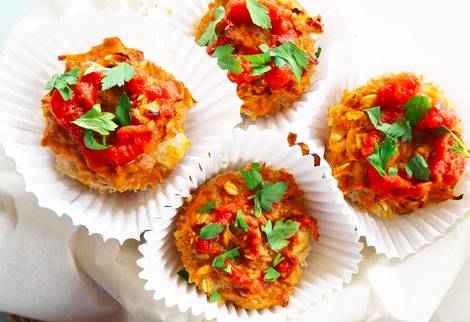 Ingredients:
1 tablespoon avocado oil
1 small onion, chopped
2 cloves garlic, minced
1 egg
2 egg whites
½ cup ketchup
1 tablespoon Worcestershire
1 tablespoon Dijon mustard
1 teaspoon Tabasco
1 teaspoon sea salt
½ teaspoon black pepper
1 cup spelt breadcrumbs
2 lbs lean ground turkey
2 tablespoon chopped fresh basil or parsley
Directions:
Preheat oven to 350 F.
Heat avocado oil in non-stick skillet over medium heat. Add onion and garlic and cook till fragrant but not brown. Allow mixture to cool.
In large bowl; combine egg, egg whites, ketchup, Worcestershire, mustard, Tabasco, sea salt, pepper, breadcrumbs and cooled onion mixture. Combine.
Add ground meat to mixture and combine well, mixing in fresh basil or parsley.
Spoon into lined or greased muffin tins.
Bake for 1 hour, or until cooked through.
Serves 8 Nutritional analysis: calories 210, fat 9g, carbohydrates 7g, fiber 1g, protein 25g
Chicken meatballs in tomato sauce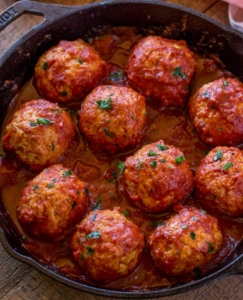 Ingredients:
1 lb of ground chicken
1 egg
½ cup of whole wheat or spelt breadcrumbs
2-3 garlic cloves, minced
1 tablespoon oregano
½ teaspoon sea salt
½ teaspoon freshly ground black pepper
½ cup grated Parmesan cheese
1 jar of tomato sauce (click here for our favourite tomato sauce)
Directions:
In a large bowl, add ground chicken, egg, breadcrumbs, garlic, oregano, sea salt, pepper and grated cheese. Mix together until well combined and form into mini meatballs.
In a large saucepan, add the jar of tomato sauce and bring to a boil. Add meatballs and lower heat to simmer (make sure all meat balls are covered with the sauce).
Leave on simmer for 30-40 minutes, or until meatballs are cooked through.
Tip: These meatballs are excellent served with zucchini noodles or cauliflower rice. Serves 8 Nutritional analysis: calories 210, fat 10g, carbohydrates 5g, fiber 2g, protein 24g
Chunky mushroom meat sauce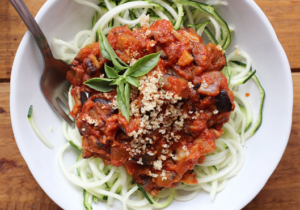 *can also be made in the slow cooker or crock pot
Ingredients:
1 tablespoon extra virgin olive oil
1 lb lean ground beef, chicken or turkey
1 small onion
2 garlic cloves
1 cup of mushrooms, chopped
1 bay leaf
1 teaspoon oregano
2 cans of diced tomatoes
2 tablespoons tomato paste
Directions:
Heat oil in a large pot over medium high heat and add the ground meat, stir and cook until browned.
Add in onion, garlic, mushrooms, bay leaf, and oregano. Sauté for 5 minutes.
Add can of tomatoes with the liquids and tomato paste, stir and bring to a boil. Reduce heat to simmer and cook for 20-30 minutes.
Remove bay leaf before serving.
Serves 6-8 Nutritional analysis: calories 190, fat 8g, carbohydrates 5g, fiber 1g, protein 23g
For new monthly dinner ideas and recipes delivered right to your inbox, sign up for our newsletter at www.drjoey.com.