HEALTHY ENERGY BALLS
Published on November 24, 2017
Sugar cravings can often peak during the holiday season. Try some of these healthy balls to have on hand that are loaded with healthy fats and clean ingredients that won't spike your blood sugars and leave you craving more!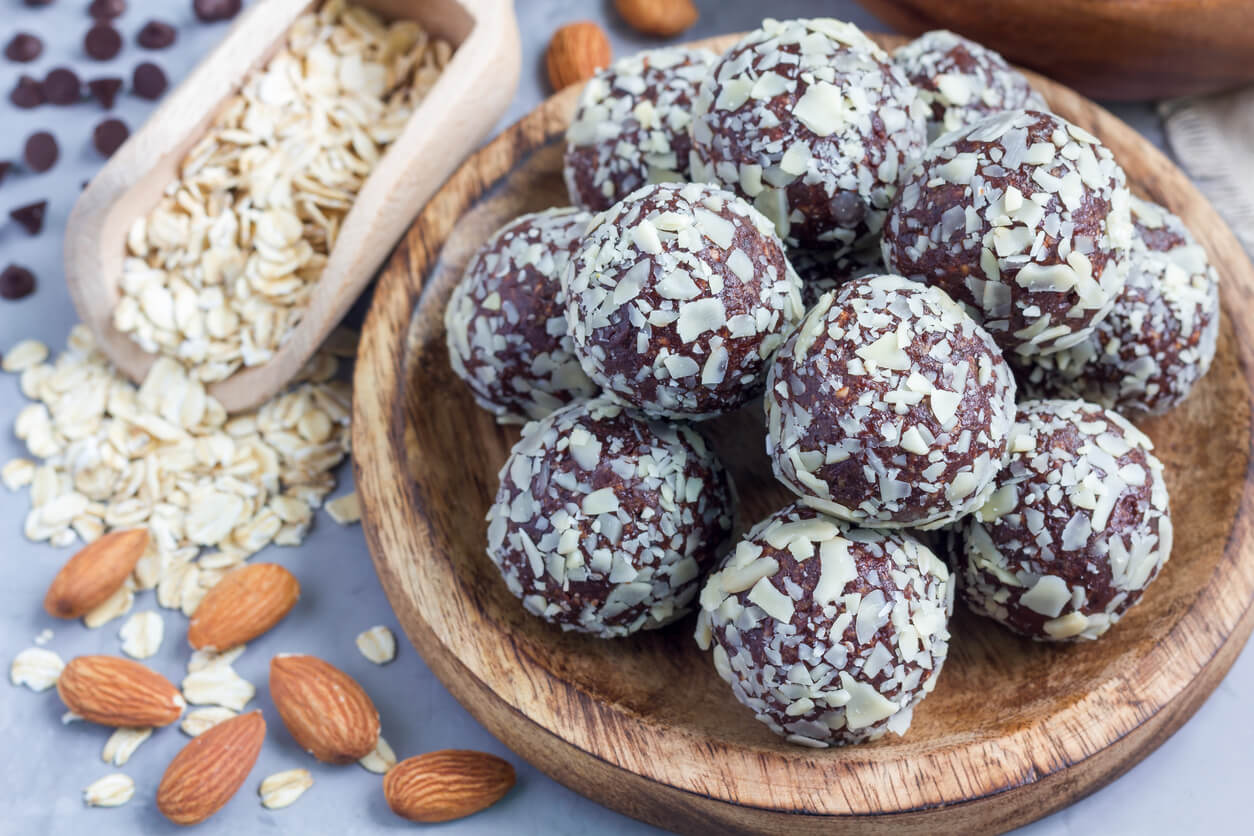 Sinless truffles
INGREDIENTS
½ cup pitted prunes
¼ cup pitted dates
3 tablespoons almond butter
1 tablespoons maple syrup
3 tablespoons unsweetened cocoa
½ cup finely grated unsweetened coconut
DIRECTIONS
In food processor drop prunes and dates through the feed hole one by one. Scrape the processor bowl and run until the prunes and dates are smooth.
Add remaining ingredients except for the coconut. Run until smooth and scrape bowl as needed.
Roll the mixture into 12 one-inch balls and roll in coconut (or crushed almonds) to coat. Refrigerate at least 30 minutes.
Makes 12 balls
Nutritional analysis: calories 70, fat 4g, carbohydrates 10g, fiber 2g, protein 2g
Holiday bliss bites
INGREDIENTS
1 cup roasted hazelnuts
2 tablespoon unsweetened cacao powder
¾ cup Medjool dates
1 tsp vanilla
2 teaspoons hemp hearts
Pinch of sea salt
1 teaspoon coconut oil
Unsweetened shredded coconut, to roll in
DIRECTIONS
In a food processor, blend all ingredients (except shredded coconut) until well combined.
Once well mixed, form into balls and place in a container in the freezer.
Makes 15 balls
Nutritional analysis: calories 90, fat 6g, carbohydrates 9g, fiber 2g, protein 3g
Apple pie energy balls
INGREDIENTS
1 ½ cups chopped dried apple
½ cup dates
½ tablespoon honey or maple syrup
1 teaspoon nutmeg
2 tablespoon cinnamon
½ cup toasted pecans
DIRECTIONS
In a food processor or blender, add the dried apples, dates and honey and blend until the apples have broken down into very small pieces and the mixture becomes batter like in consistency.
Add the nutmeg, cinnamon and toasted pecans and continue to blend until the pecans reach your desired size.
Once blended, scoop out tablespoon sized amounts of the mixture and roll into balls, depending on the stickiness, you can wet your hands a touch to make the balls easier to roll.
Store the balls in the fridge in a sealed container for approximately a week, or you can keep them in the freezer for over a month
Serves 12 balls
Nutritional analysis: calories 75, fat 4g, carbohydrates 12g, fiber 2g, protein 1g
Coconut date balls
INGREDIENTS
1 cup natural almond or cashew butter
2 cups medjool dates, pitted
⅓ cup shredded coconut
2 tablespoons chia seeds
1 tablespoon coconut flour
½ teaspoon sea salt
DIRECTIONS
Combine all ingredients in the bowl of a food processor. Process until well combined and smooth.
Roll into balls and refrigerate until firm.
Store in refrigerator for up to 1 week.
Makes 14 balls
Nutritional analysis: calories 95, fat 2g, carbohydrates 20g, fiber 3g, protein 1g