GLUTEN FREE APPLE CINNAMON MUFFINS
Published on September 30, 2016
These nutritious gluten free muffins make the perfect grab and go breakfast option for you and the kids!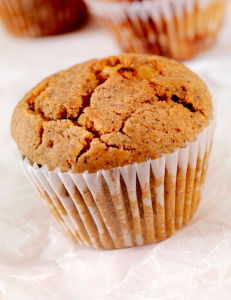 Ingredients:
5 eggs
1 cup unsweetened applesauce
½ cup coconut flour
2 tablespoons cinnamon
1 tsp baking soda
1/2 teaspoon vanilla
¼ cup coconut oil
1/4 cup crushed walnuts
1/2 cup mini dark chocolate chips (optional for kids)
Directions:
Preheat the oven to 400 degrees F.
Grease a muffin pan with coconut oil spray.
Put all ingredients into a medium sized bowl and whisk into well combined. Allow mixture to rest for 5 minutes.
Add mixture into muffin tins.
Bake 12-15 minutes until starting to brown.
Put on cooling rack and allow to cool for 2-3 minutes.
Makes 12 muffins
Nutritional Analysis per muffin: calories 112, fat 8g, carbohydrates 8g, fiber 2g, protein 4g