EASY DAIRY FREE BANANA BREAD
Published on May 21, 2013

Mash bananas in medium sized mixing bowl.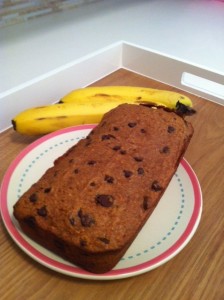 Ingredients:
3 large bananas


1/3 cup almond milk

1/2 cup coconut sugar

1 teaspoon pure vanilla extract


1 teaspoon baking soda


1 2/3 cups spelt flour


¼ cup of golden flax seeds

1/2 cup dark chocolate chips
Directions:
Mash bananas in medium sized mixing bowl.

Add the almond milk, coconut sugar vanilla and baking soda and mix well.

Add the flour, ground flaxseeds and chocolate chips together and mix until just combined.

Pour the batter in a greased loaf pan. Bake at 350 degrees for 40-44 minutes.

Watch carefully during the last 10 minutes of baking to cover with foil if the top is browning too rapidly.

Cut into slices and enjoy.
Option: If banana bread does not have to be "nut free" - feel free to add 1/2 cup of chopped walnuts for some extra crunch and an omega 3 boost.