CITYLINE WEIGHT LOSS CHALLENGE WANTS YOU!
Published on November 11, 2015

It's the 5th annual Cityline Weight Loss Challenge and we are looking for YOU! If you want to lose weight and look and feel your very best, we want to hear about it. Thousands of our viewers have followed along with our participants and met their goals, and were inspired to get healthier and take control of their weight. If you doubt that you can achieve the same results, I am here to tell you: Yes You Can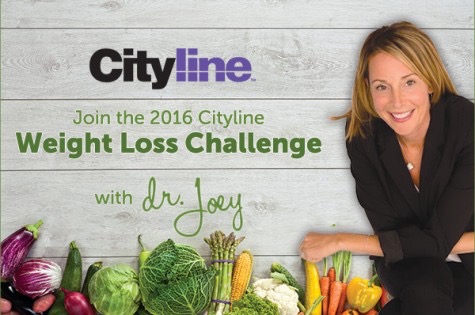 APPLY TO BE PART OF THE 2016 CITYLINE WEIGHT LOSS CHALLENGE!This time around, my goal is to provide all of our viewers with even more meal plans, recipes, tips, tricks and online chats to answer your pressing nutritional and weight loss questions. A comprehensive guide on how to lose your weight will be posted for all of our viewers to benefit from. I know you can do this…and I am here to help you! After practicing in the weight loss world for over a decade and being fortunate enough to publish 5 books on the topic, what I know for sure is that your health is indeed your first wealth. For me, weight loss is personal with each and every client, each and every time. I am so thankful for all the weight loss transformations I have been a part of. From getting women back into their favourite jeans, to seeing blood pressure and cholesterol levels return back to normal, it is all a thrill. As nutritional pioneer Adele Davis was once quoted as saying, "Of course, we are indeed much more than we eat, but what we eat can help us to become much more than who we are." As you will see on our weight loss venture together, my programs are based on hormonal weight loss (a.k.a. blood sugar balance). In other words, the focus is not just on "calories in, calories out", but on quality calories and the timing of your meals and snacks. By eating in hormonal balance, you will quickly find:
Your cravings and hunger are gone;
You burn belly fat fast;
Your desire to emotionally eat before and after dinner subsides;
Your energy boosts (no more 3 pm slump!) and…
You make a permanent weight loss and health shift.
So…are you ready to apply? If so, we would love to hear from you! For your chance to work one-on-one with Dr. Joey, fill out the application form (click on link below to access it) and tell us why YOU want to lose weight for good! APPLY TO BE PART OF THE 2016 CITYLINE WEIGHT LOSS CHALLENGE! We'll be accepting applications until Sunday, Nov. 22, 2015, 11:59 pm ET. Good luck! Keep in mind: even if you are not selected, we will be posting a wealth of information on Cityline.ca including brand-new meal plans, my game-changing weight loss and health steps, and a step-by-step comprehensive program to get you to your goal weight. As always, I will be available to you monthly to answer any and all of your nutritional questions through our online live chats. I can't wait to get started and remember…Yes You Can! Wishing you the best, Dr. Joey and the Cityline team