HEALTHY BREAKFAST IDEAS FOR WEIGHT LOSS
Published on December 01, 2017
Getting tired of your breakfast routine? Why not change it up with some of these delicious breakfast options that are loaded with healthy proteins, fibers and fats, making them ideal for weight loss and guaranteed to fill you up all morning long!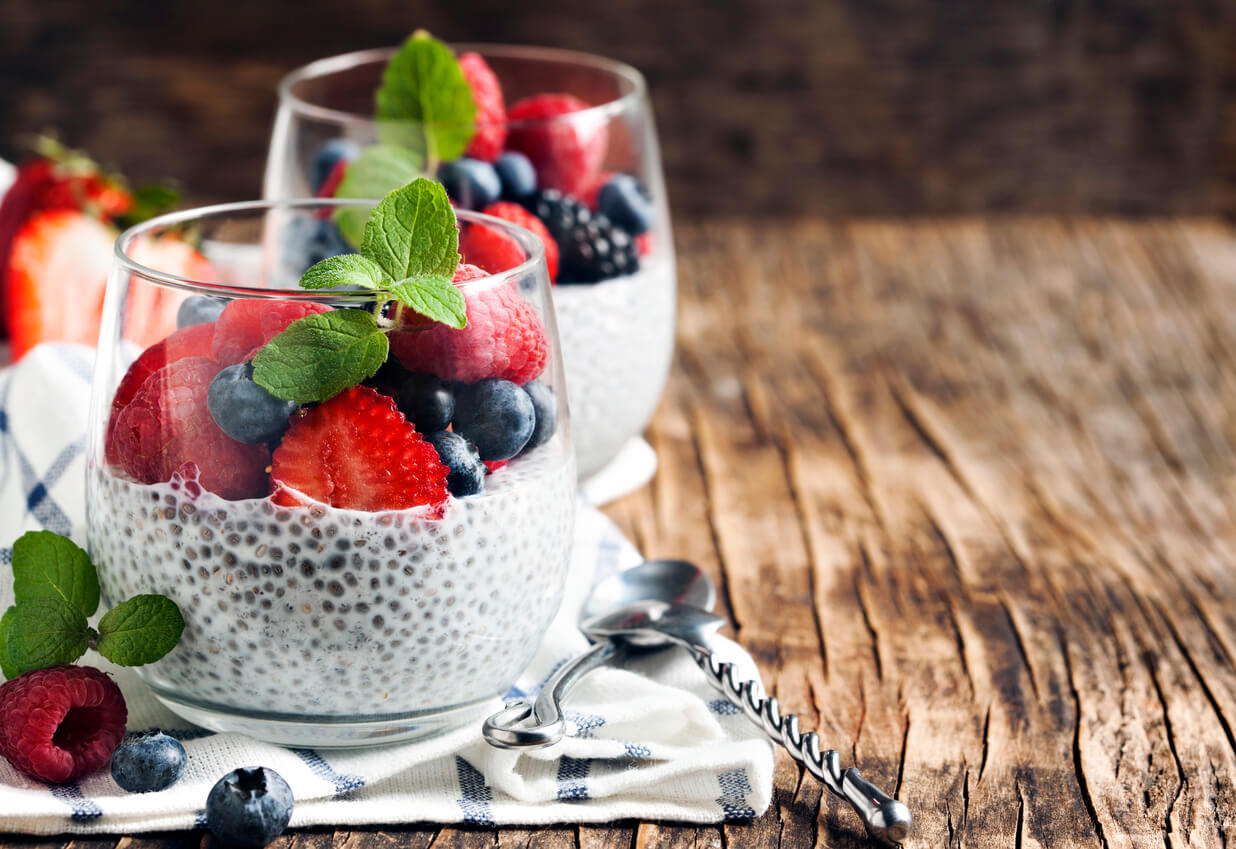 Raspberry and toasted coconut chia seed pudding
INGREDIENTS
1/2 cup of unsweetened almond or coconut milk
2 tablespoons chia seeds
½ teaspoon agave nectar or maple syrup
¼ teaspoon vanilla extract
1 tablespoon hemp hearts
1 tablespoon raspberries
1 teaspoon of toasted coconut flakes
DIRECTIONS
In a bowl combine the milk, chia seeds, agave or maple syrup and vanilla. Stir until combined and refrigerate for 2-3 hours., or overnight. You may want to stir the mixture a couple times while it's in the fridge.
When set, top with hemp hearts, blueberries, and coconut.
Serves 1
Nutritional analysis: calories 450, fat 30g, carbohydrates 31g, fiber 23g, protein 18g
Healthy french toast
INGREDIENTS
1-2 eggs
1/2 teaspoon cinnamon
2 teaspoons butter, divided
½ cup sliced strawberries
2 slices of sprouted grain bread
DIRECTIONS
Beat eggs and add cinnamon. Mix until combined
Heat 1 teaspoon of butter in a small pot. Add strawberries and lightly sauté for 5 minutes.
Melt other teaspoon of butter in a pan on medium heat. Dip bread into egg mixture.
Cook until browned and flip. When other side is browned put 2 slices on a plate and top with cooked strawberry mixture. Enjoy!
Serves 1
Nutritional analysis: calories 380, fat 20g, carbohydrates 35g, fiber 8g, protein 20g
Creamy almond butter breakfast smoothie
INGREDIENTS
1 scoop of chocolate protein powder
1 cup of unsweetened almond milk
1 tablespoon almond butter
½ banana
1 tablespoon ground flax seeds
1 tablespoon unsweetened cocoa powder
2-3 ice cubes
DIRECTIONS
Blend all ingredients together and enjoy!
Serves 1
Nutritional analysis: calories 295, fat 16g, carbohydrates 25g, fiber 8g, protein 17g
Fruity yogurt parfait
INGREDIENTS
1/2 cup plain 2% Greek yogurt
1/2 cup mixed berries
1 tablespoon hemp hearts
1/4 cup low sugar granola
1 teaspoon cinnamon
DIRECTIONS
Add yogurt into serving bowl and top with berries, hemp hearts and granola.
Sprinkle with cinnamon and enjoy!
Serves 1
Nutritional analysis: calories 300, fat 14g, carbohydrates 34g, fiber 16g, protein 19g
Breakfast power pancakes
INGREDIENTS
½ cup of 1% cottage cheese
¼ tablespoon avocado oil or coconut oil
1 egg white
1 whole egg
1 ½ tablespoons of wheat germ
1/3 cup of whole wheat flour
1 tablespoon of cinnamon
1/4 cup blueberries
¼ teaspoon of maple syrup
DIRECTIONS
Combine the cottage cheese, oil, egg and egg white in a processor and blend until combined.
In another bowl, mix the wheat germ, whole wheat flour and cinnamon.
Combine the two mixtures together. Add the blueberries.
Heat a non-stick pan, sprayed with olive oil spray.
Drop two tablespoons of mixture onto pan and cook until golden.
Drizzle with maple syrup and enjoy!
Serves 1
Nutritional analysis: calories 420, fat 9g, carbohydrates 50g, fiber 8g, protein 33g
Banana protein muffins
INGREDIENTS
1 large ripe banana
¾ cup egg whites
½ cup plain 1-2% Greek yogurt
¾ cup oats
2 scoops of vanilla protein powder
½ cup coconut sugar
1 tsp baking powder
1 tsp baking soda
½ tsp cinnamon
DIRECTIONS
Preheat oven to 350 degrees. Spray muffin tin with non-stick cooking spray or add liner
Place all of the ingredients in a blender, (or food processor), and blend until mixture is smooth.
Divide mixture evenly between 12 muffin tins.
Bake for 15-18 minutes, or until toothpick comes out clean.
Makes 12 muffins (2 muffins = 1 serving)
Nutritional Analysis (per muffin): 100 calories, fat 2g, carbohydrates 17g, fiber 2g, protein 7g